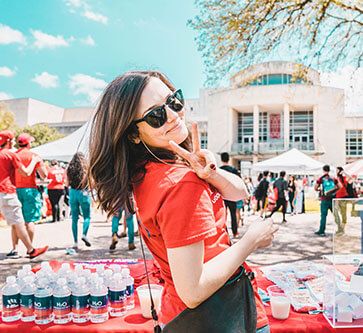 Every spring, the University of Houston's Wolff Center for Entrepreneurship (WCE) hosts Wolffest, in which students compete by opening pop-up food stands on campus. It's both a learning experience and a fundraiser. After all, the students have to plan everything themselves — getting a glimpse at what it takes to start a business! — and the profit from the food they sell goes toward scholarships. Sounds like a great idea, right? We think so, too, and that's why we decided to sponsor a team at Wolffest earlier this month.
HOW WOLFFEST WORKS
There were seven teams of students participating in Wolffest, and each one set up areas where attendees could buy a variety of freshly prepared foods. For example, Kiss the Coog — the team we sponsored — sold food from Taquería Monchy's and Glazed The Doughnut Café for breakfast. The team also sold food from The Halal Guys and BBQ Sunday for lunch, with Popbar offering gelato for dessert. Check out this video if you want to basically feel like you were there at Wolffest!
ALL ABOUT OUR SPONSORSHIP
So, at this point, you might be wondering what food we donated for Kiss the Coog to sell, since that's the whole point of Wolffest. And the answer is no, we're not secretly world-class chefs with delicious food to offer the Wolffest attendees! Yeah, we're sad about that too. But we are a pretty awesome moving company, so we opted to stick with what we do best: help people move!
More specifically, we raffled off three hours of a free move. And boy were people interested in this raffle! Dozens of people entered, but there could only be one winner. That was Laurie Fickman, who works at the University of Houston and could really use some free moving help after having been through Hurricane Harvey last year. So we're honored to help her out, and we appreciate everyone who entered the raffle hoping to win some free assistance with moving. You all contributed to the money Kiss the Coog was able to raise for scholarships!
HOW KISS THE COOG DID
We were really impressed with our team, Kiss the Coog – they finished in 2nd place. Ten hardworking WCE students and practically a whole village of volunteers worked together to run the booth at Wolffest. While we don't know the final results yet, we do know Kiss the Coog raised more than $31,000 in revenue and nearly $20,000 in donations. That's a lot of scholarship money that will go toward helping tons of students!
So how did Kiss the Coog make all that money? The team sold more than 1,450 plates from The Halal Guys, more than 500 turkey legs and sausages, and hundreds of breakfast tacos and doughnuts. Plus, this team used 36 briskets to make hundreds of brisket sandwiches for hungry Wolffest attendees. Not to mention, they sold about 300 Popbars for dessert.
Basically, we can confidently say that Wolffest was a great success. If you're interested in learning more about this event, you can get the facts here so you're all prepared to check it out next year! In the meantime, we at 3 Men Movers just want to say we were proud to be a part of Wolffest this year. We're pleased to support one of the communities we've serviced for years. So if you ever need Houston movers who know and love this city, get in touch with 3 Men Movers to set up your move!