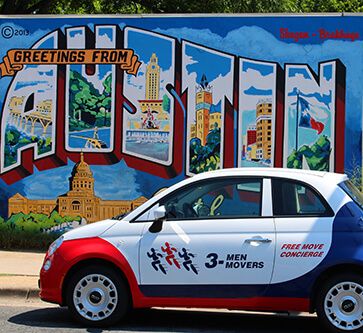 So you want to live in Austin … but where? There are so many great neighborhoods, and the right one just depends on the stage of life you're in. If you don't make the best choice, you could end up in a super quiet suburb before you're really ready for that kind of unnerving tranquility … or you might accidentally pick the "party apartments" when all you want to do is get a good night's sleep. So don't make the wrong choice! If you're not sure where to start, get some ideas based on where you are in your life right now.
STAGE ONE: THE NORTH AUSTIN APARTMENT
You've just moved into your first apartment after college, which you can finally afford after landing your first actual job in the real world. So where do you choose to live? A place in Austin that fits into your budget but is not too far from all the action.
So basically, you move to North Austin, where the closest shopping area is the Domain. But hey, it's only 15 minutes away … without traffic. And you thought your commute would be a breeze but it turns out it takes a surprisingly long time to drive down 35 or Mopac. Who knew? Plus, your super-affordable North Austin apartment doesn't exactly come with lots of amenities, and it's not all that close to the bars your friends hang out at. Good thing this is just a starter place, and you have lots of other stages of living to get through in Austin!



STAGE TWO: I NEED TO BE IN THE MIDDLE OF THE ACTION, SO HELLO DOWNTOWN AUSTIN!
You made it through the ups and downs that come with living in your first apartment, and now you're ready to move up and out of North Austin. Well, it's time to check out downtown, where your new apartment will have more impressive appliances and amenities.
And, of course, living downtown means you'll be super close to pretty much everything. In other words, you'll be a quick jaunt or short Lyft ride from all the Austin bars, clubs, shops and tasty brunch spots of the South Congress variety. And what traffic congestion? You barely notice it, since you're having the time of your life living so close to everything you need. Plus, you bought a bike for some scenic Lady Bird Lake rides!



STAGE THREE: IT'S NOT ALWAYS THE WEEKEND, BUT I STILL WANT TO BE CLOSE
Now you've discovered you don't want to be in the midst of the party anymore, but you don't want to miss it completely either. You like the convenience of being in downtown Austin, with quick access to any coffeehouse or café you can dream of … but you wouldn't mind living somewhere a bit calmer, like Zilker.
Hey, you might even try your luck with a spacious townhome or duplex around downtown Austin. After all, you've got a few good brunch spots close to your new home, plus you have Barton Springs, folfing (frisbee golf) and pretty much all the necessities of life. You're happy with this decision.



STAGE FOUR: MY CAREER IS TAKING OFF AND I'M READY TO BECOME A HOMEOWNER
Yeah, you're a little sick of feeling like you're throwing money away on rent every month, particularly after that last steep rent increase. So house shopping you go! You're in search of affordability and fairly close proximity to downtown. Everything else is pretty negotiable.
This means you might end up in the South Lamar neighborhood or somewhere around there. Maybe you won't get a palace for the price you're willing to pay, and you'll probably have to put in some weekends working on the place. But in the end, the house is yours, and you're loving your little peaceful haven in Austin!



STAGE FIVE: I'M IN SEARCH OF MORE ROOM AND A GREAT SCHOOL DISTRICT
By this time in your life, you're ready to stop feeling like you're living on top of your neighbors. Or maybe you just need a better school district for your soon-to-come kids. Hey, maybe it's both. Regardless, you're going to need to branch out to the suburbs around Austin.
Sure, you told yourself you'd never make this type of move. But that was before the idea of the white picket fence (for both the dog and the kids) thrilled you so much. And it was before you thought the perfect weekend consisted of mowing the lawn, taking the family to brunch, and getting your shopping done at that insanely close grocery store. Essentially, you've changed, and you need an Austin home that reflects that. Try Clarksville or Westlake Hills. You won't be disappointed!
So which stage are you in now? No matter the answer, you can trust 3 Men Movers to help you get situated in your new home. Contact our Austin office today to get a free quote.