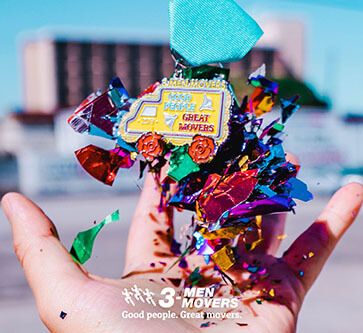 Are you ready for Fiesta?! If you know what we're talking about, you're probably from San Antonio, home of one of the best annual citywide events ever. And if you're not familiar with Fiesta San Antonio, you're about to find out what makes this well-known event so exciting for locals of all ages. Here's what you need to know about Fiesta–and what it means when we say 3 Men Movers made a medal for the event.
HOW DID FIESTA SAN ANTONIO GET ITS START?
Even if you've celebrated Fiesta before, there's a chance you're not aware of its historical significance. This event began all the way back in 1891–yes, over 100 years ago! It was meant to honor the memory of the fallen heroes of the battles of San Jacinto and the Alamo, so locals began a parade of decorated carriages and bikes. During the parade, they'd toss flowers at each other. But since you can only throw flowers at people for so long, they eventually added parties, dances and a carnival to the festivities.
WHAT'S FIESTA ALL ABOUT NOW?
As you might suspect, Fiesta has changed a bit over the decades. No longer is it all about carriages, flowers and dances–though these are still part of the event. These days, this "Party with a Purpose" is a chance for more than 3 million people to get together and celebrate San Antonio's diverse cultures through hundreds of events. In a span of nearly two weeks, dozens of local businesses and nonprofit groups get involved to help make Fiesta one of a kind.
So what goes down at Fiesta? Everything you can think of! First, there are three big parades–one involving boats–around San Antonio. There's also an Oyster Bake at St. Mary's University, and A Taste of New Orleans at the Japanese Tea Garden. You can find music concerts galore, with many celebrating the music of a specific culture. For example, the Fiesta Pops concert shows off the music and dance of Mexico and Latin America. If you want to hear some country, the Chaparral Music Festival is where you want to be, while the Deco District Arts and Music Festival offers musical performances by both local and national musicians.
Of course, this is just a small sample of what Fiesta San Antonio offers. There are several more music concerts, along with art and craft fairs, block parties, food tastings and sporting events. There's even a huge carnival with rides for the whole family. Check out the Fiesta 2018 event calendar to find out which events would interest you the most.
WHAT ARE FIESTA MEDALS?
Another major part of Fiesta San Antonio is the fact that local businesses create and sell their own medals. Each medal is made of details that are unique to the company, and Fiesta attendees love to collect them like souvenirs from their favorite local businesses. Here's the selection of medals you'll see at Fiesta 2018.
And the best part is that you can buy a medal from 3 Men Movers! That's right; we love Fiesta and enjoy getting into this event, so we make sure locals have a chance to collect a medal from a business that has been serving San Antonio for years. If you want to buy a medal for $10 from 3 Men Movers, feel free to come by our office at 302 Casa Blanca St., San Antonio, TX 78215. We'd love to meet you and make sure you have another Fiesta medal that you can add to your collection!