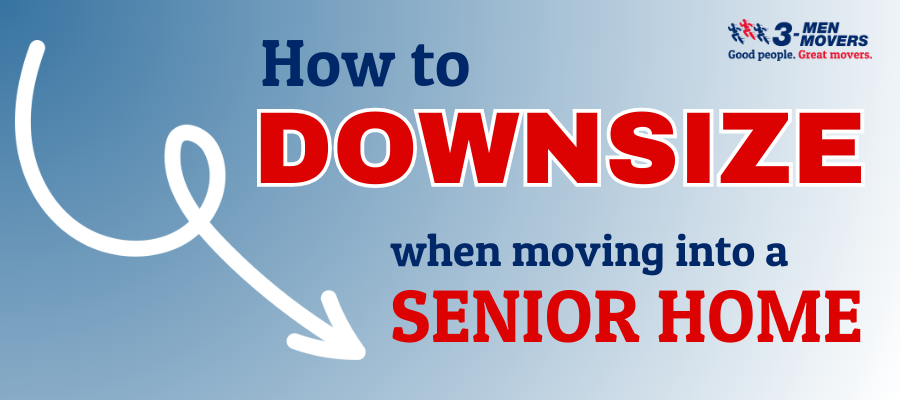 Are you or a loved one considering transitioning to life in a senior living community? It's an exciting new chapter and we know there are a lot of questions, including how best to downsize your belongings. If you're finding yourself feeling overwhelmed by the process, have no fear: we are here with expert advice! As long-standing moving specialists with years of experience, we've helped people of all ages transition into the next stage of their lives. This includes helping innumerable people smoothly transition from their longtime homes into senior living and do so with minimal disruption. Today we'd like to share some helpful tips on downsizing when creating a smooth move-in. From decluttering in stages to sharing memories without hoarding physical items, let's get started!
Ask for Help with Downsizing
Downsizing can feel overwhelming, especially when you're faced with the task of letting go of belongings that hold sentimental value. But the process doesn't have to be a solo mission. Asking for help can make it easier — and even enjoyable! Enlist the aid of family and friends who can offer a fresh perspective and provide moral support. Or, consider reaching out to a professional organizer who can guide you through the process and help you make tough decisions. Don't want to pack the boxes yourself? Consider a professional packing service to handle all the tedious wrapping and box-handling. Remember, downsizing isn't just about getting rid of things, it's about creating a space that fits your current lifestyle and brings you joy. So don't hesitate to ask for help - you might just be surprised at how much easier it can be!
Make a Plan & Set a Timeline
Setting a plan and timeline is essential when it comes to downsizing, especially since this is a task you might be dreading to begin with! Start by identifying what you want ultimately to accomplish and break it down into smaller steps. In this case, you are wanting to move into a smaller, more manageable space! Determine how much time you will need to allocate for each step of achieving this goal, and create a reasonable timeline accordingly. This could mean setting a deadline for each room that you need to go through to decide what items you want to sell, donate or throw out (don't forget your garage and attic!) You may consider moving the things you want to keep into a portable storage unit that will be going to your next place. This gets those items out of your way temporarily and can easily be delivered to your next place when you're ready. The best part about this option is that some companies will send professional movers, included in the price, to load and unload the portable storage unit for you! Remember to give yourself plenty of time to complete each step, and don't forget to factor in potential setbacks so that you can adjust your plan accordingly. Next, put your plan and timeline in writing, and put it where you will see it daily! This can help you hold yourself accountable and keep you motivated. Remember to reward yourself as you complete each step!
Questions to Ask Yourself:
How much space will I have at my new place?

What do I still use? What can I no longer use?

Will a family member want any of these items?

Does this item have sentimental value?

What makes me happy?
Focus on Small Areas First
Downsizing is a daunting task, but it becomes easier when you break it down into small areas. This approach helps you to break down the task into manageable chunks, allowing you to feel more in control of the process. Start with a single drawer, a shelf, or a small closet, and work your way outwards. Work through each item, making decisions about what to keep, donate or throw away. Once you feel confident tackling these smaller areas, you can start working on larger spaces. This not only makes the process more manageable, but it also allows you to see your progress and feel a sense of accomplishment. It can be liberating to allow yourself to let go of things that no longer serve you. So, take your time, focus on small areas first, and enjoy the journey towards a simpler and more organized life!
Our Recommended Process:
Clean & Declutter

Find a Space to Sort Items

Take Your Time to Reminisce

Make it Fun!

Donate or Remove Your Giveaway Items
Stay on Task & Remember What Matters
Since downsizing can be a challenging and stressful undertaking, staying on task and maintaining focus can be difficult. Remember the plan we mentioned making earlier? That plan will be your lifeline in the middle of this process when you want to throw in the towel! It's important to remember why you are doing this in the first place, and keep that in mind throughout the process! If it's to move closer to family, to save money, or to simplify your daily life so you can enjoy your time more - keep that goal in front of your face! Put pictures of those loved ones or places you're planning on going up where you see them daily alongside the plan you wrote out as a visual reminder. Above all, be kind to yourself and give yourself plenty of time to adjust to your new living situation. Remember, downsizing isn't just about getting rid of stuff - it's also about creating a space that enhances your quality of life.
About 3 Men Movers
Trust us, we know moving can be stressful, especially when it comes to downsizing to move into a senior living community. We have seen it first-hand countless times. That's why we made it our mission to provide a stress-free and friendly moving experience for our senior clients. Our team of experts understands the unique needs and challenges that come with transitioning to a new home, and we are here to help every step of the way. From packing and organizing to transporting and unpacking, we handle all aspects of the move with care, efficiency, and patience. Our commitment to excellence and personalized service sets us apart from other moving companies, and we take pride in making every move a pleasant experience for our senior clients. You can trust us to handle your move with ease and compassion.
Related Articles: