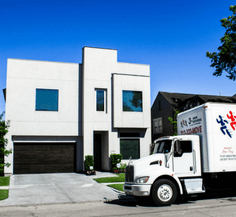 After moving it's easy to feel like there's no place like your old home. If you're feeling a homesick after moving into your new home we've compiled four easy tips to settle into your new place!
UNPACK ASAP
The easiest way to make your new home feel like home is to fill it with all of your belongings. There's a lot to do after a move but this step is crucial to getting settled in. It also eliminates the chance that you'll leave boxes unpacked for months on end.
GO EXPLORING
Getting to know a new area is a huge plus of moving. Try out the eateries, visit the parks, and get acquainted with your new neighborhood!
UPDATE YOUR ADDRESS
While you're taking care of business go ahead and update your address on your credit cards, monthly subscriptions, license, and fill out a change of address with UPS.
HAVE DINNER AT HOME
One thing that can really make your new place feel like home is sitting down for dinner. If you've finished setting things up you can whip up a meal in your new kitchen and if not you can always order in and test out one of your new local delivery spots!
KNOCK ON YOUR NEIGHBOR'S DOOR
Getting to know your neighbors is great for several reasons. Firstly it's always great to have a friend nearby. But, even if you don't become besties with your neighbor being on good terms comes in handy if you need someone to check on your house if there's suspicious activity, pick up packages and mail when you're out of town, or tell you about local spots and service providers!
IN CONCLUSION
It may seem daunting to call another place home especially if it's your first time moving or if you've been at one residence for a lengthy period of time. But settling into a new place is far from impossible as long as you keep an open mind and follow our easy guide!
Related Tips