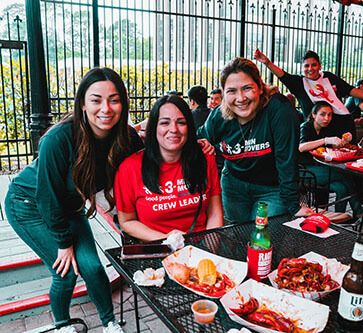 So your Austin movers just left and you're all moved into your new home in an unfamiliar city. Now what? Well, now it's time to make some new friends so you have someone to hang out with after work! But how do you even get started? After all, most of us probably made our childhood friends by talking to the kid who sat next to us in class, or by playing outside at the park with our neighbors from down the street. Maybe you're not in school anymore and you live in the typical neighborhood where adults aren't just playing at the park–hopefully!–which makes it pretty hard to organically meet new people. However, don't give up just yet. Follow these tips on making friends in a new city so you can say your Austin movers weren't the last adults you had a great conversation with.
Explore Your New Neighborhood
One of the simplest ways to make new friends is to get out of the house and check out the area. You can do this as soon as your Austin movers drop off the last box in your new home. After all, you'll need to grab dinner or coffee and then figure out where your new grocery store, bank, etc. are all located. Maybe you'll strike up a conversation with a cashier or fellow bar patron while you're out, possibly resulting in your first new friend.
If you have a dog to walk, this step is super easy. Just get outside every day, making sure to stick to the same trails or dog park to boost your chances of seeing the same people on a regular basis. Eventually you'll feel right at home in your new city, complete with new friends who are animal lovers like you!
Reconnect With Old Friends in Your New City
You might find you already know a few people in your city. After all, most people move around a few times during their life, and some of them might have found their way to the city you just moved to.
So as you get ready to you schedule your move with an Austin moving company, check with your networks–including your social networks!–to see if an old friend from high school or college may have moved to your new city. Most colleges have alumni networks where they watch games together and have events so you can make some new friends too. You should also ask your friends and family members if they know anyone who lives where you're moving. It's always nice to discover you have a friend from home in your new city.
Create a Consistent Schedule
It's easier to make friends when you see the same people over and over. That's why it was always so easy to make friends in school or during extracurricular activities when you were younger. So join an activity where you'll have to keep coming back at the same time and seeing the same people. This might include a workout class at the gym, volunteering with a local non-profit, or a church group that meets every week. Taking up a new hobby that has regular meetings or workshops is also a good idea.
Even work counts when it comes to this tip, because you probably see a lot of the same people at work every day, right? Maybe you've started to say hi to a few people every day as you pass them at your new job. Take it a step further and ask if they've heard about a social event you'll be at–such as a poetry slam at a coffeehouse, or a small concert at a nearby bar. If they're interested in the same event and want to get to know you, they might show up and you can talk! And if your new job hosts happy hour or other social outings, be sure to go whenever you can.
Now that you're armed with ways to make friends in your new city, you're ready to rock your move with the help of some Austin movers. Contact 3 Men Movers at our Austin office today to get on our schedule!
Related Tips