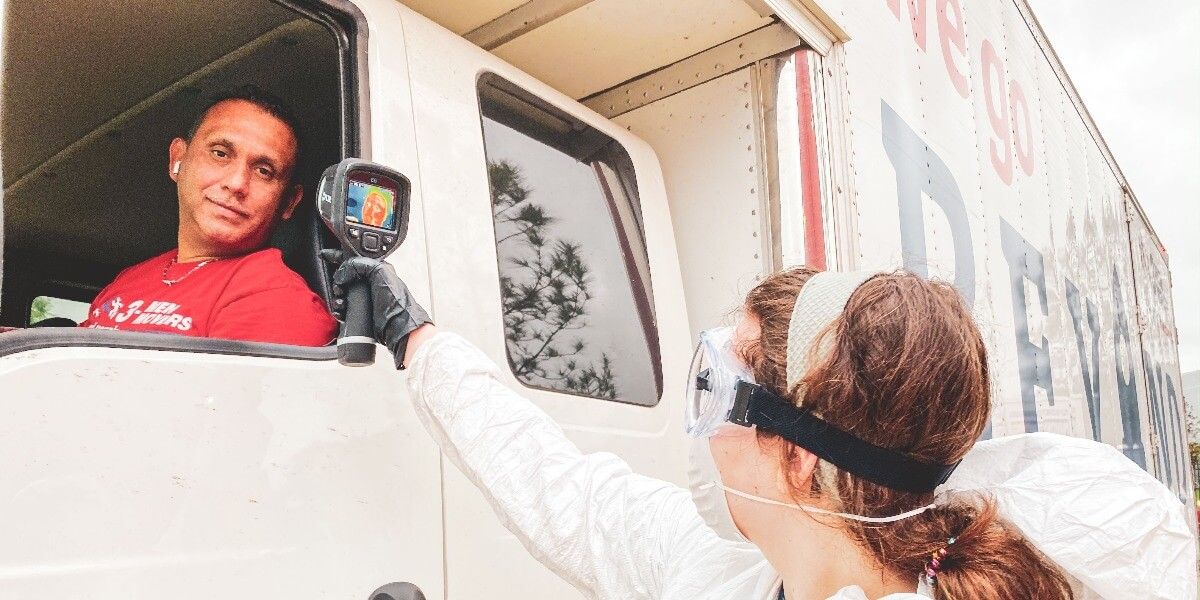 Yes, there is a coronavirus pandemic changing the way we all live our lives. Possibly forever. But, yes, you can still move during COVID-19 if you are comfortable with it and take the correct precautions.
Your Guide To Moving During COVID-19
Due to COVID-19, there's been a lot of discussion about how life will look under the seemingly new normal. Such information is changing daily, and smaller businesses have been shellshocked by the effects. Here at 3 men movers, we do what we say—always. We're committed to you, our clients, by being good people and great movers.
Here's how we're supporting you, no matter if you…
…have an upcoming residential move
…have to seriously consider moving during a shelter-in-place or stay-at-home order
…want to cancel/reschedule your move
It's a crazy time, but we're sticking by you 100%. The good news? We're still moving when you need us, using our new coronavirus disease-specific safety measures based on expert health consensus.
Why We're Still Moving During Stay-at-Home Orders in Texas
First, let's clear the air about why we're currently still operating:
Moving is considered an essential service Under the shelter-in-place and stay-at-home orders across Houston, Dallas, Austin, and San Antonio, moving falls under critical household services and transportation/logistics. (After all, you never know when or why someone will have to move.)
We are still able to conduct moves. All of our non-essential staff are working remotely, thanks to us having cloud-based technology for several years. While movers are expected to strictly adhere to our new coronavirus prevention procedures (i.e. daily drive-through temperature checks, regular handwashing, wearing masks, truck sanitization, clearance by a doctor for any signs of illness, and signing a pledge).
Earlier this week, the Southwest Movers Association provided us with detailed guidelines from the Department of Homeland Security on how moving and storage services are generally treated under pandemic restrictions:
"TRANSPORTATION AND LOGISTICS
Employees supporting or enabling transportation functions, including truck drivers, bus drivers, dispatchers, maintenance and repair technicians, warehouse workers, truck stop and rest area workers, and workers that maintain and inspect infrastructure (including those that require cross-jurisdiction travel)."
To ensure that your booked moves still run as smoothly as possible, we even confirmed with state police, reaffirming the above information.
Our New COVID-19 Moving Process
Here's what our moving process looks like if you currently have a move scheduled, or want to book one.
When you call, we'll review our responsible COVID-19 practices to give you peace-of-mind and give you a chance to ask questions so you feel comfortable.
Every morning, our crews do a thorough health screening before they can go on any jobs for the day. We're in constant communication with our crews and want to make sure we're only sending out our best for both our safety and yours!
If a crew visits a home where someone is exhibiting symptoms common to the novel coronavirus, they'll let us know, get screened, and be tabled until cleared by a physician.
Want to cancel or reschedule your move? Notify us within 24 hrs—that's all you have to do! Cancellations will receive a full refund on the trip charge.
Don't worry about disruptions. In case of any potential traffic stops by law enforcement, all crews are equipped with Essential Service Certificate letters to authorize their movement.
Moving During a Pandemic: What Do I Do?
Now, let's cover what you can do to make your move as simple and safe as possible:
How to Prepare to Move in a Pandemic
Educate yourself! Put an end to the worry and stress that comes with misinformation, by doing your due diligence. Check your city's guidelines and recommended preventative measures you can take to stay safe and stop the spread.
If possible, set up a handwashing station for your crew. As recommended by the World Health Organization, washing your hands regularly helps to deteriorate coronaviruses that may be on your hands and the potential to spread it around. You should wash your hands for a minimum of 20 seconds (or, as long as it takes you to sing the "Happy Birthday" song).
If you or any members of your household are immunocompromised—or otherwise vulnerable—it might be a good idea to reschedule. We'll be here if you need us, but rescheduling is not an option, practice extreme social distancing by keeping a distance of 6-15 feet between persons in air-conditioned spaces. (Here's why we say 6-15 feet)
Expecting lots of boxes? If you're bringing boxes into your home from elsewhere, disinfect them by spraying 70% isopropyl alcohol, hydrogen peroxide, or a sanitizer that won't discolor any items going inside the box.
Prep EARLY. We've all procrastinated before, but moving is already stressful and times are rough when you can't go to the store as needed… If purchasing moving supplies isn't an option but you want to pack on your own, use things like towels, old paper or plastic wrap, or old containers with lids to wrap and protect your items.
Clean as you go. Drop old clothing or books at a drive-up donation box. Disinfect all your belongings (and handles) that are frequently touched. De-cluttering can be quite therapeutic and can make you feel less burdened.
There may be various stay-at-home orders around Texas, but if you need to move, you can. When everything else seems frantic, the best thing for you and your movers is to relax. Remember, we're taking extra precautions and are with you every single step of the way… Even if you still have to move during a nationwide pandemic.