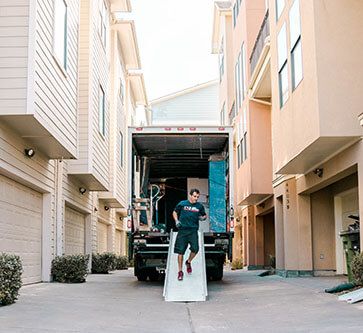 If you have a move coming up, you're probably pretty excited to get started…or maybe anxious is a better word for what you're feeling! Either way, you're likely eager to get the process over with so you can start enjoying your new home. Your first step is to reach out to some local movers for a moving quote, and then you sit back and wait for them to get back to you. And you wait…and wait some more. Come to think of it, that was last week and you still haven't heard anything. Frustrating, huh? You're ready to get this show on the road, and yet you still don't know who's helping you move, or how much it will cost. That's why at 3 Men Movers, we have a "Movifesto" that specifically mentions our sense of urgency as one of our promises to our customers, since Part Two of our Movifesto is: We hustle. Here's what exactly that means.
WE'RE FAST AT SETTING UP MOVES
As soon as you realize you're moving, you want to get everything planned so you know for sure you'll have help loading up your belongings and driving them to your new home. After all, you don't want to wake up on moving day and realize you're going to be the only one doing the heavy lifting. That's called a nightmare, not a reality you deserve to be facing!
That's why we recommend scheduling your move as soon as possible. But that's kind of hard to do when local movers won't pick up their phone or answer your emails! At 3 Men Movers, you won't have to worry about nervously twiddling your thumbs while you wait days for a response from movers. Quite the opposite, in fact, as we make it a point to answer the phone within 20 seconds. You read that right; seconds, not days! And we never pass on web leads, so feel free to fill out that free quote form and expect to hear from us within hours.
WE'RE EFFICIENT AT MOVING
We're not just fast at giving out moving quotes and getting you on the schedule for moving day. We're also super quick to get the job done when the big day arrives. You can expect to be greeted at your door by a few moving pros who will get right to work loading up your boxes with a surprising amount of TLC, considering how fast they're moving.
How is this possible? We like to think of our team as a well-oiled machine…except instead of cold, hard machine parts, our team is made up of good, caring people who happen to have years of experience helping people move in Texas. Our movers work quickly and efficiently, whether they're helping you pack or loading everything up in the truck. And yet, they always factor in some time for a smile and answers to any questions you have along the way!
Basically, you'll never catch us dragging our feet at your home. We know you just want to get through moving day in one piece, and the sooner, the better. That's why we hustle through every move. So how do we manage to do it? We wake up earlier than the competition! That definitely helps. Plus, we simply work well together, since we all share the goal of moving your belongings safely and quickly. You can learn more about our values when you watch our video that outlines all eight parts of our Movifesto.