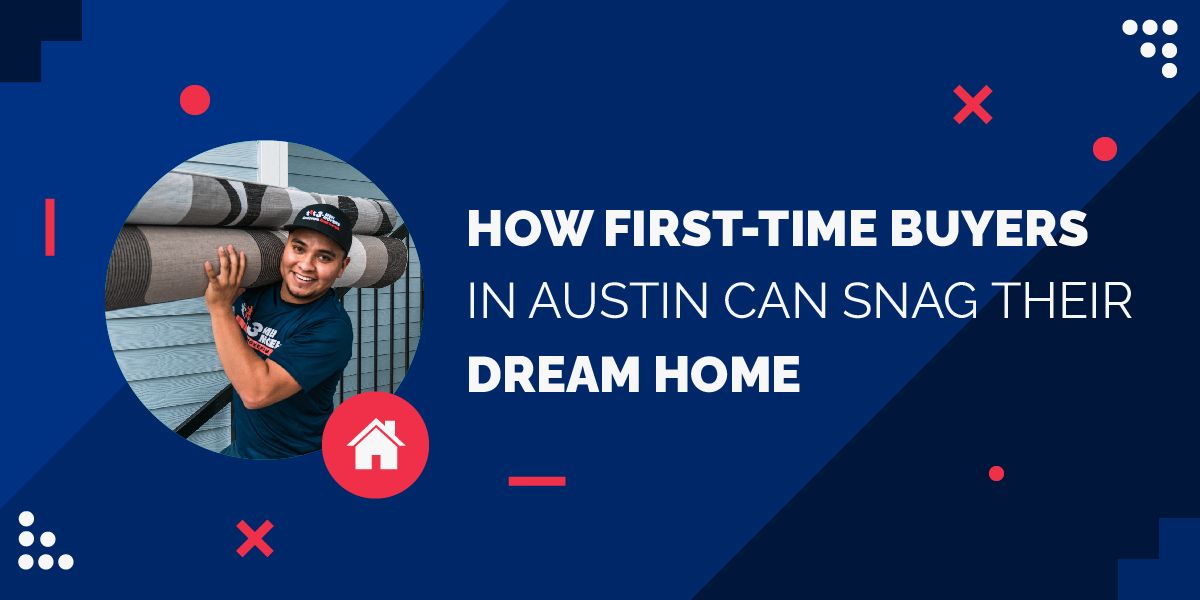 Want to buy your first home in Austin? You're not alone.
The Austin housing market is hot right now thanks to a huge influx of people moving to the city from all over the country. Statistics show that the population of Austin has grown by 34 percent since 20101, making it one the fastest growing metropolitan centers in the U.S.
With great weather, a thriving arts scene, fantastic food, and plenty of work opportunities, it's easy to see why so many people want to move to Austin. This can make it difficult for anyone who is house-hunting in Austin—especially if you're buying a home for the first time and aren't sure how the process works.
But, first-time homebuyers don't have to stress! With a bit of research and knowledge, you can find what you're looking for to stand out from the competition. This guide will give you all the information you need for buying a house in Austin right now, from tips on finding the best location to financing options and more.
Is Austin a Good Place to Buy a House?
Ask any Austinite whether the city is a good place to buy a house, and you will most likely get a resounding YES!
Here are a few reasons why Austin is a great place to live and own a home:
300 days of sunshine on average per year2

Fantastic food including BBQ, Tex-Mex, Vietnamese, Italian, and more

Low crime rate compared to other big cities in the U.S.3

Great parks, hiking and biking trails

Excellent K-12 schools

Wide variety of neighborhoods, each with their own vibe
What Do I Need to Know About Buying a House in Austin?
If you plan on buying a house in Austin right now, be aware that it may take a lot longer than expected and cost more. Due to high demand, low inventory, and skyrocketing prices, you'll definitely need to prepare for the process and thoroughly plan ahead.
Here's the process you should plan for when trying to buy a home in a highly competitive market like Austin, TX:
Determine your entire budget.

Keep in mind that you will not only need to budget for your down payment and first few mortgage payments, but also a home inspection, closing costs, taxes, insurance, new furniture, and any repairs or installations needed when you move in.

Get pre-approved for a mortgage.

To prepare ahead of time for pre-approval, tighten up your credit score, wrap up outstanding debt, and raise your credit limits (

without

incurring any new debt). Your debt-to-income (DTI) ratio is especially important when it comes to getting pre-approved for a mortgage loan. A high credit score can help you stand out from other potential homebuyers in Austin and show sellers that you are serious.

Start house-hunting and scheduling showings.

You can do this on your own or work with an experienced real estate agent who has access to multiple listings and knows the market.

Research where you'll move to in Austin.

Austin is unique in its own right. So consider not just the house itself, but the location, property taxes, amenities, proximity to things that matter to you—like schools, fire stations, hospitals, major roads, train stations, airports—and more. If you're not familiar with the area (or Austin in general), this is a perfect time to research any prospective neighborhoods or zip codes that are on your list. A realtor can help you if you're moving to Austin from out of state or simply don't have much time to explore.

Make an offer on your dream home in Austin.

See something you like? If it checks off the most important boxes, don't hesitate to make an offer and seal the deal in such a competitive market. If the seller agrees to your offer, you can schedule an independent home inspection to assess the structure of the home and see if it needs repairs.

Close the deal on your new home.

This final step in the homebuying process involves quite a bit of paperwork. You may want to consider working with a real estate agent who can handle this for you and advise you on any legalities and closing costs.
How Much Is a Down Payment on a House in Austin?
How much do first-time homebuyers have to put down in Austin? Well, that depends.
Your down payment hinges on the price of the home you want to buy and how much money you can afford to put down. The down payment is a percentage of the price of the home. If you're a first-time homebuyer in Austin, your down payment can be as low as three percent. So if the home is $500,000, your down payment would be $15,000.
It's ideal to put down 20 percent or more so you can avoid paying private mortgage insurance (PMI). You are required to get PMI when your loan is 80 percent more than the purchase price of the home. You may also qualify for loans or programs that do not require you to put any money down. For example, the VA home loan program for military personnel does not require you to make a down payment.
What Is the Average Cost to Purchase a New Home in Austin?
The average price of a home in Austin is around $600,0004. This could get you anywhere from 1,400 to 2,400 square feet depending on the neighborhood.
Naturally, the closer to downtown you are, the higher the prices will be. To have more space, you may want to consider looking at neighborhoods further away from Austin's city center.
How Much Do You Need to Save for a House in Austin, Texas?
It's important to remember when buying a house that there are extra costs involved beyond merely the price of the home. Knowing these costs will help you determine how much you need to save to buy a home and how to handle your budget post-move.
The biggest cost of buying a home is your down payment. The more you can save for your down payment, the better your interest rates and the lower your monthly mortgage payments will be.
Closing costs are another factor to consider. These could be anywhere from two to five percent of the amount of your loan. You will also have to pay for a home inspection and any repairs that the home needs before or after you move in.
Let's say that you're looking at houses in the $500,000 price range. If your down payment is 10 percent and your closing costs are two percent, you would need to save at least $60,000. Then you would probably want at least another $10,000 for the home inspection and any repairs. So your total savings should be at least around $70,000.
Keep in mind this doesn't include any additional furniture, repairs, or installations you'll need after moving in!
How Long Does It Take to Buy a House in Austin?
Buying a home can be a lengthy process. It takes time to search for homes, schedule showings, get pre-approved for a mortgage and close on a deal.
A good rule of thumb is to start house-hunting about six months before you want to move. This gives you enough time to see a number of options and get a feel for what you can afford for your budget. The amount of time it takes to close on a home will depend on the circumstances and complexity of the deal.
After you submit a formal offer to purchase, you may still need to do the home inspection, appraisal, and any repairs before the mortgage company will finalize the purchase. It generally takes about 30 days to close on a home. (This is assuming you have all of your financial documents in order and that the seller is eager to close in a timely manner.)
Where Should I Buy My First Home in Austin?
Austin has so many amazing neighborhoods to suit every lifestyle. If you're buying a home for the first time, you'll definitely want to check out a few different neighborhoods to see which one is best for you.
When deciding on a neighborhood, location is key. Do you want to be close to your work or school? How long are you willing to commute? How far do you want to be from downtown? Another thing to think about is the atmosphere. Do you prefer the hustle and bustle of city life or a more peaceful environment? Are green spaces important to you? What about Austin's walkability?
If you're planning on buying a home for the first time, below are some of the best neighborhoods in Austin to consider:
Downtown
There's always something exciting happening in downtown Austin. Here you can find some of the city's best restaurants, pubs, live music venues, and boutique shops. Housing includes a mix of luxury condos, apartment buildings, and old and new homes. Home prices tend to be high in downtown Austin.
Barton Hills
With its central location just minutes from downtown and abundance of nature, Barton Hills offers the best of both worlds. Residents in the neighborhood can enjoy easy access to the Barton Creek Greenbelt, Zilker Park, and Barton Springs.
Cherrywood
Located in east Austin close to the University of Texas campus, Cherrywood is popular with students, young professionals, and artists. The houses here include bungalows and craftsman-style homes. This is a great location if you want to be close to everything, but not in the midst of downtown.
North Loop
North Loop used to be right under the flight path of the old Austin airport, so it was typically a lower-income area. Today it still has that working-class feel, but with trendy new businesses and contemporary homes popping up all the time.
Mueller
If you're looking to buy a modern condo, townhouse, or single-family home, Mueller is a planned community that was first developed in 2007. Located in East Austin, the area boasts plenty of parks, restaurants and even a children's museum called Thinkery.
West Lake Hills
You'll find some of Austin's most luxurious and exclusive real estate in West Lake Hills. This beautiful neighborhood has rolling hills, tons of restaurants, and highly rated schools. Many of the homes here have views of downtown Austin.
South Manchaca
If downtown Austin is a bit too pricey for you, South Manchaca may be a good alternative. You can find affordable single-family homes here, some of which have nice backyards and two-car garages. There are also plenty of local shops and restaurants in South Manchaca.
How Can I Buy a House in Austin on a Budget?
Thinking about buying a home on a low income? Or, are you worried that your income may be too low to afford to buy a home?
Don't be. There are plenty of options for first-time homebuyers of all income brackets! In fact, here are some top ways you can financially prepare to buy a home in Austin on a lower-than-average income:
Work on Raising Your Credit Score For a Home Loan
Improving your credit score is the best thing you can do! Most mortgage companies and lenders look at your credit score when deciding whether to approve you for a loan.
Easy ways to improve your credit score for a mortgage loan include:
Paying down your debts

Making consistent bill payments

Strategically paying bills ahead of your statement closing date

Asking for an increase on your credit limit
Ask Someone to Cosign Your Loan
Raising your credit score can take time, especially depending on your debt-to-income ratio.
If you're house-hunting on a time crunch but have a poor credit score or low income, consider asking someone with a higher credit score to cosign a loan for you. This could be a parent, spouse, or even your employer.
Your income will determine how much you can afford to pay in monthly mortgage payments. Many banks offer mortgage calculators to give you an idea of what to expect for monthly payments. A real estate agent can also help you with the numbers.
Just remember that on-time payments are still key to increasing your credit score even if you receive assistance. In fact, timely payments can matter even more so if you have a personal relationship with your mortgage loan cosigner since their credit score is also affected.
What Programs are Available for First-time Homebuyers in Texas?
The Texas Department of Housing and Community Affairs (TDCHA) can offer assistance with your down payment and closing costs. However, you will need a credit score of at least 620.
Luckily, there are a number of different Texas loans you can choose from. Below are two examples of helpful homebuying programs you can use:
If your credit score is low, the

Federal Housing Administration (FHA)

loan may be right for you. The FHA has relaxed requirements for mortgages, so you may be able to get a loan with a credit score as low as 500.

NACA (Neighborhood Assistance Corporation Of America) is another program for those with low to moderate credit scores.

If you are a member of the military, a veteran or a surviving spouse of a member of the military, the

Veterans Affairs (VA) home loan

is a good option. Benefits include no down payment, no mortgage insurance and no minimum credit score.
For more detailed information, programs, and financial calculators to help you buy a house in Austin, check out these resources:
Wrapping Up
Buying a home in Austin, Texas doesn't have to be a stressful experience. As long as you have basic knowledge of the process and create a detailed plan with a budget in mind, you'll be able to find a suitable home for you and your family.
The great thing about Austin is that there are so many neighborhoods that have houses in all price ranges—so you can find something that matches your criteria and fits in your budget. While you should definitely give yourself time to shop around and gauge what's out there, don't wait too long to buy a home in Austin's competitive housing market!
Sources:
Related Tips