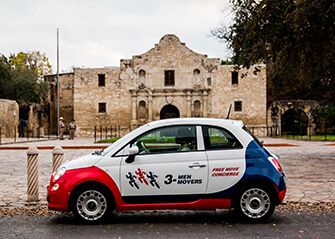 It's the holidays in San Antonio, and that means it's time for tamales! But that's not the only tradition we have around here between Thanksgiving and New Year's Day. This city also offers tons of events for everyone, from traditional Christmas lights to luminarias. So whether you're thinking of moving here, or have been here for years and just need some new ideas on local events, here are the top five holiday options in San Antonio.
Old west christmas light fest
Everything's bigger in Texas, and the Christmas lights at Old West Christmas Light Fest are no exception. On select nights from November 22 to December 29, you can head to Enchanted Springs Ranch in Boerne to see more than 40 "Old West" buildings decked out in countless lights. Plus, the kids can visit with Santa, eat holiday treats, play holiday-themed games and more. Basically, there's holiday fun for all ages at this San Antonio Christmas event.
Holiday lights on the river walk
If you normally enjoy the San Antonio River Walk, you'll love it during the holidays! From November 23 to January 6, it's filled with more than 100,000 pretty lights adorning the trees all around the area. And it's free for you to walk around and admire the lights, so go ahead and stroll down the River Walk any night during the holiday season to boost your Christmas spirit!
Wonderland christmas
Every year, Morgan's Wonderland is proud to present a holiday attraction that welcomes children and adults of all ages and abilities. At Wonderland Christmas, you'll see lots of lights, holiday decorations, a petting zoo, puppet performances, story time with Mrs. Claus, free cookies and more. This holiday event runs on select nights from November 23 to December 23, giving you and your family a month to make it to Morgan's Wonderland this winter. Of course, if you don't make it this year, there's always next year, since this is an annual event that San Antonio parents have been attending for a few years in a row now!
Ford fiesta de las luminarias
Ah, the holidays in San Antonio wouldn't be complete without a festival filled with luminarias, or lights inside paper bags. That's why you don't want to miss the Ford Fiesta de Las Luminarias, which takes place at the River Walk on weekend evenings between November 30 and December 16. Considering that the River Walk is also decked out in Christmas lights during this time period, you'll get a double dose of holiday spirit when you combine those with the beautiful luminarias this winter in San Antonio.
Celebrate SA
Did you know San Antonio is the best city in Texas to celebrate New Year's Eve? Yep, we took the 16th spot on WalletHub's list of Best Places for New Year's Eve Celebrations, and we happen to be the top Texas city on it! So you really can't go wrong when you spend this holiday here, especially considering this year was the city's Tricentennial…so we're definitely celebrating! That's probably why one of the top events to attend will be Celebrate SA, which is a free New Year's Eve event that features dozens of live musical acts topped off by fireworks at the end of the night. Between 6 pm and midnight, you can enjoy live music, food, drinks, carnival rides, games and more as you ring in 2019.
If you're not yet a resident of this great city, you can see now why you should be! Whether you want to move here from another Texas city or just need to switch neighborhoods in this area, contact 3 Men Movers today! We'll send you some friendly, helpful San Antonio movers who will make relocating a breeze for you.