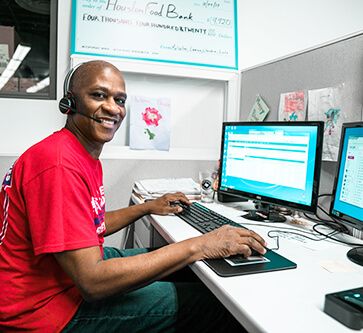 No matter how many times you've moved in your life, you probably still get stressed when thinking about moving day. After all, there are lots of, well, moving parts that all have to work out perfectly to make the day go off without a hitch. Sure, hiring professional movers is a great way to reduce your stress…assuming they stick to their word and follow through on the details they agreed to. Unfortunately, that isn't always the case with all moving companies. But when you hire 3 Men Movers, it is! In fact, it's right in our "movifesto," which is a public promise to our customers — and you can learn more about it in this video. Note that Part One of that movifesto is, "We do what we say. Always." Here's exactly what we mean by that.
IF WE PROMISED YOU SOMETHING, WE STAND BY IT
At 3 Men Movers, we know a successful moving experience depends on everything coming together just right, and that means you need everyone's cooperation. Accordingly, when movers tell you they'll arrive with a large truck at 8 a.m., you deserve to trust their word and schedule your whole day around them arriving on time.
So what happens when 8 a.m. passes and you haven't heard from the movers? If they do show up it will most likely be several hours later with no explanation as to where they've been. First things first, you start screaming internally…or maybe even out loud, depending on just how frantic you're feeling!
Hopefully, by that point, your movers are apologizing profusely and doing everything possible to make it right. But in reality, some movers would only add insult to injury by taking that moment to inform you of additional charges you never agreed to on the phone. Sound about right?
We know just how frustrating it is when someone you're relying on doesn't come through for you, which is why we always promise to stick to our word. If we say our movers will be there with a large truck at 8 a.m., then you'd better believe you'll open the door to some smiling faces at 8 on the dot! If you're not a morning person and 8 is just too early for you to see smiling faces, go ahead and schedule your move for later in the day when you're more ready for those smiles. Either way, we'll make sure to show up with a moving truck that's the size you need for your move since we'll discuss these details with you on the first phone call.
IF WE MAKE A MISTAKE, WE'LL FIX IT
Okay, we're going to let you in on a little secret we don't go around bragging about: We aren't perfect. It's hard to admit, but sometimes we don't get it exactly right. But what sets us apart from other companies is that we're not afraid to acknowledge and quickly fix any mistakes we make — even if it costs us! If we make a promise to you over the phone as we plan your moving day, we'll honor that promise.
So if we told you a price over the phone, we'll give you that price on moving day, even if the quoted price was lower than it was supposed to be. And on the off-chance we aren't right on time, you can expect a discount to help make up for our mistake.
The bottom line is that sometimes we get it wrong…but the difference between us and other companies is if we get it wrong, we'll make it right! That's because doing what we say is just in the code we live by to do right by our customers so we can uphold our motto: "Good people. Great movers."