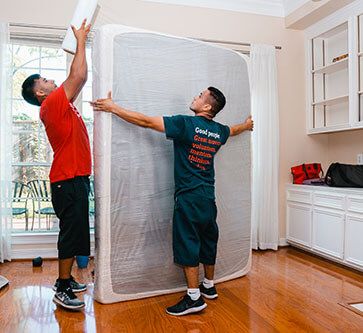 You may spend less money when you move yourself compared to when you hire a mover, but the small savings of a DIY move won't justify all of the extra time, effort, stress, and headache of moving yourself. Moving is an experience that requires a lot of effort and planning. Now that you've decided where and when you are moving, you need to decide how you are moving—will you choose to hire Dallas movers to help the whole moving process go by methodically or are you the ambitious type that wants to handle the move yourself? There are a few considerations to make when it comes to whether you will choose a DIY move or hire a Dallas moving company.
When You Might Consider a DIY Move:
You're On a Budget
Hiring professional movers in Dallas can be a little bit pricey. If you are on a tight budget and don't want to spend the money to hire movers, this is a good option for you.
You Have Plenty of Time
Packing up the whole place yourself may take many hours, and the actual loading, driving, and unloading (sometimes you might need multiple trips) will take a lot of time as well. If you don't have a lot of stuff or have plenty of free time, this is a good option for you! Check out our recommendations on packing!
You Have A Taskforce to Help
You have friends, family, or neighbors to help you with loading and unloading the big things like beds, mattresses, couches, dressers, washing machines, etc.
You Have Access To A Vehicle to Move Big Things
You have a vehicle like a truck or trailer that can accommodate moving big things. Just make sure you do research on how to properly secure it when driving!
Great Reasons to Hire Professional Movers:
Damage Claim Protection
Licensed moving companies have damage claim protection so if they break something during a move, you can file a claim and get reimbursed for damage to your items.
Professional Movers Do It For A Living
These movers have years and years of experience wrapping, covering, carrying, loading, and transporting all kinds of items safely and soundly. They also work in a team so you know your stuff is in good and capable hands.
You Get Extra Perks
Our movers come with floor protection, shrink wrap, and blankets to ensure your floors and belongings are protected when moving them. Some Dallas moving companies even offer packing services to help you get packed and unpacked!
Rearranging and Furniture Assembly
Once we unload your furniture, we will assemble it for you and move it anywhere you like. It's nice to point to where you want things instead of doing it yourself, and if you don't like where it is, we'll move it again for you!
Fast and Efficient
You get a moving team of 3 who specialize in being speedy and doing the job right. You'll be amazed at how fast they go!
Reducing Stress
Finally, you don't have to worry about any of the headaches associated with moving. Lifting, carrying, pivoting in and around staircases, disassembling furniture, tying down furniture, scraping up walls, etc. You have a team of professionals to handle that for you. You just get to sit back, relax, and enjoy your new home!
Conclusion
If you decide you would like to use professional movers in Dallas instead of moving yourself, you can get a free quote and book online with us any time. Learn more about how we protect your furniture.