Portable Storage Units
We have the most convenient portable storage on the market! Our MOVITS portable storage units, available in our Houston and San Antonio locations, are a great solution. Whether you're moving, renovating your home, or need to free up space, our MOVITS service provides a fantastic short or long-term storage solution.
Act fast and save! Simply mention our MOVIT400 promo code to one of our move experts when booking , and we'll take $400 off of the cost of the load and move in of each container. Don't hesitate, because availability is limited and when they're gone, so is the offer! Call or click to book today!
Need more info? Check out our video that explains how our MOVITS portable storage service works.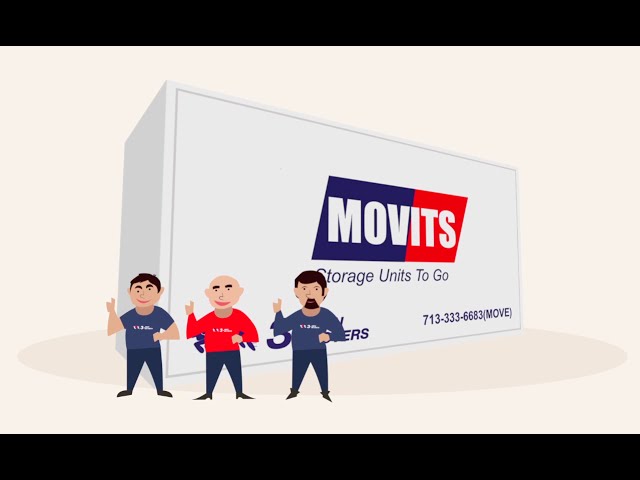 Why Choose MOVITS Portable Storage Units?
We've created a virtually hands-free, professionally executed experience that makes using portable storage units a breeze, and saves you time and effort. Our service wins out on the following.
Convenience
Our professionally trained movers will do the heavy lifting, saving you time and effort. We deliver the unit, load, and transport your belongings to our facility the same day. When you're ready to take your possessions back, we repeat the process in reverse. You leave it all to our crew. Don't want to box up the items going into storage? We also provide professional packing services for an additional fee.
Protection of Your Belongings
Packing and loading a portable storage container yourself can be tricky and cause damage if not done right. Our movers know exactly how to load, stack, and store your belongings to ensure that there is no damage while in storage.
Secured, Climate Controlled Facilities
Texas humidity is brutal! Our climate controlled storage facilities use state of the art technology to protect your belongings from the elements. Our professionally monitored storage sites also means that your goods are protected from theft.
Storage Capacity
Our MOVITS portable storage containers are 20' by 8' by 8' or 1280 cubic feet, providing enough storage for a moderately furnished two-bedroom home or apartment. Compared to PODS largest unit capacity, our MOVITS units are 25% larger.
Storage Container Access
If you need access to your unit while at our facility, just provide 24-hour notice, pay a $29 staging fee, and we'll arrange the rest.
Not sure what mobile storage meets your individual needs? We've added some comparison points to help with your decision.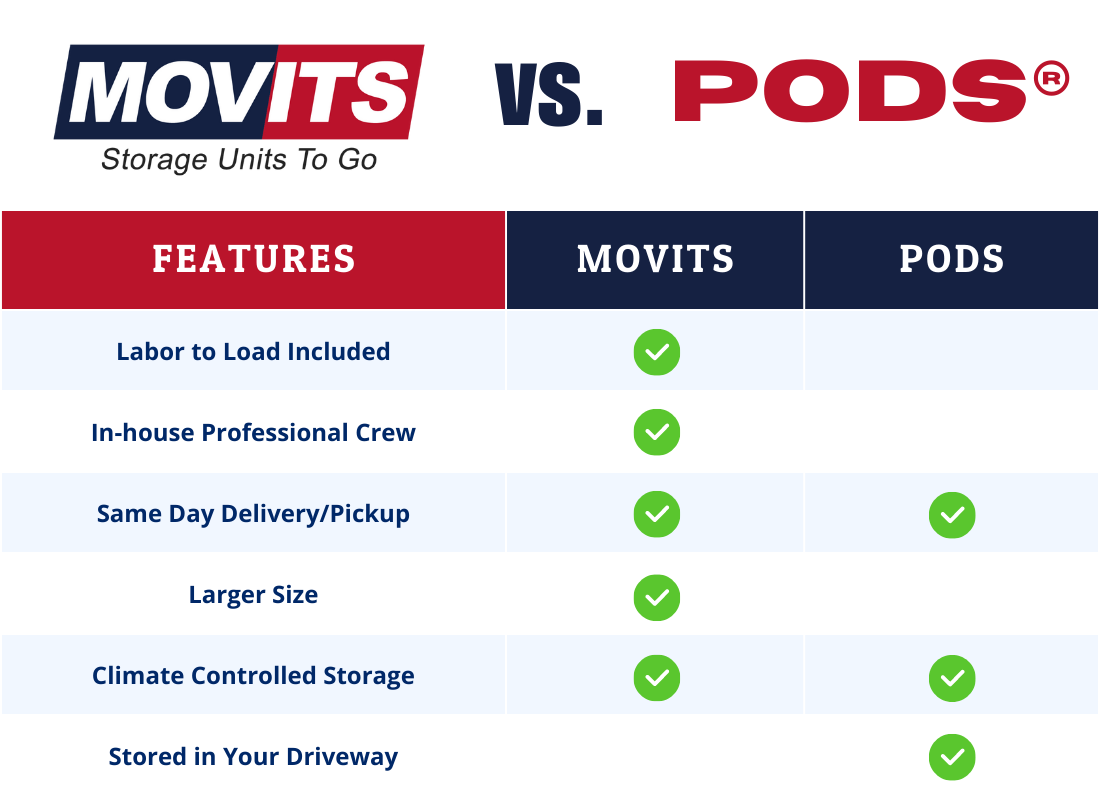 Still not quite sure which portable storage unit solution is right for you? Check out our considerations article to get more information to help you better make your decision.
Safety Package
In order to ensure that your items are as protected as possible, we recommend purchasing our Portable Storage Safety Package. The materials included in the package reduce the chance of your belongings being scratched, broken, and shifting during the time that they are in storage and while they are being loaded. These supply items are the same high quality protective items our moving crews use, and yours to keep at the end of your rental.
Our Portable Storage Safety Package includes:
12 heavy duty moving blankets
1 pack of strapping assembly
1 disk padlock
The cost of this package is $140 and is added to your total bill. Trust us, it's worth it!
To learn more about MOVITS storage container rentals, provide us your contact information in the FIND OUT MORE form, submit, and we'll follow up. Or you can call the number at the top of the page. One of our move experts can answer all your questions!