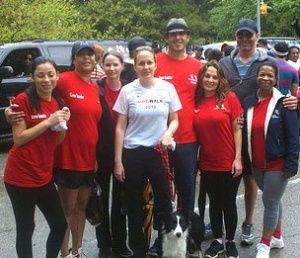 Houston Residential and Office Moving Company 3 Men Movers Assists AIDS Walk Houston
Community Service Continues to be a Strong Priority for 3 Men Movers
HOUSTON, TEXAS (Marketwire) April 13, 2010 – 3 Men Movers is a premier residential moving company that has assisted over 16,000 clients in Houston, Austin, and San Antonio. The company prides itself on stress-free service for the smallest apartment moves to the largest office relocations.
In addition to taking care of the needs of their clients, 3 Men Movers continues to place a high priority on community service. For the past three years, Jaid Pineda, a driver with 3 Men Movers, has donated his time and truck to AIDS Walk Houston, a fundraiser that supports education, programs, medical care, counseling, and job training to more than 100,000 Houstonians each year.
Mitch Gonzalez, director of marketing and sales for 3 Men Movers, wanted to expand their involvement in the 21st Annual AIDS Walk Houston, which took place on Sunday, March 14, 2010. Several employees including Gonzalez, Pineda, Christina Ramos and 3 Men Movers CEO Jacky Noons, devoted their time and resources. On Saturday, March 13, they picked up water, Powerade and other supplies for the walk from various Houston companies. On the morning of the walk, they delivered the product to different stations at Sam Houston Park in downtown Houston and along Allen Parkway. At the conclusion of the walk, Gonzalez, and his crew drove the 3 Men Mover truck and assisted with trash pick- up and tear down of the displays along the walk route.
"3 Men Movers has always supported community events in Houston and throughout Texas," said Gonzalez. "AIDS Walk Houston exemplifies the spirit of caring for those in need, so we were very proud to support this charity with our time and resources."
In additional to residential moves, 3 Men Movers offers the same level of customer service to its corporate moving division. Office managers can depend on a team of professionals with 10- 20 years in the commercial moving industry to oversee and coordination, every detail of the move.
3 Men Movers owns and operates a self-storage facility in southwest Houston with climate controlled units, a state of the art security system and digitally-controlled access gates. Packing solutions are available at 3 Men Movers to offer convenience in ordering boxes, tape, bubble wrap, and markers.
About 3 Men Movers
3 Men Movers is fully insured and licensed residential moving company serving the metropolitan Houston area as well as Austin and San Antonio. They have built upon a loyal customer base with efficient moves in 24′ trucks and their new Supersize 40′ vehicles serving the Austin and San Antonio markets. Jacky Noons is the CEO of the woman-owned business that continues to be a longstanding member of the Better Business Bureau. 3 Men Movers is a proud recipient of the 2007 and 2008 Pinnacle Award & the Gold Star Award from the Better Business Bureau.