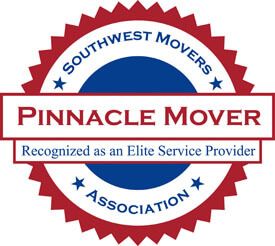 Houston Business Recognized for Maintaining Superior Commitment to Ethics, Overall Excellence and Quality in the Workplace Two Years in a Row
Pinnacle Mover HOUSTON – The Better Business Bureau Education Foundation recently recognized 3 Men Movers for service excellence by awarding them the coveted Pinnacle Award for the second year in a row. Only one mover a year is chosen for this prestigious award and currently 3-Men Movers has both the 2007 and 2008 proudly on display.
"I am really excited that our staff earned the Pinnacle Award for their efforts two years in a row. We have worked hard to develop a corporate culture that focuses on customer service. This philosophy originated with my father, John Fisher, 23 years ago. He always said, 'Just do what you say you are going to do, it's that simple'," said Owner and C.E.O. Jacky Noons.
A woman-owned business, 3 Men Movers has served Houston and surrounding areas for the past 23 years, moving more than 16,000 customers last year alone. They also offer self-storage, online boxes, and packing services.
"All companies make mistakes, and with the sheer number of moves we make yearly, I can't say that we haven't, but it is how you treat that customer when a mistake happens that makes the difference. Do you return their phone calls, do you make things right? We look at each customer as a future fan. We want them to refer us to their family and friends. We are committed to leaving a lasting impression and that is the way we grow our business," added Noons.
Noons went on to explain that customer service is all about a process they have developed over the years that makes moving easy for their customers. We follow up each job to inquire about the service a customer receives. This gives their customers the opportunity to "grade" every single move. That information helps us monitor the quality of service provided by their drivers.
"We are truly lucky to have drivers that are such wonderful guys. They really care about their customers and take pride in their work," said Noons.
Fully insured and licensed, 3 Men Movers hires only highly trained professional movers. Some of the crew leaders have been with the company for over 20 years. Continued education on safety and customer service is required of all drivers. In addition to moving, 3 Men Movers also has an experienced team of packers and unpackers – hauling away empty boxes when the job is complete.
Recently 3 Men Movers started a sister company 3 Men Movers and Self Storage and now offers storage to customers located just five miles from the Galleria.
Whether moving across town or across the state, 3 Men Movers prides itself on helping customers eliminate some of the stress of a move. Call 1-866-3MOVERS or visit www.3menmovers.com today to view testimonials of satisfied customers, review moving tips, and receive a free quote.