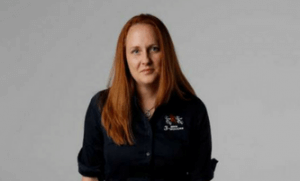 Jacky reflects on her father's legacy and where she hopes she can lead 3 Men Movers company as its CEO.
Noons officially bought 3 Men Movers from her then-ailing father in 2004.
Jack Fischer founded the Houston moving company in an apartment and expanded it into an enterprise that reported more than $20 million in gross revenue in 2015. He passed away on Aug. 28. Noons now reflects on his legacy and where she hopes she can lead the company as its CEO.
Q: What was your father's vision for the company, and how did he work toward it?
A: What he really wanted to do in his lifetime was to see us build out the triangle, which was Houston, Austin and San Antonio. When the company was transferred to me, we were able to finish it, and also open up in Dallas, too. He got to see that before he passed away. He was really excited.
But I think, at the end of the day, it was about the drivers. He was the original driver. He started the company not because he had a business plan or an MBA or investment capital. He started it because we needed to pay the rent. We were in dire straits. I was 12. He knew what it was like to be in that situation, so he really wanted to make it a win-win-win situation with the employees getting value, our drivers getting value and our customers getting value, and obviously the ownership of the company getting value. He wanted everybody to get a fair shake in the moving experience.
Q: What was the most important lesson your father taught you about running the business?
A: When I first started running the company, it was stressful. I was making a lot of changes, working long hours. I came to him, and he said, "How's it going?" And I said, "Oh, I'm so stressed out. There's just so much stress." And he said, "Well, if you're stressed out, you're not working hard enough."
He had very little sympathy for complaining or being stressed out. If there was an issue, he wasn't a sit-still kind of guy. He would stand up and get going. That was it. If you have an issue, don't get sad about it. Get busy. Start working towards a solution. That was probably the best thing he taught me.
Q: How will you remember him most?
A: Having a huge heart. If anybody needed anything … they knew they could go to him. He would lecture them and give them advice. He was kind of like a preacher. He would preach to you telling you how to this and not to do that. But at the end of the day, he always helped people out.
There are quite a few stories of him helping people out with the down payment of their first home, and different stories like that. He knew what it was like not to have money, and so he always wanted to make sure everyone was taken care of, and everybody had the opportunity to succeed.
Q: How have you built up the company from where your father left it?
A: He had just started in San Antonio and Austin, but he didn't have locations. He just had a couple of crews working out there to start the business. Since then, we have locations in San Antonio, Austin and Dallas. We've introduced a new product called MOVEITS. You call, and we send out 40 feet of storage. We pack it all up, haul it away, and you call us when you want your stuff back.
Pods has a similar product, but they don't have the labor. And other moving companies have storage, too, but it's more of a four-step process because you have to move it on to the truck and to the storage place and back onto the truck. This cuts labor costs in half. That's why our portable storage option is so exciting.
Q: What does the future of 3 Men Movers look like?
A: Our goal is to revolutionize moving with technology. There are so many things right now with the advent of Uber and just different mobile solutions to make the moving process easier for customers and improve the quality of the moving experience. That's our goal, really. To turn the whole moving process and storage process around and make it easier.
Inherently, moving is very boring. It's hard to take away from the fact that, no matter what, you're still going to have a guy that still has to raise a sofa up and down the stairs. But there are things that we can do to make the process smoother.
Q: Are any of your children involved or plan to be involved someday?
A: My son's working in accounting, and he's getting ready to start back at college. My daughter is off at college. She thinks maybe someday she'll come back, but I won't let her come back to work for me out of college. She's got to go out and find herself and figure out what she wants to do and work for another company. Kids don't know how good they have it. They need to go work for some bosses first before they come to me, but, yeah, hopefully, it will stay in the family. Sometimes people look at a company as a commodity or something they'll sell, but it is my dad's legacy, and I hope to honor that.