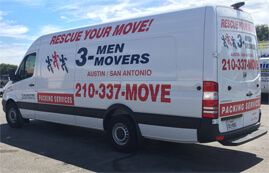 The Original 3 Men Movers Look Forward to Becoming Local San Antonio Movers
San Antonio, TX – February 03, 2013
Jacky Noons, CEO of 3 Men Movers, has decided to open a new facility in San Antonio, Texas. The office staff for the San Antonio location will consist of a San Antonio Move Concierge, who will visit customers and new moves to ensure 100% customer satisfaction and a Business Development Associate to further the community awareness of the new location. These two new employees are Dan Leon,the San Antonio Move Concierge and the Business Development Associate, Paul Carey.
The new facility houses a 15,000 square foot warehouse and offers a separate newly renovated two story office sector for administrative staff. The address for the company's new office is 302 Casa Blanca Street, San Antonio, Texas 78215.
"We are very excited to become a member of the San Antonio community and look forward to the partnerships that we will soon make in this great city. Director of Sales and Marketing" – Mitch Gonzalez.
Office staff is already in place communicating with local businesses and homeowners in San Antonio about the arrival of their new office. The company already completes moves in San Antonio remotely from Houston and the San Antonio dedicated trucks will begin rolling out of the new facility by February, 2013.
After over 25 years of successfully moving the Houston community the company is now ready to expand out of Houston into another large Texas city. San Antonio is the 8th largest city in The United States and has some of the state's most visited attractions, including: The Alamo, The River Walk, Sea World, Six Flags, and The San Antonio Zoo. With the rapidly growing real estate market, it only makes sense that San Antonio is the city of choice for the company's expansion.
About 3 Men Movers
The 3 Men Movers holds an A+ rating with the Better Business Bureau and is the top rated moving company in Houston since 1985. The Original 3 Men Movers is a family owned company founded by John Fisher in Houston and currently owned and operated by his daughter Jacky Noons.
For further information contact:
Kayla Morales
302 Casa Blanca Street
San Antonio, Texas 78215
1-866-3MOVERS(668377)