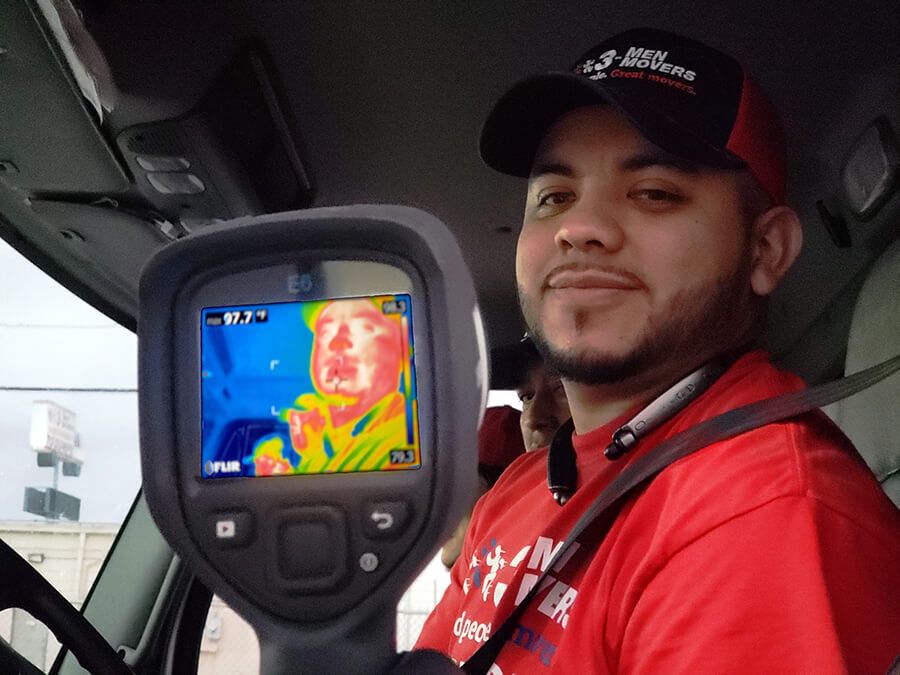 Houston, TX – March 24, 2020: Amid the rapidly changing environment around COVID-19, 3 Men Movers, a family owned Texas moving company, announces new steps the company is taking to address health and safety precautions during the moving process. These important measures will address how to be safer while moving during a pandemic. Many state and local governments recognize moving as an essential service, and 3 Men Movers will continue offering moving services to those who are ready to move.
3 Men Movers is a leader in the moving industry and is proud to be a company that puts people before profits. One of the company's core values is to be The Experts in the moving industry. It is in this spirit that the company announced new guidelines for customers and employees during this turbulent and fast-changing time.
Safety Comes First
Moving crews who want to continue providing moving services will follow the new safety guidelines.
Every Crew member is required to PARTICIPATE IN A once-a-day temperature check and health screening using drive-through checkpoints the company has set up throughout Texas.
Crew Leaders are asked to sign a COVID-19 Crew Leader Pledge to follow safety guidelines.
Crew Members are encouraged to wash their hands often for 20 seconds, use hand sanitizer over 70% alcohol, and refrain from touching their face.
Social Distancing Is Important
All Driver's Meetings are canceled in an effort to limit group congregation.
Drivers have to sign a pledge that they will not congregate in groups of more than five individuals during this time.
Moving crews are encouraged to self-isolate if they live with at-risk individuals.
Most office personnel are working remotely and are still available to help customers during normal business hours.
A small crew of employees will staff the office to be available for any customers that need to access their self-storage and mobile storage units.
Recommendations for Customers With Scheduled Moves
3 Men Movers requests that customers make available a sink with soap for moving crews to wash their hands.
Any customers that meet the following criteria are asked to cancel their moves for the safety of both the customer and the moving crew:

They have had or have come in contact with anyone who has had COVID-19 in the last 15 days.
They have traveled to a COVID-19 outbreak country during the last 15 days.
They have had a fever, shortness of breath, coughing, body aches, or other flu-like symptoms, or have been around someone who has had these symptoms in the last 15 days.

3 Men Movers recommends that customers be aware if they are in an at-risk group, and to take precautions to protect themselves. Studies have shown that some preexisting health conditions can make at-risk individuals more susceptible to infection.
Reflecting on the importance of the situation, Jacky Fischer, CEO, said, "Postponing your move until we have found a treatment or a vaccine for COVID-19 is the safest way to go, but some customers have no choice and need to move now. For customers who have to move, we have enhanced our already stringent safety policies to provide customers and moving crews with peace-of-mind during their upcoming moves."
About 3 Men Movers: 3 Men Movers is a woman-owned business that has demonstrated dedication to its customers and its community with a philanthropic spirit and a commitment to honest practices for 35 years. We believe that to have great movers, you must start with good people. That's why with 3 Men Movers you're getting kind-hearted experts that go beyond to ensure each customer has an excellent experience. Founded in 1985, We are proud recipients of The Pinnacle Award & The Gold Star Award from the Better Business Bureau. With offices in Houston, San Antonio, Austin, and Dallas, our local moving company has become recognized as the mover of choice for over 30,000 Texans each year.