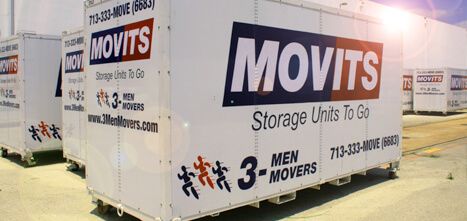 Houston Moving Company 3 Men Movers Announces New Division
MOVITS "Storage Units to Go" Portable Storage Units Debuted on June 1
Houston, Texas (Marketwire). August 2, 2010. Houston residential moving company 3 Men Movers is pleased to announce the formation of MOVITS, a new mobile container division.
MOVITS will specialize in full Service portable storage units in Houston with a 16′ Long by 6′ Wide by 8′ High storage solution to specifically meet the needs of business or residential clients. These units offer convenient, secure storage during residential moves or renovation and for office moves or reorganization. One of the primary benefits is the convenience, as 3 Men Movers will deliver the MOVITS unit to a residence or business and the homeowner or office workers have the flexibility to use 3 Men Movers Professional Moving Crew or move their storage items on their own schedule.
This was a logical expansion for 3 Men Movers, according to Mitch Gonzalez, director of marketing and sales for the premier residential moving company. The company owns and operates a self-storage facility in southwest Houston with climate controlled units, a state of the art security system and digitally-controlled access gates.
"We recognize that convenience is an extremely important factor when considering storage for a residence or business," said Gonzalez. "Many of our clients prefer the flexibility of organizing and packing their storage receptacle on their own schedule. With MOVITS, the unit can either remain on their property or we can pick it up and move it to the desired location."
MOVITS affordable portable storage units in Houston are waterproof and with their steel frame and panels, can withstand the high winds and rain during Houston's Hurricane season. Each client is able to lock the units and rest assured that the contents are safe from theft or loss. MOVITS units can be ordered and delivered the next day and automatic billing is available.
About 3 Men Movers 3 Men Movers is fully insured and licensed residential moving company with a corporate moving division. Under the direction of CEO Jacky Noons, 3 Men Movers has assisted over 16,000 clients in Houston, Austin, and San Antonio. They have built upon a loyal customer base and have a fleet of 24′ trucks as well as their new Supersize 40' vehicles serving the Austin and San Antonio markets. 3 Men Movers is a proud recipient of the 2007 and 2008 Pinnacle Award & the Gold Star Award from the Better Business Bureau.
For more information, please contact:
3 Men Movers
(713) 333-6683