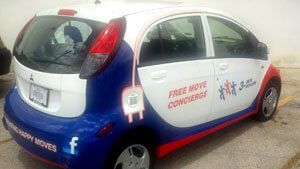 Houston Moving Company Launches All Electric Car as "Moving Concierge"
3 Men Movers selects an environmentally friendly vehicle for their new customer service position by purchasing an all-electric Mitsubishi i-Miev.
Houston, TX, May 28, 2012 — 3 Men Movers, a local Houston moving company, purchased an all electric car to serve as the vehicle for a newly created position – Move Concierge. The Move Concierge, which will launch in June, will visit customers in the electric car before, during and after their moves to ensure quality and add an extra touch to their moving services.
The all electric car is a Mitsubishi i-MiEV, purchased last week, is the first purchased in Houston, Texas. The Mitsubishi i-MiEV gets a range of 62 miles per full charge, according to Mitsubishi's website. It was voted "The Greenest Vehicle of 2012" by the American Council for an Energy-Efficient Economy.
"As a company, we try to stay on the forefront of technology and the industry. We have found a way to do this in a manner that doesn't pollute the city and gives back to the community at the same time," says Jacky Noons, CEO and President of 3 Men Movers.
The Move Concierge position has been created by 3 Men Movers to add an additional level of customer service. 3 Men Movers has a fleet of over 50 vehicles, over 100 movers and does an average of 90 moves per day. The Move Concierge will drive the all-electric car around town to make sure that all goes smoothly and that the customer has the best experience.
"The goal of this position is to make sure there is a smile on the face of every customer. Just looking at the car itself makes you want to smile," says Noons.
About 3 Men Movers
25 years ago, 3 Men Movers was founded in Houston, Texas by John Fisher. Today, the company is run by his daughter Jacky Noons. 3 Men Movers offers residential moving and commercial moving in Houston, San Antonio and Austin. In addition, they provide services such as packing, unpacking, moving boxes and more.
Further information about the Move Concierge can be found by contacting the 3 Men Movers Marketing Department at 713-333-6683 or [email protected].