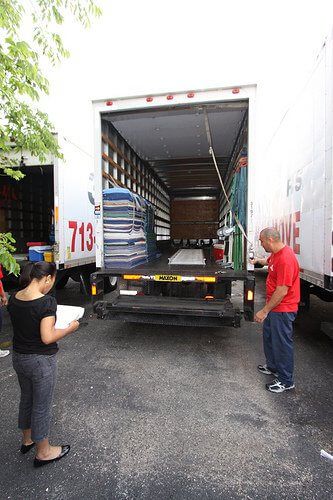 Local Houston Moving Company Providing Support to West Texas
3 Men Movers, a 28-year-old Texas moving company took one of their Movits, a portable storage unit, to a local grocery store in downtown Houston for a one-day charity effort to provide relief and support to a nursing home near West TX.
Houston, TX – May 14, 2013
In light of the tragic events in West Texas on April 17th, 3 Men Movers organized a relief effort to support the victims and their families.
The Atrium of Bellmeade in West, is a local nursing home that has taken in 20 injured victims from the explosion. The victims have lost everything, and the nursing home has taken them in and offered them permanent residence. The Atrium of Bellmeade was in great need of supplies to properly care for the new residents and the overworked staff. The employees of the nursing home are working day and night to care for the injured.
3 Men Movers set up a portable storage unit at the HEB in Montrose, located at 1701 West Alabama St. in Houston Texas on Saturday April 20th.
" Our hearts go out to West Texas and we are so happy to be able to help in any way we can. "
The donations included cash, food, clothing, and personal care items. These items were transported and delivered by 3 Men Movers drivers to the Atrium of Bellmeade shortly after the charity drive.
3 Men Movers had staff on location for the charity drive throughout the day. There was a great turnout from the Houston community and around $2,000 was raised for the cause.
For more information contact:
[email protected]