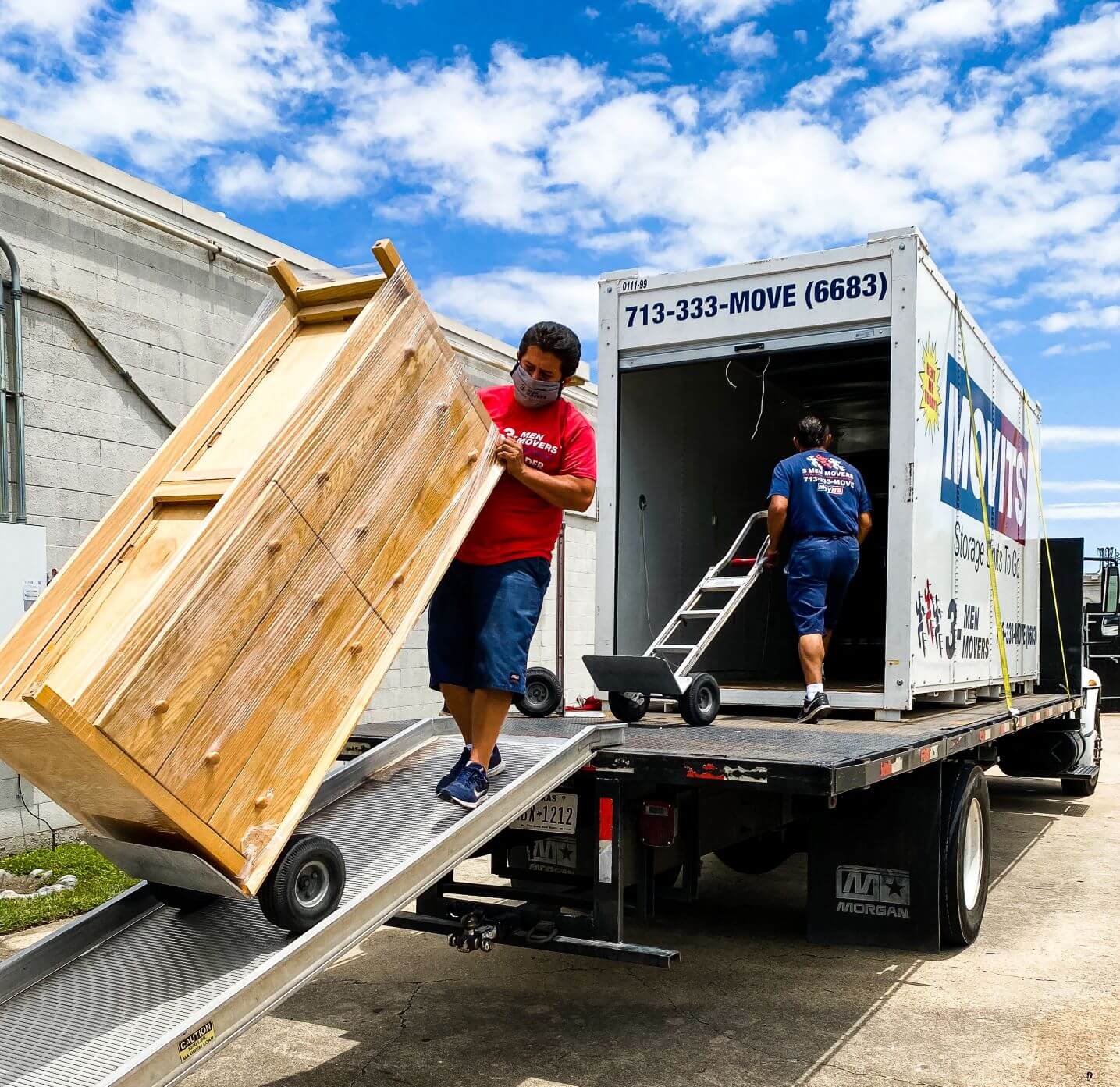 Houston, TX – May 28, 2020: The Coronavirus and associated stay-at-home orders have had far-reaching consequences, including impacting victims of domestic violence. 3 Men Movers, a woman-owned moving company in Texas, is providing unique assistance to domestic violence survivors, as well as the organizations that help them. Through a partnership with the Fort Bend Women's Center (FBWC), 3 Men Movers is offering confidential moving services, facilitating donations, and providing moving advice to those in need.
FURNITURE DONATIONS
In support of its local community, 3 Men Movers encourages customers to donate items to the FBWC. Many customers are already planning to dispose of their furniture. This gives them an opportunity to donate while also reducing items they don't want at their new home. 3 Men Movers stores the furniture in its portable storage containers called MOVITS™.
The response from customers is overwhelming, and far more furniture was donated than could fit into a 20'x8'x8' MOVIT™. Overflow was packed into a second container, totaling nearly 2,100 cubic feet of donations. These couches, tables, chairs, and other items will be donated by the FBWC to families that move into their secure housing, many of whom cannot bring belongings with them when they leave their abuser.
MOVING SAFETY GUIDE
3 Men Movers recognizes that during this pandemic, occurrences of domestic violence increase and the need for victims to leave their abusers becomes even more pressing.
According to Peggy Wright, Director of Sexual Assault Counseling Program at FBWC, "What we do know is that because of COVID-19 there has been a dramatic increase in domestic violence, not only in our county but around the world… it is a particularly dangerous time for victims who are still with their abusers."
In an effort to assist this vulnerable population, 3 Men Movers collaborated with the FBWC to produce a Domestic Violence Survivors' Moving Safety Guide. This downloadable PDF offers comprehensive advice and support resources including contact information for local domestic violence centers and steps for planning a safer move. 3 Men Movers is proud to have a Privacy Move Policy that includes safety guidelines for the movers in case an abuser shows up unexpectedly. Other parts of the policy address the sensitive nature of the move and how the company protects the privacy of the abused person. 3 Men Movers has conducted many moves for domestic violence survivors and created the policy to ensure a safer move for everyone involved.
Jacky Fischer, CEO of 3 Men Movers, reflects on the importance of these community partnerships, "3 Men Movers has formed a strong working relationship with the Fort Bend Women's Center. In the moving industry, we are often the first called to get a person in an abusive relationship to safety. Vita Goodall [CEO of FBWC] and her team do an amazing job helping victims of domestic abuse. We are honored to be a part of their mission."
About 3 Men Movers: 3 Men Movers is a woman-owned business that has demonstrated dedication to its customers and its community with a philanthropic spirit and a commitment to honest practices for 35 years. We believe that to have great movers, you must start with good people. That's why with 3 Men Movers you're getting kind-hearted experts that go beyond to ensure each customer has an excellent experience. With offices in Houston, San Antonio, Austin, and Dallas, our local moving company has become recognized as the mover of choice for over 30,000 Texans each year.