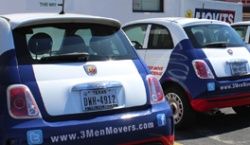 3 Men Movers Unveils Eco-friendly Policies to Lead Local Houston and San Antonio Moving Companies in a More Environmentally Friendly Direction
Local Houston and San Antonio moving company, 3 Men Movers, makes key business changes to focus on customers in a more environmentally responsible way, while giving back to the community.
Houston TX (June 1, 2013) – 3 Men Movers, a 28 year old Houston and San Antonio moving, packing, and storage company, has announced that there will be a companywide initiative to increase its sustainable practices. To fortify this effort, 3 Men Movers has assembled an employee-led task force for major green initiatives to be launched this year.
As a celebration of this transition, 3 Men Movers is hosting a party at the newly renovated facility partnering with the Trees for Houston charity. At the party, 3 Men Movers will donate native trees to all attendees, support Trees for Houston's local tree farms, and bolster donations for the charity.
During the course of the year, 3 Men Movers will be implementing changes to greatly reduce waste, pollution, and conserve energy, companywide. Possibly the most anticipated of the company's changes is the cardboard box recycling program that will be launched on May 29, 2013. This will allow customers convenient and easy access to have their moving boxes recycled free of charge, in the same location they are already visiting their self-storage, coordinating portable storage, or purchasing moving supplies.
"We are thrilled to offer cardboard box recycling services free of charge not just to our customers, but also to the greater Houston community. When Texans have been trusting you with their move, pack, and storage services for over 28 years, we believe it's the right thing to do to look for ways to give back. Making the moving industry as environmentally responsible as possible while providing community services is a win-win combination, and key to our mission here at 3 Men Movers," says Lorie Clements, President of 3 Men Movers.
Additional key environmentally friendly changes being initiated over coming months include;
• Paperless invoicing and billing
• Expanding the company's fleet of electric vehicles
• Generation of renewable energy via a 7kW rooftop Solar installation in San Antonio
• Supporting local green initiatives in the community, such as Trees for Houston
• Environmentally responsible office furniture, office supply, and marketing purchases
• Companywide recycling of paper, glass, plastic, and aluminum
3 Men Movers was founded in 1985 and is now a moving company name associated with the feeling of trust and stress-free services. 3 Men Movers provide Houston, San Antonio, Austin and all of Texas with full-service moving, packing and storage options. Currently, many of the movers employed by 3 Men Movers have been moving Texans with the company for decades.