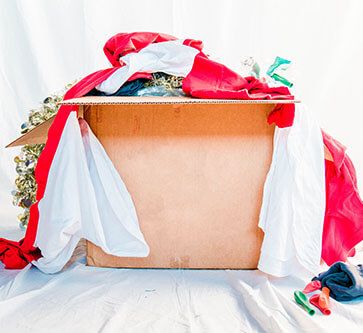 You know moving is difficult, and that's why you've hired movers to do the heavy lifting, (literally). So why are you still feeling stressed about the move? Shouldn't you be sitting back with a glass of sweet tea, feeling good about your stress-free moving experience?
Apparently, that's not a reality for most people. In fact, despite having over 30 years of moving experience, even our CEO was stressed about her recent move, and she had the best movers at her beck and call!
So why is moving stressful? Here are the top four reasons for move day stress.
1. Physical exertion
Okay, everyone knows you'll be stressed if you try to do the whole move without the help of a moving company. Moving is physically exhausting! But we've realized that while hiring movers can cut your physical work in half, you're still bound to be stressed at some point.
That's because even when movers wheel all the heavy items out of your house, you're still going to be walking around, moving around boxes and smaller possessions. Maybe while your movers remove your fridge, you're busy doing laps around the house, finding random items you forgot to pack. All that exertion adds up, especially when you're used to sitting at a desk job and normally only log 5,000 steps on your Fitbit … on a good day! And that unexpected exertion leads to move day stress.
2. Extra tasks
No matter how much physical help you have from your movers, you're still going to end up exhausted from all the extra tasks that require mental focus. You have to schedule your move, and once that's on the books, it's time to start calling utility companies to cancel services at the old house and set them up at the new house.
Add these administrative tasks to your normal day — which probably involves working, taking care of kids or both — and it's no wonder you're stressed! Moving feels like a part-time job, and that's even with help from a great moving company. And it's not like you can outsource these tasks. You have to squeeze them into your day, which causes sleep deprivation … and that can lead to a compromised immune system and mood swings. In fact, many people get colds while moving, further increasing move day stress. So yeah, why is moving stressful? Probably because of all of this!
3. Added stress on relationships
Now you're grouchy, haven't slept, and you're spending all your free time packing and making phone calls. It's no surprise that your relationship is probably not thriving right now. In many cases, one person perceives the other as doing less than they should, causing arguments leading up to moving day.
So if you find yourself snapping at your significant other, don't worry. It might not spell the end of the relationship. It just means your move is probably almost over, so wait a little bit before you decide to inform your SO that they will be getting kicked out of your new home before even moving in!
4. More decisions to make
Another reason for move day stress is that you're making decisions all day. Even when you have terrific movers doing most of the work, they're going to need some direction, and it's going to come from you! So prepare to be pointing your finger to let movers know where to put furniture. Your brain will be exhausted for sure, especially if you're also deprived of sleep, food, and free time.
Wrapping up
Now you know why move day stress exists. So how can you try managing your stress when moving? Planning ahead helps, as you'll need time to purge your house of items you don't want to bring with you. And getting your move scheduled with a moving company will also help you achieve a stress-free moving day … or as close to that as possible! Contact 3 Men Movers today to get a quote.