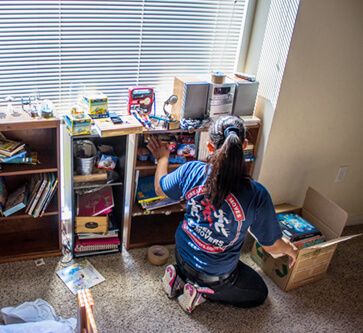 Moving often seems to take just a little more time, money and effort than you originally planned. That's part of what makes moving such a chore! But at 3 Men Movers, we really try to make your move easy on you. We want your move to go smoother than you were expecting so you feel compelled to say, "Wow, that was easy!" and give us a high five. Okay, maybe the high five is wishful thinking, but still, we want you to breathe a sigh of relief when you hire our movers. That's why we're happy to give you these five tips on packing so you have a shot at saving money and ensuring your belongings arrive safely at your new home.
1. Empty Your Drawers Before You Move
You might think you can get away with spending less time packing by leaving your clothes in your dresser drawers, but that's not a good idea. The weight of your clothing could damage the rails of the drawers during the move, since your Texas movers might have to turn the dresser sideways to squeeze through door frames. So be sure to clear out the contents of your dresser before you move if you want those drawers to keep rolling smoothly, giving you easy access to your clothes once you get to your new home-sweet-home.
2. Pack Your Suitcases
So you took your clothes out of your dresser and are wondering where to put them? Why not pop them into your luggage? You have to move your suitcases anyway, so you might as well fill them up! This will save you a box or two. Just remember to label your luggage with what's inside and which room your movers should roll it into. And if you already packed away your clothes, consider using your luggage for your emergency move kit instead.
3. Don't Disassemble All Your Furniture
Some furniture is easy to take apart and can withstand the bumping and jostling of a move. Others, not so much. Take particleboard furniture, for example…aka IKEA furniture! These items are best kept intact for the move, because the wood used in them is soft and easily damaged when it gets bumped around. So if you've got an IKEA dresser or desk, don't disassemble it. Just take everything out of the drawers before your movers arrive.
4. Get Your Lamps Ready for the Move
Protecting your lamps during the move probably isn't the first thing on your mind right now, but it's something to consider. After all, lamp shades tend to be delicate and therefore easily dented or torn during a move. So make life a little easier on your lights–and your movers–and remove the shades from your lamps before you relocate. Then put both in a box for your Texas movers to take to your new home.
5. Let Soft Household Items Protect Fragile Belongings
Looking for an affordable, clever way to keep those lamps and shades safe during the move? Wrap them in some towels or clothing so they don't move around in the box! In other words, repurpose any soft items you have around the house when it's time to wrap your delicate possessions. You have to get those blankets and towels to your new home anyway, so they might as well pull double duty in the moving truck. For example, you can use a small towel to wrap a picture frame, or put it between your plates and bowls to prevent chips.
When a moving truck is in transit is when the most damages occur. That's why you should take note of these tips to ensure your items make it safely from A to B! Contact 3 Men Movers today to learn more about our moving services or to get a quote for your move.