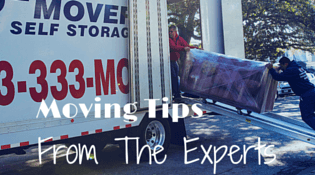 6 Major Secrets to Save Money on Your Move
1. No loose items! This is the most important thing!
• Tape the boxes before movers arrive.
• Do a walk through the day before to eliminate all loose items.
2. Use real moving boxes
They are stackable and much safer during transport. Movers can quickly and safely stack standard-sized boxes on a dolly and into the truck.
3. Understand the common myth when moving
It's easy to wheel stacked boxes onto a dolly and out to a truck. Moving boxes yourself when you are already hiring movers is unnecessary. The best thing to do to make your move faster is to prepare well before they arrive. (See tip #1.)
4. Preform a pre-move inspection
• Look in every single closet, attic, nook and cranny.
• Look everywhere and make sure there are none of those loose items.
• Do a final walkthrough after your movers finish at your old location.
• Double-check the dishwasher (it is often forgotten).
5. Save on your move!
Save your receipts. Certain work related moves are tax deductible. There are details to this process, get professional advice. Your moving expense forms for your taxes are at the IRS Help and Resources website.
6. Reserve a loading dock or elevator.
For apartment and high-rise moves reserve an elevator and loading dock ahead of time. You want your movers loading your things, not waiting in line for an elevator! If you have more questions, feel free to visit our company moving tips blog or call the experts in the moving industry at any of our 3 facilities.