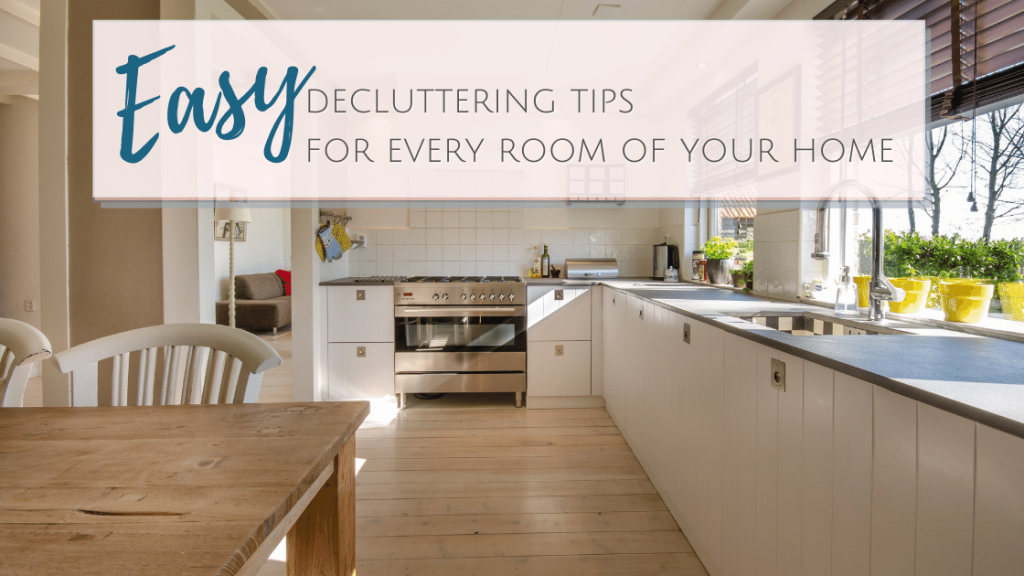 Wondering how to declutter every room of your home? Are you overwhelmed with where to start first? Decluttering your room is an essential part of spring cleaning which instantly makes you feel better and makes your home look better. Although it's frustrating, decluttering room-by-room is your ideal first step before scrubbing down your place. Once you're done, you'll have more space and fewer items to clean up or around.
In this Spruce Your Space post, we've got you covered with a guide on how to declutter room by room—including a FREE printable PDF decluttering checklist! So read on for our tips on tidying up the most crowded parts of each room, as well as where to start and what to consider as you declutter every room in your home or apartment.
Use This Ultimate Declutter Your Home Checklist PDF + Calendar to Organize Without Stressing
Make decluttering your home easy with this printable PDF checklist!
This simple checklist guide will also help you declutter each room fast and stay organized with:
Cut-out labels (Donate, Discard, or Sell) to tape on each box or bin as you sort through everything
A calendar to help you plan when to declutter each room—especially if you're planning to move and need to start weeks ahead
Checkboxes for each room to track your progress on the most commonly cluttered areas
Space to add notes for each room (great for adding tasks you may have to circle back to for some reason)
How to Declutter Your Bathroom
Bathroom Areas to Declutter:
Countertops
Under sinks
Cabinet shelves and drawers
Linen closets
Product storage areas in your shower or tub
What to Declutter First in Your Bathroom:
Under your sink and other storage compartments are where you should declutter first. It makes sense that bathroom storage areas are usually the most crowded since this is where your everyday hygiene products are kept (especially for product junkies out there!) Heat and moisture degrade active ingredients in your cosmetics, skincare, haircare, and even your medicines, making them decay or become ineffective at a faster rate. So you'll want to pay attention to anything that is past its expiration date and ditch it.
Questions to Ask Yourself When Decluttering the Bathroom:
Do my appliances and accessories still work? Do I still use that curling wand or blow dryer, or can I give it to someone who needs it more?
Is there anything here that I can put into smaller containers?
Are my makeup and skincare products past their expiration dates (or, over 2 years old)? If so, it's time to ditch them, especially if they're in dark glass bottles, meaning the contents are light and heat-sensitive, and therefore more likely to decompose faster!
Do I have products that are almost empty? Prioritize using them up first, or dump out what's left and recycle the containers.
Do I have duplicates of items that do the same thing? If so, scale down, choose the preferred brand and stick to one—not multiples). Then, discard what's left.
When did I last replace—or at least disinfect—the shower curtain, loofahs, sponges, or bathmats? Now's a good time to check for any moisture traps that could lead to mold or bacteria overgrowth.
How to Declutter Your Bedroom
Bedroom Areas to Declutter:
Nightstands
Closet
Drawers
Under your bed
Floors
What to Declutter First in Your Bedroom:
Many people will vouch for starting out with decluttering your closet. But, since a closet is practically a whole different room with its own challenges to tackle, we suggest focusing on decluttering the drawers in your bedroom furniture first. Drawers are often full of junk and items we don't actually need. They function as places to put away things we don't want to see, or things we're saving for later, rather than storage. Clearing out your drawers first helps you quickly figure out what you don't need. In turn, it ultimately lets you make room for what you're going to keep and how to organize them within your drawers.
One thing to keep in mind when decluttering your drawers is never to simply shove items inside. Decluttering is pointless without organization. With an unorganized drawer, you'll be tempted to add more items, viewing it more as a junk drawer which ultimately invites—you guessed it—more clutter! So try to keep your items organized and avoid keeping them jumbled together, especially when it comes to your clothing.
Questions to Ask Yourself When Decluttering Your Bedroom:
Do I need extra storage space (such as an ottoman at the foot of the bed, under-the-bed compartments, or shelving around the headboard) to help declutter my bedroom and still keep it cozy?
Is there anything that I don't regularly use or enjoy in my bedroom that can be put out of sight or thrown away?
What's currently on top of my dresser that can be discarded or organized inside of a drawer or a decorative surface tray?
Can I fit more items into a drawer by rolling clothing or adding drawer dividers?
Where can I store off-season items in my closet?
Is there any way to maximize empty vertical space inside my closet by adding extra shelving or racks, cabinets, or hooks?
Is there anything scattered on top of my bedroom chair or bench that needs to be put away? Where should I always put these pieces so my seating area is available when I need it?
Do I already have a basket or shelf where I can store blankets and bed pillows when not in use?
Do I need a single organizer for accessories (like neckties or jewelry) instead of having multiple boxes or strewing them in drawers?
Are there enough hampers and are they put in a good spot, like my closet or bathroom, to store dirty clothing/linens as they're used?
How to Declutter Your Kitchen
Kitchen Areas to Declutter:
Pantry
Cabinets & shelves
Countertops
Fridge/freezer
Drawers
Hutches, islands, and other storage areas
What to Declutter First in Your Kitchen:
Since it's home to loads of snacks, dry foods, and kitchen supplies, clearing out your pantry is a great place to begin when decluttering your kitchen. You can begin decluttering your pantry by throwing out expired foods, empty boxes, containers without lids, old spices (yes, they do go bad and lose their potency) and condiments or snacks you tried but actually hated.
The next biggest step is to organize your pantry and fridge. Keep similar items together to ensure they stay organized and are easy to reach. Figure out what you need to discard or donate (in the case of canned foods), you'll need to remove everything from your refrigerator or pantry shelves.
Questions to Ask Yourself When Decluttering Your Kitchen:
Do I have any clear containers where I can store and easily see food supplies?
Do I have more dishes, glasses, pots, or pans than I actually use? Can some of them be donated?
Are there areas of empty space (6 inches or more) where I can add storage racks, shelves, or cabinets?
What can I throw away in this kitchen junk drawer that I no longer need or that's expired?
Which food containers are open and going bad that I can throw away?
Are there any appliances on top of the counters that can be grouped together so they're not scattered across the kitchen?
Are there any essential tools, ingredients, cookware, or appliances I can put into easy-to-reach containers?
What loose items are on the countertops that I need to discard, or that can store out of sight in a cabinet, shelf, or drawer?
Are there cooking utensils that I can sort together by type into their own containers/areas (like spatulas, knives, dishes, cups, et al.)?
What's in my freezer that I can use right away or discard if it's too old?
Is there room to store round kitchen utensils (like whisks, measuring spoons, pots, etc.) on hooks? Can the hooks be placed on walls or inside cabinet doors for additional storage space?
Do I have space for a hanging rack or extra shelf space to organize pots, pans, and lids?
Are there serving pieces that can double as storage (e.g. using a bowl or cake stand for fruits and spices?)
Can I add two-tiered storage racks or pull-out organizers to space under the kitchen sink?
Are there seasonal items or cookware that I can store out of sight until I need them again?
Can I prep fresh foods for the week in containers so there aren't too many loose items in the fridge at once?
How can I better organize my fridge and freezer by using labels, clear bins, or by sectioning containers?
How to Declutter Your Dining Room
Dining Room Areas to Declutter:
Buffet tables
Dining table
Dish cupboard/China cabinet
What to Declutter First in Your Dining Room:
If you're not doing dinner parties every night, there's a strong chance your dining room table is a magnet for clutter. Whether setting things down "for a minute"—which can turn into days—or using it for anything but dinner time, your dining table and chairs can end up as coat racks, mail drops, and more. Instead, change how you approach your dining area. Think of yourself as a guest (or as if you'll be expecting company at any moment) and you'll be able to keep it much cleaner.
Questions to Ask Yourself When Decluttering Your Dining Room:
Are there pieces on your buffet table that aren't supposed to be there? Can you place them in a closet or cabinet storage?
If there's extra silverware, can I roll it into extra placemats and place it in a drawer for future use?
Are there any items on the dining room table or buffet that belong in a totally different room? Where can I put them quickly and easily next time so that I don't junk up the same area?
Are there any extra candles or decorations I can store in the buffet or dish cupboard for the next time I need them?
What's the best way to set up my dining table and buffet decor so it looks ready for guests at any time?
If the dining room table tends to double as a home office, are there folders, binders, or boxes I can use to store the papers that don't belong there?
How to Declutter Your Living Room or Foyers
Living Room/Foyer Areas to Declutter:
Cord areas behind tech devices
Side tables
Coffee table
Media center/Entertainment center
Sofas and Sectionals
What to Declutter First in Your Living Room/ Foyer:
While there aren't many places where tons of clutter can build up in a living room, your end tables and coffee tables are where this usually occurs. From paper mail to cups and snack containers, your coffee tables and end tables often end up with items that don't belong and make the space less cozy or less presentable.
For this reason, we suggest clearing off the tabletops in your living room before decluttering elsewhere. If you can create a system for decluttering and downsizing your living room surfaces, having a clear living room is definitely doable.
Questions to Ask Yourself When Decluttering Your Living Room:
Is each seat close to the coffee table or a side table where items can be set so they don't pile up on the sofa?
Are there specific and separate storage slots or drawers that have been set aside for mail and magazines?
Can your old DVD or video game collection be housed in a flip-top Ottoman with storage?
Can your media center be organized by zones (sentimental items vs. photo frames, etc.)?
Are there lots of cable cords behind my TV or stereo systems that can be zip-tied together and run along the corners of the wall to be more inconspicuous?
Is there a basket or hall closet where I can store pillows and blankets when I need them, instead of piling them on the sofa all at once?
Do I need to read through or discard any stray mail or magazines that are cluttering up my living room?
What kind of habits can I start that ensure I clear clutter off my coffee table and end tables every evening?
Is there a convenient tray or end table drawer where I can store my remote control or other devices?
Do I really need these sentimental items sitting out, or can they be placed in a digital photo frame or storage?
Where can I fit some decorative boxes or trays to house small but necessary items, like reading glasses, remote controls, coasters, etc.?
Is there any unused wall space where I can add floating shelves or a bookcase to store reading material, knick-knacks, etc.?
Are there any end table drawers that can be used for storing items that I want to keep but don't immediately need?
How to Declutter Your Home Office
Home Office Areas to Declutter:
Desktop
Bookcases/Shelves
Filing cabinet
What to Declutter First in Your Home Office:
The home office seems to be one place where clutter is more acceptable, but it shouldn't be since this is where you want to be the most productive! The solution? Clear your paper clutter from your desk and don't fall into the to-do list trap… (You know, where you don't feel accomplished unless you've checked off everything on your daily checklist.)
Yes, there are *some* projects that require more urgency than others. But, the truth is, your desktop work will never be 100% clear unless you retire. So, focus on clearing off your desktop first so you'll have a fresh start every day. This way, you'll still clean up without feeling overwhelmed or ashamed at not finishing what's still on your plate.
Questions to Ask Yourself When Decluttering Your Home Office:
What papers can I scan and store as digital copies in order to discard the paper clutter on my desk?
Can I switch to paperless billing to ensure I don't have a build-up of paper in my office?
Is there a new way to rework my workflow so I don't have tons of sticky notes and reminders lying around my office space?
Do I have a corkboard where I can pin ideas and super important reminders within view?
What's the best way to organize my to-dos, important documents, and current project papers on my desk? A three-tier tray?
How often should I go through my filing cabinet and desk papers to ensure I'm not accidentally hoarding too much paper?
Do I have enough shelf or cabinet space to store the notebooks, binders, etc. that I need to keep?
What financial files should I shred vs. keep (we recommend keeping 7 years for tax purposes due to IRS audit timeframes)?
Do I have enough filing cabinet space to store all my folders and papers, or do I need a bigger size?
Do any technical power cords need to be corral with zip-ties or velcro to give my office a more tidy look?
Wrapping Up
Use these tips to efficiently declutter every room in your home with the checklist, and you'll be relaxing worry-free in no time!
If you're preparing to move and need help packing, just give us a call. You can always book our professional packers to help streamline your move.
Related Tips