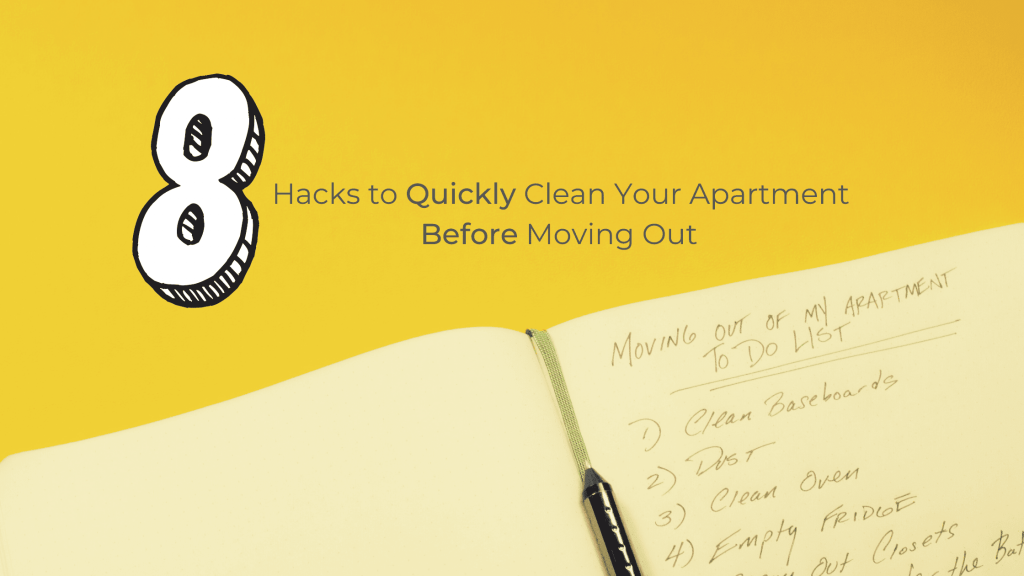 Trying to quickly clean your apartment before moving out doesn't have to be a chore. Not only can decluttering make your move less stressful but cleaning your apartment can actually save you money. It's true: Usually, if you leave your apartment in super clean condition, you can earn your deposit back! Most leasing companies and landlords reserve your initial deposit for cleaning and repair fees after you move out. By cleaning it yourself, you save them money and time while getting back the cash you put down in the first place! It's a win-win situation, right?
So, for this Spruce Your Space post, we sat down with our friends at Berry Swift Cleaning for their most helpful apartment-cleaning hacks EVER. Take note of these 8 expert-approved cleaning tips that will help you move fast—and get your deposit back—when you're moving out of your apartment.
1. Start With a Clean Canvas
You probably think starting with a "clean" canvas sounds like a contradiction, but it's really not. Larger pieces of furniture, kid's toys, shelves, and cabinets full of items you haven't used in ages… Who wants to clean around all of that? It's a recipe for disaster. (It makes it easy to lose all motivation, procrastinate, or totally skip cleaning altogether!)
Instead, Berry Swift Cleaning recommends making sure you prepare to clean your apartment by removing all the clutter in the way. "Get everything out—including trash—before you start to clean," says Jazzmine Berry, co-owner and Brand Ambassador for Berry Swift Cleaning. This could mean doing a deep declutter or moving your furniture out completely. And, you know who can help with that? That's right. Movers.
So, first thing's first: schedule your move a day or two before your apartment lease officially ends. Doing this will give you an extra 24 hours to deep-clean your apartment, request repairs, and leave everything a little better than you found it.
It's much easier to clean your apartment after your furniture and any debris are gone. Plus, you can call maintenance to fix any minor dings or problems for FREE.
You won't be charged for damages…
You will (most likely) get your deposit back…
Your leasing office will be happy…
It's a total win for everybody!
You can space out your responsibilities rather than trying to clean at the same time as your move—an already super stressful day.
2. Completely Clean From Top to Bottom
Sure, this is an old saying, but Berry Swift advises you to take this advice as literally as possible: "Start at the top and work your way down," Jazzmine says. It seems obvious, but for people who hate cleaning or who get easily distracted or overwhelmed, it's a great way to streamline and track what to clean next. If you don't find cleaning enjoyable on its own, scrubbing down your apartment before a move can be extra stress on top of an already hectic time. That's why picking an area and cleaning it from top to bottom is so important.
Chunking parts of a room into smaller, more manageable sections and cleaning it from top to bottom will help you:
Easily tackle dirty areas—even if they're a huge mess
Ensure you don't miss cleaning any spots before moving on to the next
Manage your breaks, especially if you get interrupted or have helpers
Document any parts that need to be replaced or repaired (doorknobs, lights, stove drip pans, cabinets, etc.)
Even if you're not sure how long it will take to clean your whole apartment, it's so much better and faster to clean from top to bottom, one area at a time.
3. Cut Through Dusty Layers With a Dryer Sheet
What do mini-blinds, stove vents, air conditioner vents, cabinets, and baseboards have in common? First of all, they're common areas where dust tends to accumulate. And when dust accumulates over long periods of time, it can tend to be a bit, well, greasy. This is especially common in areas with higher levels of moisture (like bathrooms or kitchens). Gross, but true.
It can also be pretty difficult to clean sticky dust, particularly if the thing you're cleaning can't be sprayed with liquid or a chemical. Yes, sprays are great for disinfecting, sanitizing, and imparting a fresh scent, but they just won't do for certain areas. Sticky stove hood vents, dusty blinds, and furniture made from delicate, natural materials all need a different touch.
In such places, Jazzmine recommends using dryer sheets to get rid of caked-on, dusty layers, "Try using a dryer sheet for dust, especially if it's caked-on," she says. "Especially for buildup on mini blinds, use dryer sheets. Dryer sheets also work for a buildup of grease on cabinets or stove covers!" Since dryer sheets are designed to reduce static and they're coated with a thin layer of wax, they have the added bonus of actually repelling dust, too.
Try swiping a dryer sheet over areas that attract lots of dust, spattered oil, and pet hair. Places like electronics, corners, upholstery, shelves, and above-the-stove kitchen appliances are perfect spots.
4. Sweep Apartment Baseboards With a Broom
Jazzmine highly recommends using a stiff broom to clean baseboards. It doesn't necessarily have to be a broom, but whatever you use should have stiff bristles. "Hand-wiping alone doesn't work," she explains. "Elbow grease is required to clean baseboards in your apartment. If baseboards need to be wiped down after dusting, you can use water and mild soap and clean them." Just don't be too overzealous when trying this hack… The stiffer the bristle, the more damage you risk on painted baseboards.
Brooms typically aren't coarse enough to scratch through paint. You should still be wary of the potential for paint damage if you use anything stiffer than a broom to clean baseboards. If you rub or sweep too vigorously with a rigid brush, it could scrub off the paint. In turn, you'd have to call maintenance to quickly paint it before you move. A move is enough to worry about. So, you definitely don't want a lot of avoidable mistakes when cleaning your apartment before moving day. Try not to be too rough on your baseboards with this hack.
5. Take Advantage of a Self-Cleaning Oven, (Or Use This DIY Recipe Instead)
When's the last time you even thought about cleaning your oven? (Yes, your oven needs to be cleaned, too!) Jazzmine admits that this hack is more akin to a reminder, but only because so few people actually recall to do it before moving out of their apartment. "Self-cleaning ovens offer a lot of convenience," she stresses, "Oven cleaner isn't required!"
Lack a self-cleaning feature on your apartment oven and don't have any oven cleaner? Berry Swift Cleaning even has a remedy for that. "Even if you don't have a self-cleaning oven, you can remove gunk at home," Jazzmine says.
Below is her do-it-yourself solution for a greener style of oven cleaner:
Mix 1 part baking soda with 1 part dish soap
Spread it all over the interior of your oven, especially on the inner door
Scrub off with a rough sponge or scouring pad
Wipe it off again using a microfiber cloth and white vinegar
Let's be honest, it's also a great idea to clean your oven before in your new place, too. I mean, who knows how many years' worth of splattered food particles is in there?!
6. Remove Everything From Your Fridge Before Cleaning It
If you're planning to move out of your apartment, you will probably already have a plan for clearing out your refrigerator and consuming your most perishable food. But cleaning the actual fridge isn't necessarily something you think about before moving out of your apartment. It's also one of the dirtiest areas for food spills, odors, and more. If you don't clean it, someone else will have to, and that's what your deposit is for. But if your goal is to get your deposit back, don't stop at packing up your food when it comes to your apartment fridge.
Luckily, our friends at Berry Swift Cleaning have a hack to keep it simple: "Refrigerator cleaning is easiest if you remove all the food first," Jazzmine advises. "Fill up your sink with soapy water to instantly remove, wash and dry each shelf as you go!"
Next, all you have to do is individually wash the shelves, drawers, and remaining caddies with a degreasing soap. Simply dry the pieces with a microfiber cloth and place them back into the refrigerator. You're done!
7. Get Your Carpet Professionally Cleaned
We love fur babies and kids here at 3 Men Movers! Yet, for all their endearing charm, they can absolutely be messy. If you have children or pets, chances are that you've had at least few carpet mishaps. For pet-parents who live in apartments, you've often paid the risk to your apartment upfront with a separate, pricey pet deposit… A deposit that exists largely to assume there will be animal-related damage to your flat. And if they've ever left a lingering stain or odor, you'll definitely be charged for it.
Even excessive pet hair can cost you (and we all know how notoriously pet hair clings to everything no matter what.) In this case, the best and easiest remedy is to get your carpet professionally cleaned. You can certainly do it yourself, but it may be more trouble than it's worth if you're trying to simultaneously take care of other pre-move errands…
You'd be responsible for renting, maneuvering, and returning any equipment you borrow within the same day…
Plus, it may not be readily available during peak moving season—meaning you could have to wait…
Then, you'll still have to remove any stubborn stains, odors, or pet hair from the carpet on your own if the rented equipment doesn't work well enough.
Not good if you're on a tight moving schedule! The good news is that professional cleanings are very affordable and include much more than just a vacuum and shampoo of your carpet. For example, Berry Swift Cleaning offers a package that will handle 100% of your apartment cleaning needs for under $200. It's a fantastic deal if you don't have the time to personally clean your apartment before moving out.
8. Check the Most Forgettable Areas of Your Apartment
Finally, Berry Swift Cleaning suggests you make a special effort to check the most forgettable areas in your apartment. By that, they mean the spots most people completely forget to clean when moving out of their apartments.
The top places most people forget to clean before moving out are:
Top shelves in closets
Bathroom drawers, shelves, and medicine cabinets
The warming drawer at the bottom of your oven (which often doubles as extra kitchen storage)
Except for the bathroom drawers, these areas also tend to gather the most dust, and—for those with pets—hair, as well. It's important to check them not only so you don't leave anything behind when moving, but also to clean any grime that's accumulated over the long term.
Wrapping Up
Now that you've got some quick tips on the best ways to clean your apartment, you'll be ready to move in no time! Still need some guidance on how to get started? We recommend decluttering before you start cleaning. It will help you avoid getting too overwhelmed by trying to clean around items that you should discard. Get ready to have less stress on your moving day (and more money in your pocket) with these 8 handy hacks for cleaning your apartment!
Related Tips