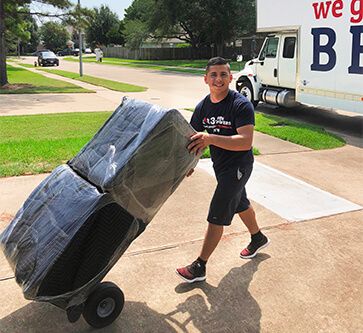 Moving can be tricky. Maneuvering heavy things through doors they barely fit through, deciding if you really can carry that box of books another 15 feet without getting a hernia, and awkwardly pivoting that 7-foot couch around a winding staircase. Even though it's a hilarious scene, the image of Ross from Friends screaming "pivot, pivot!" is symbolic of how trying to move large furniture yourself can turn out. It's funny to watch on TV, but not to actually live out on moving day!
That's a major reason people hire movers. After all, if you're hiring professional movers in San Antonio, you want to rest assured they are going to make your moving day less stressful by moving efficiently, protecting your things, and making sure everything gets to your new destination safe and sound. So what does 3 Men Movers San Antonio include in your move to make that happen? Here's how we protect your belongings:
1. Initial walkthrough: Our Crew Leader will do a walk-through of your home before the clock even starts, taking inventory of what you have and notating with you on their iPad if anything is already chipped or damaged before the move (Think similar to what you do with a rental car before you take it over).
2. Red carpet treatment: Our "red carpet treatment" can be taken literally, as we actually bring neoprene floor runners that go down prior to the move to protect your floors from any damage while your furniture is being moved on dollies. It's also there to prevent the possibility of any mud, water, or grass dirtying up your floors from shoes. We definitely don't want cleaning your floor to get added to your to-do list on moving day!
3. Protecting your things: We bring our own shrink wrap and blankets to wrap and protect your furniture from any damages or nicks during the move. We'll also unwrap it at the final destination.
4. Bringing tools: We bring a multitude of transport tools so we can take your things from point A to point B in the safest way possible!
5. Loading your belongings carefully: We believe in strategy. This means we will develop a plan before we load your things, and not just toss things in as we go. One of our values here at 3 Men Movers is to treat your things like we would our own. You'll be amazed how perfectly stacked everything will look when we're done.
6. Final walkthrough: We will do one last walk-through with you before the moving truck departs to make sure we got everything you wanted us to take.
7. Transporting your things safely: Furniture is then tied off inside the moving truck to make sure it won't shift or fall over at any point during the transport. That's an important step if you like your furniture the way it is now.
8. Benefits just because: We will disassemble and reassemble your furniture–like your bed frames and tables. We will also move your furniture over and over again, so that you kind find the perfect feng shui.
Are you convinced yet that our San Antonio movers we can make this day easier for you? Just as an added bonus, if anything happens, we will work with you on a solution and go above the standard Texas claim rate of 60 cents per pound. We believe in accountability, so every one of our clients has a number to call and a person to talk to in the event something goes wrong.
We want you to sleep soundly the night before you move knowing that with 3 Men Movers, your belongings are in the right hands! Book online or contact us to get your move scheduled.
Related Tips