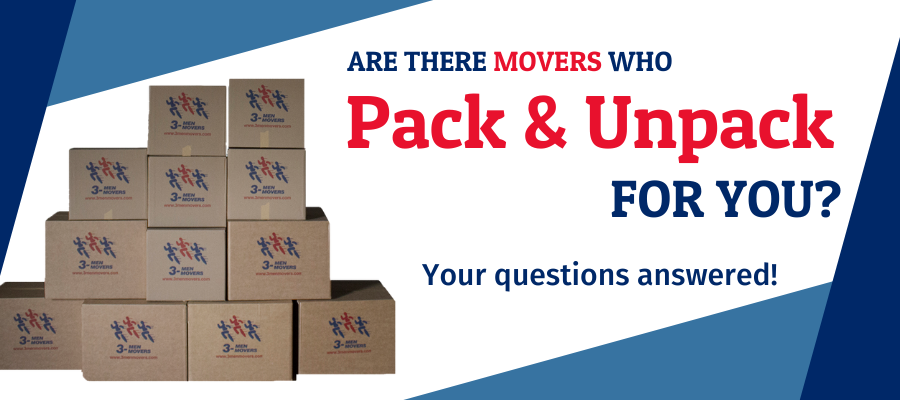 Endless stacks of boxes, glassware that you need to wrap, and finding a way to put all your things together while still living in your own home. Tedious and time-consuming, packing is one of the worst parts of moving. Since packing can take a lot of time and effort, lots of people hate it. Luckily, you don't have to do it if you don't want to!
Read on to learn more about what to expect from movers who pack your things, what movers won't pack, how to know if you should hire movers to pack, and how much the service typically costs.
Will a Moving Company Pack All My Stuff?
This is a question we hear a lot. The answer? Yes, there really are movers who pack for you! Virtually all full-service moving companies will be glad to carefully wrap, secure, and box up your items before loading them on their own truck or your rental. In most cases, these packers are professionals who are trained to make sure your belongings will arrive at your new home safe and sound, all while saving you from long nights of packing in the days leading up to moving day.
Read More: What to Know (and Do) Before Hiring Professional Packers
Are There Movers Who Unpack, Too?!
Absolutely! After all, what's better than having someone unpack all the things you're too tired to do after a long day of moving? Unpacking at your final destination may not be as common a service option as packing, but it does exist.
For example, not only do we offer unpacking services, but we also throw in free organizing for those who want a completely hands-off, no-hassle moving experience. (Yes, it's as nice as it sounds.)
Is It Worth it to Have Movers Pack For You?
Many people find the packing portion of their move to be the most difficult and stressful part, so it's no surprise that hiring movers who offer to pack for you can seem like an attractive option. But is it worth it? Absolutely! Hiring the right team of experienced professional movers with packing services will ensure your belongings are taken care of, securely wrapped and packed neatly in boxes. This is not only a huge time-saver, but less stress of dealing with clutter and boxes for weeks before your move. If you are preparing for a long-distance move or downsizing, this service is also extremely valuable because it will help you stay extremely organized. With boxes professionally organized and labeled, you will easily be able to identify where each box needs to go. The value of using a packing service will absolutely pay off in the end.
Is Hiring a Professional Packing Service Always the Right Move?
Hiring professional packers can be expensive, and depending on the size of the move, it may make financial sense to do it yourself. If you're not in a huge rush and want to save costs, you can do most of the packing yourself. Many people want to be in control of exactly how their items are packed and which boxes they are going in. In this instance, you may want to handle the packing on your own. On the other hand, if you are pressed for time or don't have time to be meticulous about packing, then investing in a professional service may be wiser.
How Do I Choose the Right Packing Service?
When it comes to choosing the right packing service for your next move, there are many factors to consider. It's important to do some homework and ask questions about the materials they provide, if there are any hidden fees, and if their services are insured. Also look for customer reviews that represent an honest evaluation of the company. You want a packing service that is trustworthy and can confidently offer their experience in packing fragile items safely and securely.
What to Expect When Movers Pack For You
More and more people are opting for the convenience of having the movers pack for them. But what should you expect when you entrust someone else with your packing needs? Professional movers will come in with all of the necessary supplies - boxes, bubble wrap, tape, etc. - to make sure that your belongings are well-protected. When packing up items like dishes, artwork, and other fragile objects, they'll take extra measures to ensure that these items will arrive unscathed. You can also trust that the job will get done in an organized fashion with easy-to-follow labels so that your unpacking process goes quickly and smoothly. Hiring movers to pack up your house can be worth every penny since it reduces a lot of the work and stress associated with moving!
What Movers Will Not Pack for You
Hiring movers to pack and unpack is not an all-or-nothing type of service. So, if there are pieces you feel particularly sentimental about and would rather handle yourself, just let them know. However, there are some things that most moving companies either won't or [legally] cannot pack.
Things that movers won't pack:
Cash and jewelry (it's best to transport these in your own vehicle)
Chemicals
Live Plants
Living animals
Anything that shows signs of insect infestation or mold
Items soiled by human/animal bodily fluids
Live ammunition
Weapons
Very large equipment (often limited to 600 lbs.)
Some of these are items that no moving company will touch (think: chemical barrels or furniture containing roaches or bedbugs). But some companies train personnel and specialize in moving certain things—like a vehicle, for instance. Be sure to seek out a specialty moving company if you do need help moving such an item.
Read More: Things Our Movers Cannot Move
How Much Does a Packing Service Cost?
Packing services from moving companies are usually based on an hourly rate. This rate is often separate from your move since it's considered a separate service.
Why an hourly rate? Not everyone needs or even wants packing services, so they're always priced separately. Additionally, most people own many more items than they realize. A two-bedroom home may take longer than a three-bedroom home or apartment depending on how much stuff is inside.
The time it takes to fully pack will dramatically influence your moving time, and ultimately, the cost. This is even more true if you're not packing everything on your own. Having movers who pack completely handle your stuff means you're less likely to realize how much time it really takes.
Costs of packing and unpacking services will vary by the moving company, which is why you should be 100% clear on what you're getting before committing. Here at 3 Men Movers, packing is based on our hourly moving rate, which can vary by the day of the week.


How Much Do I Tip Movers & Packers?
Moving or packing a large number of items can be a difficult job so tipping movers and packers is an optional gesture of appreciation. It's not expected, but giving them a thoughtful tip based on the type and amount of service they provide can show that you appreciate their hard work. This is especially true if your move was challenging or particularly time-consuming. After all, when it comes to helping you move and pack up items, going the extra mile does make a difference. While there is no set standard tipping rate for movers, many people suggest $10-$15 per hour per crew member, however most movers are appreciative of any gesture of gratitude for their efforts!


What to Do Before Packers Arrive
After booking your packing (or unpacking) services with your chosen movers, here are the best things to do before your packers arrive:
Set out any moving supplies & boxes you already have
Open all closets & drawers so packers can see everything
Clean & declutter as much as you can
What Do I Do While The Packers are Packing?
While Packer's are concentrating on making sure every item finds its way safely secured inside a box, it's best to give them space and stear clear of the area. Give them ample space to access everything that needs to be packed away and the elbow room to get it done! It is, however, always a good idea to remain nearby in case they need help or have questions. One good option is to be within earshot in the next room, perhaps prepping for the packers by condensing the items that need to be packed to one area and clearing out any unnecessary clutter!


How Soon Should I Book Movers to Pack for Me?
Depending on what you need, it's ideal to book packers to help you 1-2 days before your intended move day. If you have a few things or need last-minute assistance that you didn't anticipate, ask if the packers can come in the morning and schedule your move for the afternoon. However, if you only have a few things, ask yourself if you should even hire packers or just find the time to do it yourself.
Before hiring professional packers, stop and consider whether the service is really worth it for the amount of items and free time you have. What else is included? Are there any extra charges? If you're in a bind, reach out to us and we'll accommodate you however we can!
Try to plan your packing in advance so your crew has more time to move you on the day you desire (or need to be out). Planning is a good idea no matter if you're packing on your own or hiring help. Movers may not be experienced in packing, and many won't move loose and/or breakable items. That's why it's important that everything you want to move is prepared and ready to go at the time of your appointment.
Happy moving!
Read Next: Want an Efficient Move? Avoid These Packing Mistakes