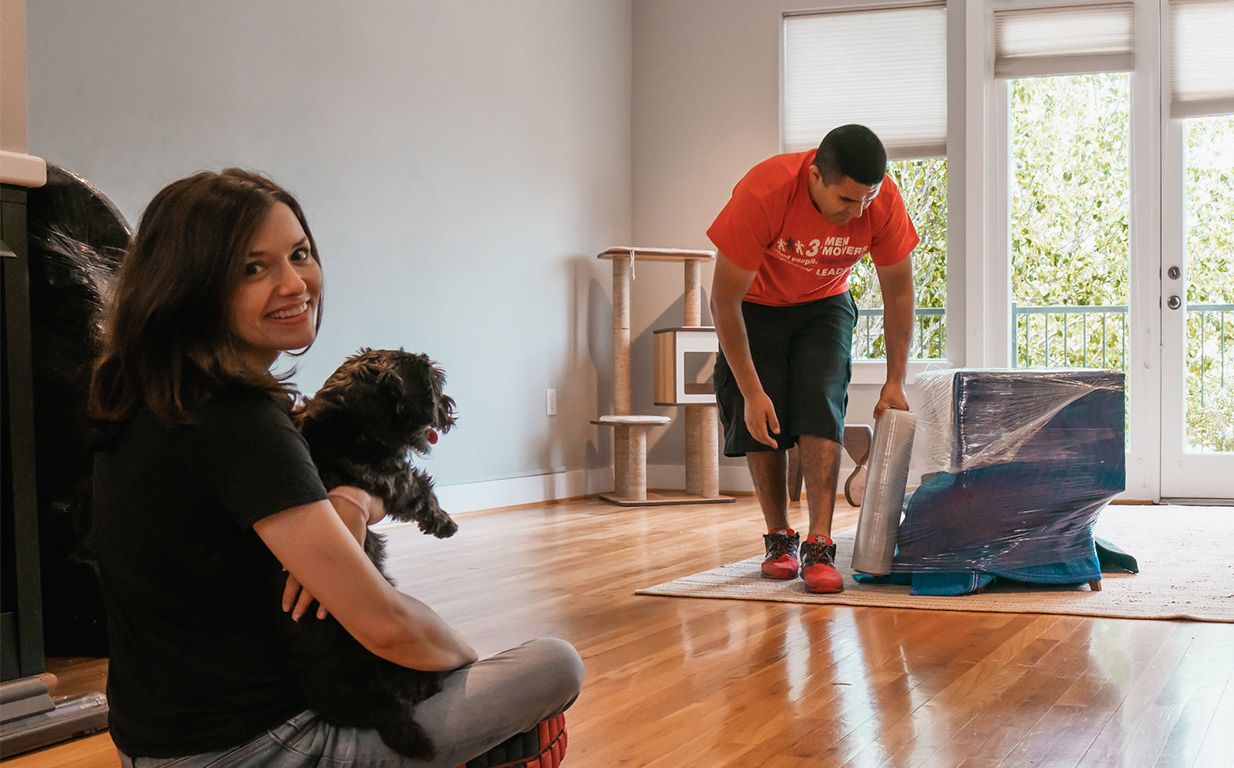 Considering a move to San Antonio? There are a few things you need to know about living in this Texas city that won't pop up in a simple Google search.
Here's what to expect before relocating to Alamo City… Straight from the locals themselve!
Insider Tips: Living in San Antonio, TX
You know it's true… Each city has its own culture, rhythm, and flavor.
Other than living there yourself, talking to those who already do is the best way to truly grasp the essence of a place. This is pretty important research that you may or may not have the time, resources, and patience for…
However, just like a new job or relationship, it's critical to know if the city is compatible with you. So, we've rounded up the best advice from across the web and San Antonians themselves to reveal what it's like living in San Antonio.
How's the Traffic in San Antonio?
For those coming from smaller or less-populated towns, Texas' traffic could take some getting used to… But, compared to our other sprawling cities—Austin, Dallas, and Houston— Quora users actually rank San Antonio traffic last. Non-Texans thinking of moving to San Antonio will be happy to know that the average work commute is just over 24 minutes!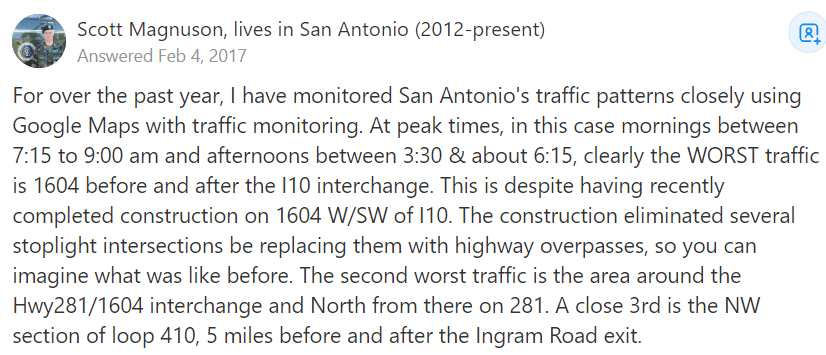 What About Fun Things To Do in San Antonio?
Everyone knows about the Riverwalk… It's a beautiful stroll or ferry float among all the cultural, retail, and culinary delights that San Antonio has to offer in one spot. But once you've made the move there, the Riverwalk is only impressive so many times. That's where popular events like the annual citywide Fiesta celebrations and other local activities.
Take it from a local: check out the many other activities that define San Antonio. Things like festivals, UNESCO World Heritage Sites, the amazing tacos and tamales, and more will keep you entertained!
Did we mention there's even a cocktail conference?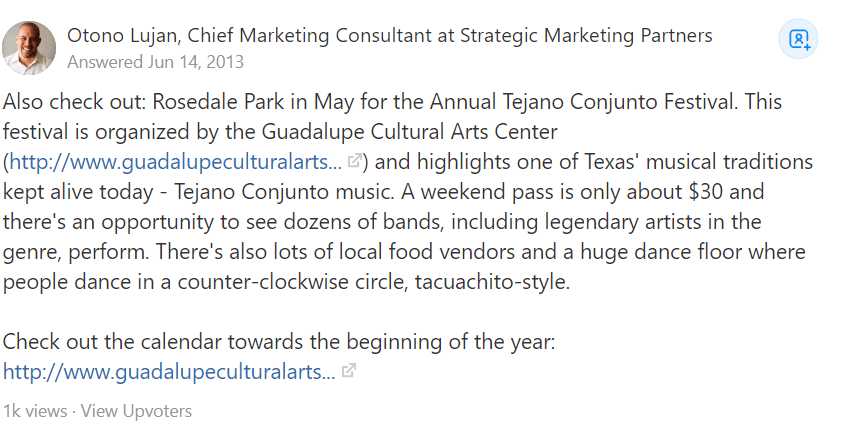 Where Are the Best Places To Live in San Antonio?
Like other Texas metropolises, San Antonio is a city full of diverse residential areas. Do your homework before you move to avoid ending up in either an overpriced or shady part of town.
Or, just listen to these residents who know the city inside-out.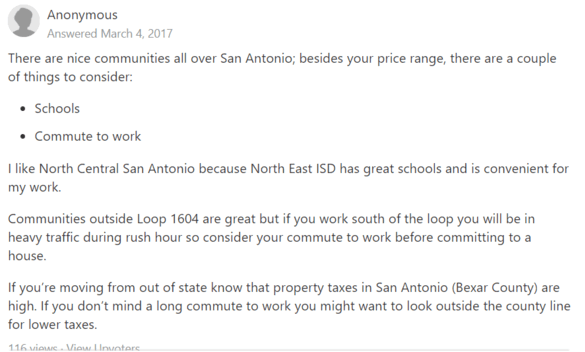 This San Antonio local has great advice for families who desire safety and good school districts above all.

Can I Make a Good Living in San Antonio?
No need to worry about finding a gig after moving to San Antonio!
The city boasts:
A future projected job growth rate that's above the national average
A more affordable cost-of-living that makes San Antonio an attractive competitor to the much pricier Big Four metros (Dallas, Houston, and Austin)
Major job sectors including health care/social assistance, retail, and hospitality & food services.
Higher-paid jobs in the legal, architectural & engineering, health, medicine, and technology fields.
Wait, How's the Rent in San Antonio?!
We got you. Although there's zero state income tax in Texas (awesome, right?!), rent can still put a huge dent in your income. Make life easy and use this tool to compare rents by neighborhood while you're researching the best areas to live!
Just listen to Neil who loves living there: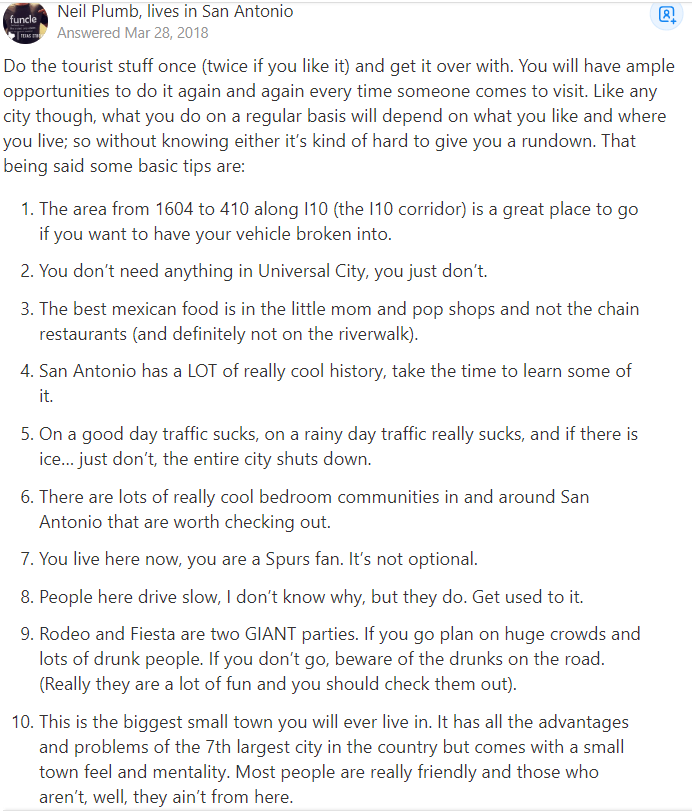 Wrapping Up
So you're ready to move to Alamo City? Take this advice on living in San Antonio, Texas to help you better plan your new life. better.