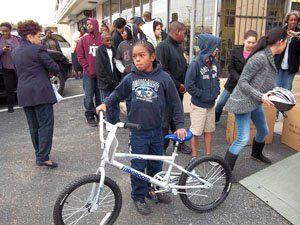 The Original 3 Men Movers volunteered as a team in partnership with the Elves and More charity for the 9th year in a row on Saturday, December 14th, 2013.
Houston, TX – December 20, 2013
At the stadium, 3 Men Movers volunteers and Elves & More volunteers worked together to load the trucks with bicycles and toys donated to children throughout Houston. Donated bikes and toys were loaded into over thirty 3 Men Movers trucks for delivery to underprivileged children in Houston. The delivery took place throughout the city with most bikes distributed at area schools.

Logistics and loading the bikes and toys into the moving trucks took place starting Friday, December the 11th at Reliant Stadium and continued on through Saturday morning. The event provided 20,000 bikes to underprivileged kids. Executives, movers and office staff of 3 Men Movers met at their corporate office and drove festively decorated moving trucks to Reliant stadium.

"The opportunity to volunteer each holiday season with Elves & More has become a part of our company culture. It's a way that we can not only help the Houston community but also come together as a team," said Jacky Noons, owner and CEO of 3 Men Movers.

A little more about the Elves & More Charitable Organization:
To say thousands of children have benefitted from the Elves & More Organization would be an understatement. In order to be eligible for a bike, each child signs a contract with their teacher that they will meet certain criteria such as good grades or positive behavior to be eligible for the new bike. Throughout 2013, Elves & More has delivered over 135,000 bikes to underprivileged children. The goal of Elves & More is to change children's lives one bike at a time. The bikes provide the children with the ability to get to afterschool events, tutors, mentors and jobs.

3 Men Movers Staff Volunteer:
3 Men Movers held a truck-decorating contest specifically for the event. Executives, office staff and drivers came together as a team at the corporate office at 6 a.m. and drove to Reliant Stadium where volunteers assembled and left all together for delivery.

About 3 Men Movers:
The Original 3 Men Movers has been serving Texans for almost 30 years providing complete end to end moving and storage solutions such as residential and commercial moving, packing, the sale of moving supplies, portable storage units, self-storage, and unpacking. The company has won multiple awards from the BBB and Angie's list for exceptional service and last year alone moved over 24,000 Texans.
3 Men Movers is a woman-owned business committed to giving back to the community and leading local businesses in environmentally sustainable practices. 3 Men Movers creates loyal fans one move at a time by keeping customer service top priority, hiring the most requested drivers in the state, and providing a one stop shop for a stress-free move, pack or storage experience.
For more information, press only:
Marketing Department
(713)-909-7489
[email protected]