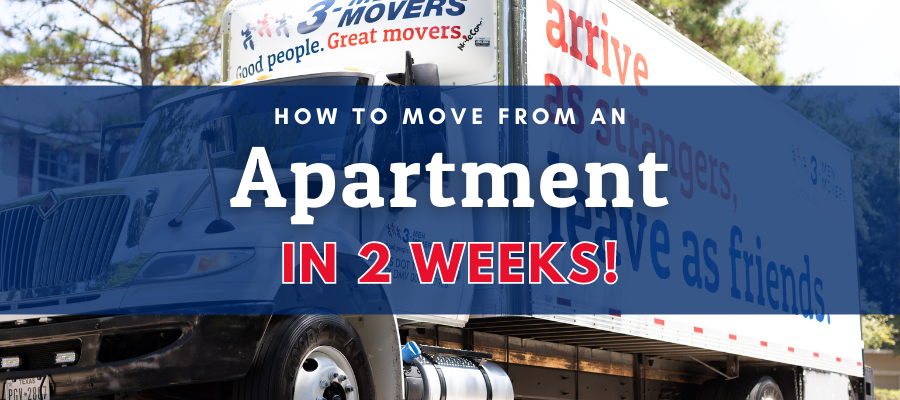 So, you've got a mere 2 weeks to pack up and leave your apartment? Don't panic just yet! It may not be the perfect scenario, but trust us, it's totally achievable. We've got your back with a comprehensive apartment moving guide, covering everything from prepping in advance to the final moving day. And hey, we're throwing in a free checklist and some fantastic tips to make your entire journey a breeze. Let's get you movin'!
How to Prepare to Move From an Apartment in 2 Weeks:
If you're making the move from an apartment to a house, you'll have some specific things to consider. Most likely, you'll have more time constraints moving out than moving into a neighborhood. Here's how to prep two weeks before moving out of your apartment.
As soon as you know you're moving out of an apartment:
Repair any & all damages. This is a big one because apartments will charge you for damages after you've moved out (even if they were already there). While you still live in your apartment, it's 100% free to notify your leasing office about existing damages and have them repaired!

RSVP at your apartment complex. You might be required to reserve an elevator, parking spots, or do certain things before you move. The complex may also need to adhere to certain procedures or do things like install hangers in your reserved elevator for the movers. Talk to the leasing office in advance and give them ample details.

Clean your apartment

thoroughly

. Tackle the biggest, dirtiest jobs first (do a bit every day). Lighter cleaning can wait until move day so you're not overwhelmed or in the way. You could even get your deposit back if it's clean enough! MASTER TIP: Schedule your move so you have an extra day to intensively clean your apartment after all the furniture is gone.
5-7 days before moving from your apartment:
Start packing

everything

. Being overwhelmed is a major factor of stress during move day. Packing early eliminates that. Moving companies often offer packing and/or unpacking if you don't want to do it all on your own. At 3 Men Movers, we not only offer both services, but our unpackers will organize everything so you're prepared to start living.

Declutter & see what you can sell/give away. This is a great time not only to pack, but to go through any junk or things you no longer want that can be donated. Certain clothing consignments may be able to give you extra cash for your unwanted attire, or you can drop them off at nonprofit centers.
2-4 days before moving from your apartment:
Revisit your apartment office & recap your move day. Is there anything you forgot to tell the leasing office? Perhaps there's something your movers told you that changes your plans a bit? Either way, let your office know. On the flip side, inform your leasing office how your move day will generally go and ensure all your reservations still stand, uninterrupted. Review parking options and the permitted loading areas, then relay this info to your moving company. (You don't want movers wasting any time trying to determine where to park or load).

Wrap up any major cleaning and repairs. Even if you've booked your move so that you have an extra day to clean your empty apartment, you should still have most of it done. Repairs should definitely be done

at least

a day before movers set foot in your apartment.
The same day you're moving out of an apartment:
Communicate with your movers. While they should have all the important information before they arrive, it never hurts to check twice. Call the company when they open and ask if everything is on schedule.

When movers arrive, show them everything. Like where certain things are, (e.g., stairs, parking and loading dock, elevators, etc.) Also, during peak seasons, some highly-requested crews may be busier than normal. If you're not the first appointment of the day, this could push back your move start time a bit—especially if the previous job had more items than expected or if they weren't totally prepared.
Download Your Free 2-Week Moving Checklist
Whether you're moving from a house or apartment, this free, 3-page guide will help you prepare in under two weeks. Grab the freebie below!
Wrapping Up
Take a deep breath and let those worries melt away. We've got your back, even if you're facing a last-minute, two-week deadline. Time to channel your inner packing pro, find a trusty mover, and buckle up for an epic ride through our ultimate guide on moving from a house or apartment in just two weeks. So sit back, relax (well, maybe not too much), and let's conquer this moving adventure together!
Related Tips