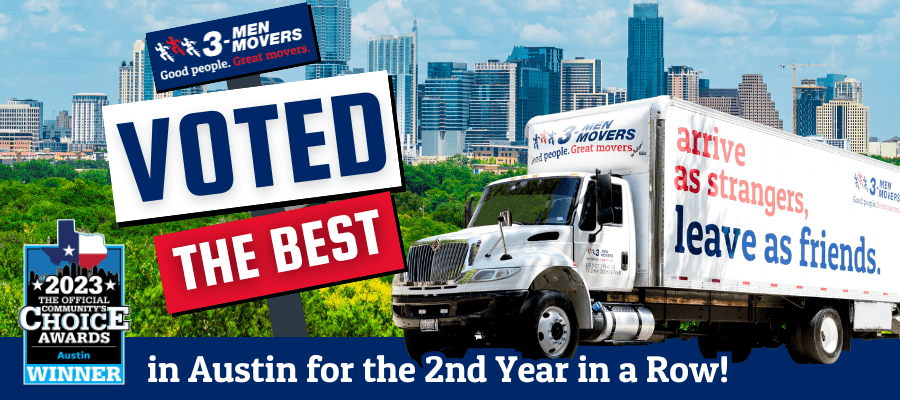 The thriving city of Austin is home to many small businesses, but not every one of them can claim to be the best. For 3 Men Movers, being the best is a matter of pride, and we have earned the recognition of the community for our exceptional customer service and commitment to excellence. Winning the 'Best of the Best' award at the Austin Community Choice Awards 2023 is a significant achievement for this local moving company. We celebrate this success and would like to share the reasons why 3 Men Movers is a company that Austin residents should consider for their next move.
A Moving Company With Heart:
3 Men Movers has been in the moving business for over 30 years and we attribute our success to our core values, which include treating customers like family. Our company has built a robust reputation in Austin's small business community for being transparent, reliable, and trustworthy. Our no-surprise pricing model ensures that customers won't get any hidden costs on our bills, and our employees go the extra mile to make sure that customers' valuables are transported with care and respect.
A Moving Company That Cares About Austin:
At 3 Men Movers, our commitment to caring for the community runs deep, and it's a core value that drives our every action. We believe in giving back and supporting those who have dedicated their lives to serving our country. That's why we proudly partnered with 'Operation Finally Home' in Austin. Through this partnership, we were honored to extend our helping hands to U.S. Marine Corps Veterans, expressing our heartfelt appreciation for their unwavering service to our nation. We understand that moving can be a challenging and stressful experience, and by providing our expertise and assistance to these veterans, we hope we were able to ease their transition into their new homes. It's just one way we aim to make a positive impact on our community, and we look forward to many more opportunities to give back in the future.
A Moving Company That Strives For Excellence:
Throughout our journey, 3 Men Movers has made constant improvements, always looking for ways to make our customers' lives easier. We have invested in adding new technologies to our processes, such as online bookings and tracking, and have always had a rigorous training program for our employees. This has enabled us to provide high-quality services, and the recognition by the Austin Community Choice Awards is a testament to our commitment to excellence.
A Moving Company with Good Reviews:
Winning the Austin Community Choice Awards 2023 is a remarkable achievement considering the high competition in the Austin small business community. The list of satisfied customers attests that 3 Men Movers is an exceptional provider. The company boasts over 100k+ satisfied clients, and as we say, the customer is never wrong. The fact that we have an A rating with the Better Business Bureau, and have been featured in numerous publications only reinforces the point that we are a reputable, trustworthy company that the people of Austin love.
The Best Moving Company In Austin
The Austin Community Choice Awards 2023 has recognized 3 Men Movers as the 'Best of the Best' for 2 years in a row for a reason. Our commitment to providing superior customer service, upholding our core values, giving back to the community, and striving for excellence has earned us the respect and admiration of Austin residents. Therefore, if you're contemplating moving in Austin, why not choose a local company that values transparency, reliability, and honesty, and gives back to the community it serves?