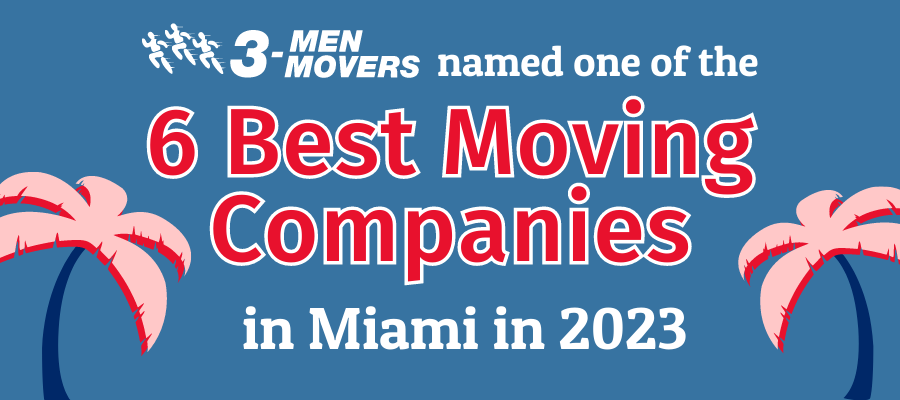 When it comes to moving, finding a reliable and reputable moving company is essential to ensure a smooth and stress-free experience. In Miami, Florida, there is one name that stands out among the rest - 3 Men Movers. Recently chosen as one of the "6 Best Moving Companies in Miami in 2023" by the Miami Herald, 3 Men Movers has gained the trust and recognition of the local community. In this article, we will explore what sets 3 Men Movers apart and why we are the preferred choice for all your moving needs in Miami.
Experienced Movers In Miami
How has 3 Men Movers become a local moving company in Miami with one of the best reputations? Easy! By consistently providing exceptional moving service for our fellow Miamians year after year. We only use the best and most experienced moving crews to "wow" our customers every time. Our teams are true professionals and always go above and beyond to ensure every move is executed with precision and care. No job is too big or small, whether residential or commercial, 3 Men Movers has the expertise to handle your unique requirements. We believe experience matters and train out crews to do the job right the first time!
Full-Service Miami Moving Companies
At 3 Men Movers, we offer a wide range of comprehensive moving services tailored to meet the diverse needs of our customers. We know moving can be a complex process, but you can rely on our range of top-notch moving services. From packing and unpacking to furniture disassembly and reassembly, we take care of every aspect of your move. Got an extra-heavy item? No problem! Our highly-trained team is equipped with the necessary tools and techniques to handle fragile items, heavy furniture, and valuable possessions, ensuring everything arrives at your new destination safely. No matter the size or complexity of your move, their team will work closely with you to create a customized moving plan that suits your requirements.
Highest Customer Satisfaction = Best Moving Companies
Being recognized as one of the "6 Best Moving Companies in Miami in 2023" by the Miami Herald didn't happen overnight. At 3 Men Movers, we have consistently demonstrated our commitment to customer satisfaction. We understand that each move is unique and work closely with our clients to tailor our services accordingly. The positive reviews from satisfied customers highlight our crew's dedication, professionalism, and attention to detail, making us a trusted choice of movers in Miami.
Stress-Free Moving Experience
We get it. Moving is one of the most dreaded tasks, but at 3 Men Movers we strive to alleviate the stress associated with the entire moving process. Whether you book your move on our easy-to-use booking tool, or speak to one of our friendly Move Experts to schedule your move over the phone, you'll start feeling less stressed right away. From there, it's we handle all the logistics, allowing you to focus on other important aspects of your move. With our efficient moving crews, careful packers and safe, reliable trucks — you can rest assured that your belongings are in safe hands! The team at 3 Men Movers takes pride in our ability to provide a hassle-free and seamless moving experience.
Local Knowledge and Personalized Approach
With so many options for moving companies in Miami, FL, it's hard to know who to trust. That is why at 3 Men Movers we do our best to stand head and shoulders above the competition. We understands the unique challenges of moving in Miami and possess an in-depth knowledge of the local area, traffic patterns and regulations, ensuring a smooth and efficient relocation process. Moreover, we take a personalized approach to each move, taking into consideration your specific needs and preferences. Not all moves are created equally, so we ask all the right questions to make sure your move goes off without a hitch. We understand that surprises are for birthday, not move days.
If you're moving soon, give us a call and see for yourself why 3 Men Movers was named among the "6 Best Moving Companies in Miami in 2023" by the Miami Herald. Whether you're planning a residential or commercial move 3 Men Movers is the reliable and trustworthy partner you need for a stress-free and successful relocation. Contact us today to experience our unparalleled moving services firsthand!
Related Tips