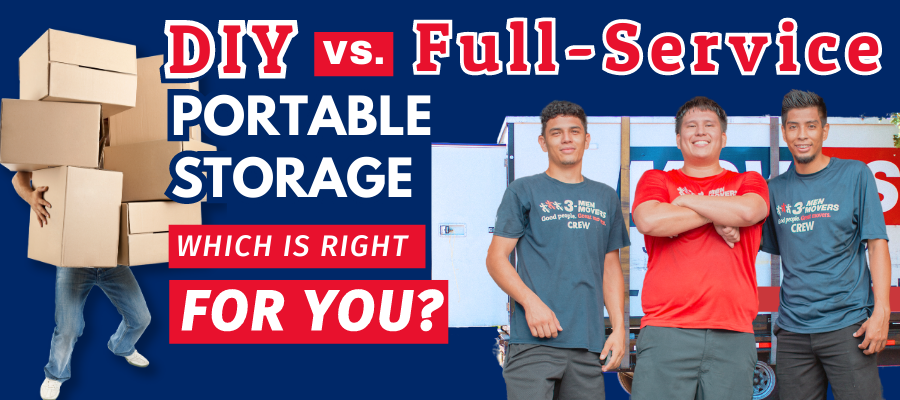 When deciding whether to move your belongings yourself or hire a team of professionals, the options may seem obvious, but it may be worth a deeper dive. With the right research and insight into your unique needs, you can make an informed decision that can ultimately save you time and money. In this article, we will explore why using full-service portable storage container company vs. a DIY solution such as PODS may be preferable. We'll compare the benefits of each service so that you can determine which option is best for your situation.
Here are some reasons why either service may be a better choice to fit your needs:
Some questions to help you decide whether DIY or Full-Service portable storage is right for you:
| | |
| --- | --- |
| Need: | Solution: |
| I want to load it myself | DIY |
| I need frequent access to the stored items | DIY |
| I don't need to store my items for long | DIY |
| I want it stored on my property | DIY |
| I don't want to load it myself | Full-Service |
| I don't need frequent access to the stored items | Full-Service |
| I need the items stored for a while | Full-Service |
| I want the items stored away from my property | Full-Service |
What is Portable Storage and How Does It Work
Portable storage containers are convenient and versatile, allowing you to store your belongings safely and conveniently at an affordable price. These containers are delivered straight to your door, and you can either have a professional moving crew load your items into the container or take your time loading them up with your belongings yourself at your own pace. Once the portable storage container is loaded up, you have some options for how it will be stored. In some cases, the container can be stored in your driveway. This allows convenient access to your items, should they not need to be in a climate-controlled environment and your HOA permits the container to remain in your driveway. They can also be transported to a secure, climate-controlled facility, many times at no additional cost to you. Once you are done storing the items, the container can be brought back to you or delivered to an alternate destination, climate-controlled storage facility or wherever you need it to go.
Benefits of DIY Portable Storage Containers
Using a DIY portable storage container company comes with numerous benefits. Firstly, they provide a versatile solution for moving and storing items. Not only can you load them at your own pace as needed, but then they can be stored in your driveway or picked up once you've filled them up. This eliminates the need for multiple trips to a storage facility which can be time-consuming and expensive. Additionally, they offer flexible storage options as you can choose the size of the container you require and the duration of storage needed. Finally, if you are needing frequent and easy access to the stored items, it is convenient to have it on your property.
Benefits of Full-Service Portable Storage Containers
Hiring a full-service moving company to load a portable storage container and haul it to a secure, climate-controlled storage facility has many benefits. Firstly, you save time and effort as the moving company will do all the heavy lifting, packing and loading of your possessions into the container. This will give you more time to focus on other aspects of your move. Secondly, the moving company will have the necessary experience and equipment to ensure that your items are packed securely in the container to avoid any damage during transportation. Thirdly, by using a climate-controlled storage facility, your items are protected from harsh weather conditions, pests and other hazards. This ensures that your belongings remain in the best condition possible. Finally, you have peace of mind knowing that your items are in the hands of professionals who will take care of them. All in all, hiring a full-service moving company to load a portable storage container and transport it to a secure, climate-controlled storage facility is a stress-free and convenient way to store your belongings during a move.
Deciding Which Portable Storage Option is Best for Your Needs
Deciding between loading a storage container yourself or hiring a professional mover ultimately depends on your personal preferences and needs. If you have the time and energy to pack and load your possessions into a storage container, then doing it yourself may be a cost-effective option. However, if you have valuable or fragile items that require expert handling, then hiring a professional mover would be the recommended choice. Additionally, professional movers have the necessary equipment and experience to ensure that your items are packed and loaded securely, reducing the risk of damage during transportation. If you are in a hurry and want to get it loaded and hauled away as quickly as possible, you'll want to use a full-service portable storage company. Ultimately, it comes down to weighing the options vs. your needs to decide which solution is most suitable for your specific situation.
Tips on Finding the Portable Storage Container Company
First and foremost, do your research! Search for companies in your area and read online reviews to get an idea of their reputation and customer satisfaction. Ask some friends or neighbors who have used a portable storage service in your area. Second, compare the pricing structures of various providers to ensure that you get the most value for your money. Third, check if the company you're considering offers the correct storage options that cater to your needs, such as container size and duration of storage. Fourth, inquire about the safety and security measures of the company, including weather-resistant containers and secure facilities. Fifth, ask if the company provides insurance coverage for your items while in storage or during transportation. Finally, make sure that the company has excellent customer service with prompt and helpful responses to all your queries. By using these tips, you'll be able to find the best portable storage company that meets your specific requirements and gives you peace of mind.
Final Thoughts on Choosing the Right Portable Storage Option For You
In the end, there are many benefits to both self-service and full-service portable storage options. What matters most is that the servicer you choose fits your unique needs. The goal is for you to have as much of a stress-free moving experience as possible, knowing your belongings are being taken care of. Whether you hire professionals or do it yourself, we hope we've provided valuable information to help the process go smoothly and you can have peace of mind.
Good luck in finding the right option for you!
Related Tips