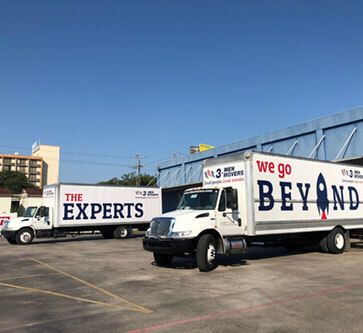 Whenever you move with us, there are only two costs associated. There's the Hourly Rate (which you can read more about here) and there's the Transparent Travel Fee which is what this article reviews. The point of this fee is to cover the cost of getting your movers, moving truck and any moving supplies from our facility to your home. It also covers the cost of getting the movers back to the 3 Men Movers facility after they're done unloading your belongings at your new home.
Now that you have an idea of what it is, here's what it's not. It's not a fuel charge, as those are usually calculated by taking a percentage of your total bill. Also, this fee doesn't cover travel time during your starting and ending destinations, as the regular hourly rate will cover any time we spend moving you once we arrive at your home and sign you in. The transparent travel fee is solely dedicated to the time our movers spend driving to you before the move, and then back to our facility after the move.
How is the fee calculated?
If you have questions about how we arrived at the total for the transparent travel fee, know that it's not a totally random number. There's a method to the madness, which might put you at ease as you deal with all the uncertainties that come with moving! The fee is calculated when you book your move with a sales agent at our moving company, and it has nothing to do with how long your move takes. So whether your move takes two hours–lucky!–or all day, you'll pay the same transparent travel fee.
This fee is actually a flat cost that takes into consideration your starting and ending addresses, as well as the center of the city (which our facility is not far from), to figure out transportation costs. So in general, the farther you live from downtown–and the farther your new home is–the more your transparent travel fee will cost.
How does the transparent travel fee benefit you?
You might not be happy when you see the word "fee" anywhere, since no one is a big fan of fees. However, there's good news here. Our transparent travel fee benefits our customers greatly! Why? Most other moving companies also charge for transportation to and from customer homes–but they use their regular hourly rate instead of a separate fee.
Basically, they charge customers the hourly rate from the time they depart their facility until they return, which means if there is lots of rain or bad traffic on moving day, your moving costs can quickly add up! So if you like the idea of knowing your costs ahead of time as much as possible, you'll appreciate the transparent travel fee, because it's, well, transparent!
Ready to get your move on the books with a moving company you can trust? Contact 3 Men Movers at any of our Texas facilities. Whether you want to hire our Austin movers, Dallas movers, San Antonio movers or Houston movers, you can count on our moving company to give you the smooth move you deserve!