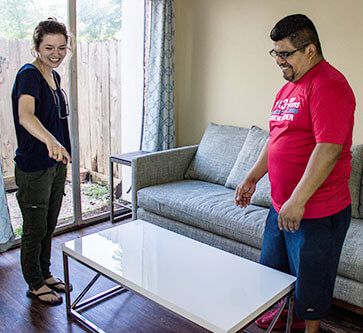 You're probably thinking about hiring an Austin moving company so you don't have to break a sweat loading and unloading everything you own during your move. After all, it's hot! And most people can't easily push all their possessions out the door, into a moving truck and into a new home without help. But did you know the perks of Austin movers don't stop there? That's right. Your movers won't simply drop off all your belongings in your new house. Instead, when you hire the right Austin moving company, you'll get help arranging your furniture until you're satisfied with the results. So if you're planning to move soon, here's what you should consider before you hire Austin movers.
SHOULD I ASK FOR HELP REARRANGING MY FURNITURE?
It's completely up to you to decide to ask your Austin movers to help arrange the furniture once you move in. Sure, if you're on a tight budget and need to hurry the move along, you can tell the movers to just put each box or piece of furniture on the floor of the designated room and let you sort it all out once they leave.
But if you want your new home to look just the way you want it to look from the day you move in, go ahead and ask your Austin movers for assistance arranging everything! They're more than happy to help, as they do this frequently. After all, most people who just moved in aren't completely sure where they should put the couch in their family room, or which wall the TV would look best on. That's the perk of hiring an Austin moving company with the time and talent to arrange your furniture!
WHY SHOULD I TRUST THIS TASK TO AUSTIN MOVERS?
The main reason you're hiring an Austin moving company might be for the muscle–as you just need a few people who are capable of lifting heavy items without dropping and damaging them. But just because the movers you hire are strong doesn't mean their lifting ability is the only talent they bring to the table. At 3 Men Movers, our crew also excels at arranging furniture until the room looks just the way our customers want it to look.
In fact, our movers often joke that they're not only movers but also interior decorators! And it makes sense since they've seen more than 30,000 living rooms over the years. This means they have some idea of what furniture arrangement works…and what doesn't. Whether you're intent on achieving perfect Feng Shui in your new home or just want to know which way to arrange an area rug in your living room, our Austin movers are happy to help. They can give you fresh ideas for your house that you might have never thought of before, or they can simply follow your instructions on where to put the couch in order to make your vision come to life. It's up to you!
If you're ready to see firsthand how our crew can make your move go smoothly, contact 3 Men Movers at our Austin office today. We'll give you a free estimate and then get you on the schedule so you can get on your way to calling your new house a home!