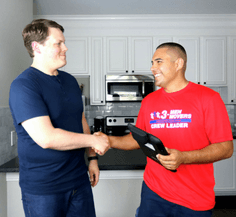 Tipping (no matter the service) can be an awkward experience, but it doesn't have to be. Most people move once every few years, so it's hard to remember tipping protocol. However, there's no need to fret! We are giving you advice on tipping practices from moving industry pros!
Are You Required to Tip Movers?
You are never required to leave a tip with movers, but it's always appreciated. If you felt like they were attentive, helpful, and careful, a tip is a nice way to thank the movers for a job well done. If you're working with professional movers, you are already paying for their moving experience to navigate any issues that may arise – anything extra is up to you.
How Much Do You Tip Movers?
Likewise, the amount that you tip your movers is also completely up to you, but we all want some kind of benchmark. The Director of Operations for 3 Men Movers, Tony Patino, states that, "our crews average tips that are around 10%-15% of the final bill." This usually averages out to be $20-$30 per mover depending on the size of the move.

Do You Add Your Tip to the Bill or Leave Cash?
You have the option to tip your movers in the form that is most convenient and comfortable for you. However, cash tips are usually preferred!
Who Do You Give the Tip To?
Most movers have crews of at least two people. At 3 Men Movers our standard moving crew is three men. If you are giving a cash tip you may be wondering who to give it to. You can give the tip to the crew leader for the entire crew, or you can give a tip to each individual mover. Our crew leader Junior states that he prefers that the customer go with the method that makes them most comfortable.
What if You Can't Leave a Tip?
If you loved the service you received but can't leave a tip, a great option is to shout your movers out in a review, or refer them to your friends and family. Showing your movers love by word of mouth or through a review platform like Google +, Yelp, or Facebook can be just as valuable as a cash tip!
In Conclusion
We hope you've found our tips on how to tip useful! Trust your own instincts, if you feel compelled to leave a tip, then go for it. But if you can't or don't want to leave a tip, know that the decision to tip and the amount to tip the movers is completely in your hands!