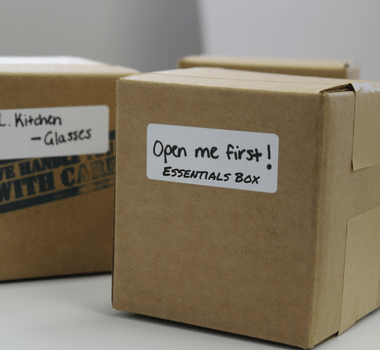 What you need for the first night in your home
Moving into a new home is hectic, tiring, and exciting. While there's definitely a lot of work involved, the day doesn't have to overwhelm you. One thing that we have learned is that you need be prepared for the first night that you spend in your new home.
Many of us spend so much time getting prepped to move that we forget about what our needs will be after the move. When move day finally comes to a close we realize that our essentials are buried in boxes around the house and garage. Sound familiar? If so, we've got packing solutions that will make the first night in your new home stress-free!
How to make the night after moving into your new home easy
The solution to making the first night in your home easy is simple, pack a first-night essentials box. Separate the things that you will need immediately. After packing your first-night essentials box, label the box using duct tape and a marker. Tell your movers where you want them to put the box after they bring it into the house, you don't want all of your prep work to go to waste. If you are hiring professional packers, give them a list of items to pack inside of your first-night essentials box.
Items you should consider putting in your essentials box:
Electronics (phone, laptop, tablet, Fitbit, etc.)
Chargers (your phone's no good if it's dead)
Toiletries (enough for at least two days)
Pajamas
Bedding
Coffee pot, coffee, mug, and filters
Clothes for the next day
In conclusion
The last thing that you're going to want to do after a long day of moving and last minute errands, is to dig through dozens of boxes to find your phone charger and pajamas. Do yourself a favor and put together a box of your first night must haves! You can even download and print our list of essentials here!