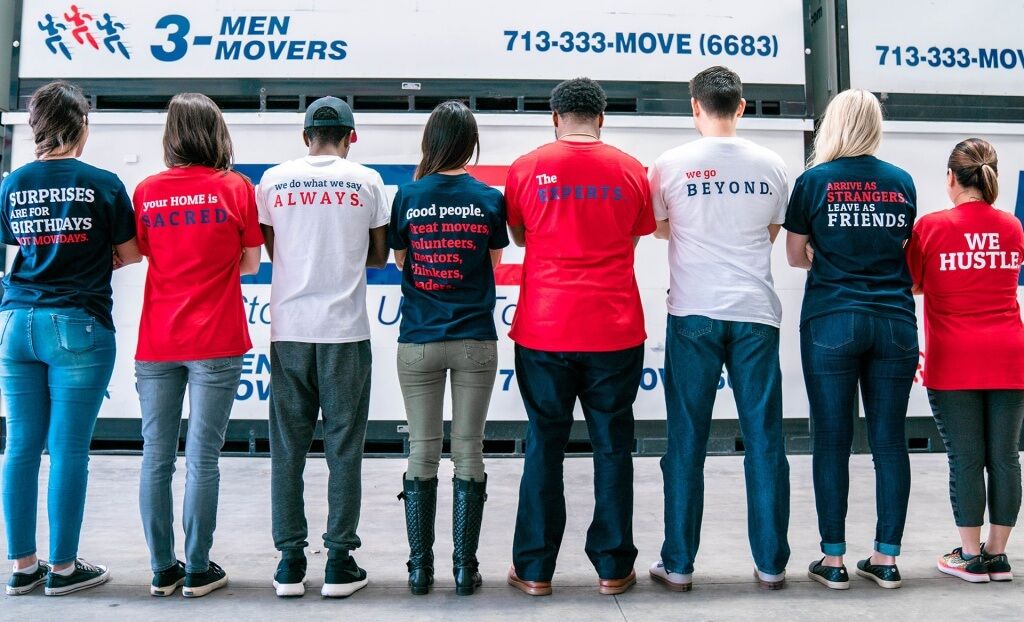 3 Men Movers rebrands themselves and adds "Good people. Great movers." to their logo. The last time any imagery was touched was 30 years ago and this year they changed everything. They are the moving industry experts. They will go beyond. They will arrive as strangers and leave as friends. They will do what they say, always. They are here to show the world that moving should not suck. Moving should be easy, fun and professional.
Video Transcription
When I'm walking through the sales floor and I hear salespeople say we're members of the BBB, we've been in business over 30 years.
I just don't feel like that's our competitive advantage.
This has actually been going on for probably a couple years. We knew there was an issue when we asked several people what our competitive advantage was and they were all over the board. I mean there's so many things that we do but how do you how do you really find the essence of all of that.
We thought a lot about my dad.
We were realized that my dad was a pretty inspirational guy and he would say things over and over and over again. That's the way you teach somebody is you say something and it becomes a
Mantra and you're constantly saying it. So we went through those things and we tried to really kind of narrow it down to really what we thought the essence of three men members in our culture is.
I want us to live and breathe these values and to be able to articulate them to the customer.
We do what we say. Always.
and sometimes we get it wrong but the difference between us every other company is if we get it wrong we'll make it right. when we make a promise over the phone we're gonna honor that promise.
We Hustle.
when I started in the little office around 40 45 North everybody was running grabbing the phones we were all kind of in it together. There was a sense of energy there and we want to keep that energy no matter how big we are we never want to be that company that gets big and gets lazy.
We Go Beyond.
and what that really talks about is all the little things we do that we're not required to do. From the response time to claims to how much we pay out in claims so the things that we do for customers. If we started move about 7:00 in the morning and they're not finished we'll stay there to 2:00 or 3:00 in the morning the next day. So our guys are willing to go beyond and the people in the office will need to go beyond as well.
We don't keep movers that our customers don't like.
We want to make sure anybody that interacting with the customers is on their game and they're the best that we have. We're not going to keep somebody that the customer doesn't feel comfortable with. We have always listened to the customers. My dad read all the reviews every night he'd get the fax in, our big technology back then the fax machine, and he would read those reviews and he'd get rid of the movers that weren't performing. and we do this same thing to this day.
We arrive as stranger's and leave as friends.
At the beginning of the day if the movers come in and the customers kind of scared you got three burly guys walking in off the street walking through their home and are kind of nervous about the whole thing but by the end of the day they're just ease that they interact with movers. They feel comfortable with the movers. The movers are gentlemen. It's not just about picking up furniture and moving stuff out. It's about really relating to the customer and understanding what the customers going through.
We're The Experts.
We're the people who if there's a rogue mover out in Houston and they need somebody to call to find out what movers should be doing like channel 2 channel 26 they call us and they interview our people to find out what's going on. We go through an extensive training process.
Our movers go through an extensive training process and they even learn the soft skills. We are the professionals in the [moving] industry. We are the [moving] industry experts.
We Know That Surprises Are For Birthdays. Not For Move Days.
And what that means is we want to be transparent and upfront with the customers at the beginning of the move. There's no surprises and if there's no surprises the customers going to be much happier. The problems that happen with movers is when the customers are thinking one thing is going to happen and then you deliver something else, and there's that miscommunication. The way we avoid that is by very carefully going through all of the information over the phone sometimes it's a little long and tedious but it's worth it. Then we send them all the information via email and then we train our drivers to go through all of the information again so they should have seen our rates three times before they start the move.
We Respect That Your Home Is Sacred.
We respect person's home and their family and their way of life. We're not in our space we're in their space and so we honor their rules. That's really important to understand and value that that experience with the customer so that they feel safe and secure in their home.
I want to hear what customers say about us is that we hustle and we believe that surprises are for birthday's not for move days and let me tell you what that means let me explain that to you and why we are different from other moving companies. I've watched this company grow and transform and those people who've been here since close to the beginning Malcom and Arny and Claudia Marcela came in down the line. They know what the office was like. They know how it was so many years ago and every year it gets better and better because of the quality of people were able to get. Every year when we were able to do more moves we hire even better people and that's what makes this organization great. We were like how so we sum this up and we summed it up with four words.
Good people. Great movers.