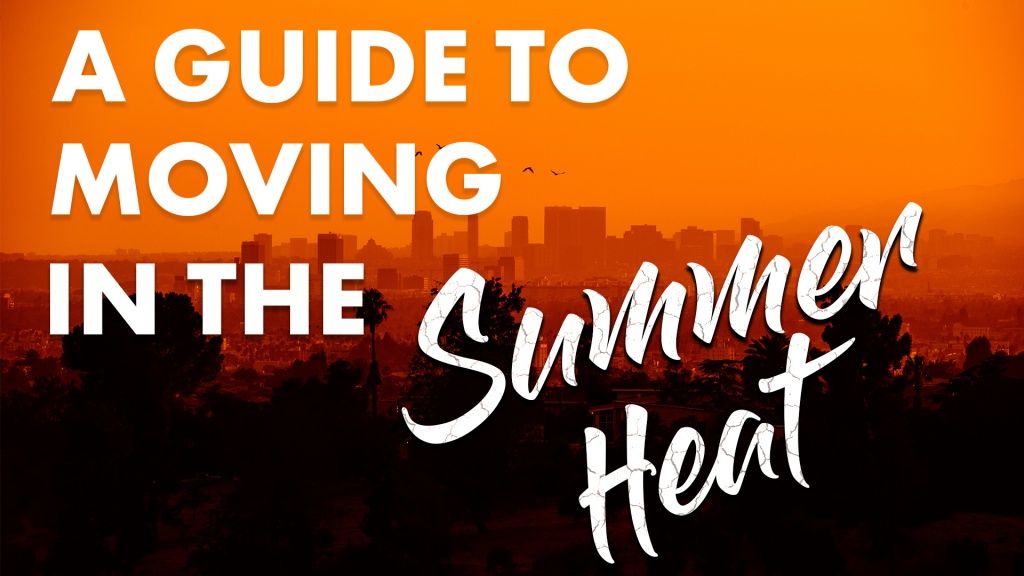 Planning on moving in the summer heat and trying not to fry like an egg on a hot sidewalk? Summer is peak moving season. So not only is it hot, but it's the busiest time for both movers and residents. Considering the amount of time and effort involved in moving, you don't want to waste time or overheat yourself or a moving crew. Can you picture the ultimate summertime post-move scenario: Relaxing with your air conditioner blasting… Stress-free and totally finished?
If you can't, that's cool (pun intended). Because, luckily for you, we've learned a thing or two throughout 30+ years of moving during Texan summers, when 100-degree temps are super common. Whether you're hiring movers or DIYing it, check out these summer moving tips that will keep you cool and collected despite scorching temps and insects.
1. Take Lots of Breaks in Hot Weather
It's great to pride yourself on keeping a steady pace no matter what kind of work you do. But, remember, moving day is not the time to overexert yourself! Especially if you're moving in summer when it often gets extremely hot outside.
Keep these tips in mind. They'll be particularly helpful if you're not used to lifting heavy items or have a medical condition vulnerable to heat:
Be comfortable; don't rush to avoid rest periods during your move.
Have intervals for mini-breaks—time yourself or set reminders if necessary.
Sit in the shade whenever you start feeling winded, thirsty, or tired.
You might not want to delay your move, but consider how a trip to the hospital would interrupt your day if you get severe dehydration or heatstroke! It's not worth the risk.
2. Stay Consistently Cool & Hydrated
You lose water when you sweat. If you do vigorous activity and don't replace fluids as you go along, you can become dehydrated. Hot, humid weather increases the amount you sweat and the amount of fluid you lose. Not a big water drinker? Well, now is the time to start! (At least on moving day.)
Buy a liter or gallon of water and get ready to build a new relationship with H2O. It's what's going to keep you alive during your summertime move! If you simply can't bring yourself to drink plain water all day, try sports drinks like Gatorade. Either way, thorough hydration doesn't just start on your move day. Try to start drinking water regularly at least 1-2 days before moving.
Skip this, and you risk sweating out all your electrolytes after spending a couple of hours dragging your furniture and dozens of boxes out the door. The good news is that technology makes it simple to track your water intake, like this list of apps that fight dehydration.
Stick to these science-backed summer moving tips to stay hydrated:
Pack enough hydrating fluids for all day.
Stick to drinking water, coconut water, or electrolyte-rich, sugarless sports drinks.
Avoid dehydrating beverages high in caffeine or sugar, like energy drinks or juice.
Totally skip the alcohol (you can celebrate moving later!)
Pack a snack of fresh fruit, especially if you can't carry a drink along.
Finally, who could forget about air conditioning? Living in Texas wouldn't be the same without it, so make sure to set up your electricity service for your move day. You'll want to make sure the lights and air conditioning are on at your new place before moving in summer!
3. Watch Out for Summertime Insects on Your Move Day
From 1997 to 2017 in July: 279 Americans died after being stung by hornets, wasps or bees. 2,917 Americans died from heat exposure. (CDC.gov)
Southern summers are notorious for insects. If you're not familiar with the South, here our summers are pretty much a competition between bugs and the sun. With rainfall, high humidity, and lots of tasty humans hanging outside, it's basically playtime for insects, including mosquitos. Mosquito-borne diseases—like the West Nile and Zika viruses—have also been found in the world's deadliest animal here in Texas.
So, it's vital to protect yourself! Not to mention roaches, disease-carrying ticks, and other critters who like hitching rides on your stuff. The last thing you need is an infestation in your new home! Stinging insects can also attack when feeling threatened by you or a mover who disturbs their nests. Use these tips to avoid insect issues when you're moving in the summer:
Allergic or attractive to mosquitos? Book a fixed move time when mosquitoes are least active. Avoid dusk & dawn.
Eliminate sources of standing water where mosquitoes like to breed.
Apply an EPA-approved insect spray, but don't use it on children under 2. Offer some to your movers, too!
Inspect all indoor & outdoor furniture and fabrics for infestations before deciding to take them with you.
Clear out fire ant hills, especially if they're on the path to your new or former property. You don't want to accidentally trip on them!
Spray or hire a pest control company up to 1 month before moving.
Safely remove small wasp nests near outside corners or doorways.
Always call a professional to remove larger nests of hives of ants, wasps, termites, or bees, which are more dangerous to you & your structure.
Don't spray beehives! Bee pesticides are often illegal and honeybee populations are critical to our food supplies. Call an apiary professional for help.
Repair damage & clean residue so that your structure isn't unstable and more critters don't come around. (Extra important if you're selling a home!)
Check and treat pets so they don't carry ticks or fleas into your new place.
Avoid attracting ticks by wearing light-colored, long shirts and pants with the legs tucked into socks or high boots.
4. Overestimate the Power of the Sun
You can avoid sunburn, heat exhaustion, or heat-destroyed items by taking the right precautions when moving. Some smart tips to stay safe from the ravages of the summer sun when you're moving:
Check the weather forecast 1-7 days before your move to get prepared.
Stay hydrated using the tips in point #1; don't wait until you're thirsty.
Pick move time outside of rush-hour traffic. You can do this by booking early and packing ahead of time.
Wear appropriate SPF sunscreen for your skin tone (waterproof if you sweat heavily).
If you're prone to sunburn, consider wearing additional sun protection (e.g. hats, sunglasses).
Choose light, loose-fitting clothing that is breathable and won't snag on furniture
Wrap towels around frozen ice packs or place in a cooler full of ice for you and your movers to use.
If you're moving alone, load electronics last and unload them first so they're not sitting in the heat.
Only put heat-sensitive, combustible items in cool, well-ventilated areas away from vehicle windows.
Plan to securely transport ammunition on your own. Most movers will not transport live ammo or loaded weapons, especially not in summer heat.
Unload, discharge, and clean any guns or gun safes before moving.
Never leave pets or children in cars unattended and/or without air conditioning.
5. Recognize Signs of Heat Sickness in High Temperatures
"Heatstroke is a condition caused by your body overheating, usually as a result of prolonged exposure to or physical exertion in high temperatures…. The condition is most common in the summer months."

—Mayo Clinic
Overexerting yourself? Profusely sweating? Staying outside for way too long? Stuck in traffic with the sun baking your skin through your car windows? Be wary because things could get dangerous. In order to be prepared for any possibility, get familiar with the symptoms of heat-related illness in case it happens on your move day. That way, you can get medical help for you or your movers, fast.
See some common symptoms1, 2, 3 of dehydration, heat cramps, heat exhaustion, and heatstroke to look out for during your move:
Dehydration

most mild

Heat Cramps

mildly serious

Heat Exhaustion

somewhat serious

Heatstroke

most serious

What it feels like:
Extreme thirst. Dizziness, fatigue, or confusion. Urine the color of apple juice or darker.
Muscle pain, spasms, heavy sweating
Fast, weak pulse; cool skin with goosebumps, faintness or dizziness, nausea, headache, low blood pressure if standing, and/or muscle cramps.
High temperature ( ≥ 104°F or 40°C). Fast, strong pulse. Hot, dry, red or damp skin. Confusion, agitation, passing out. Dizziness, headache, or nausea. Rapid breathing.
Where it happens:
Mouth (due to thirst), head, or all over the body (sweating)
Any muscle group you move a lot
All over your body, especially the skin, head & stomach.
All over your body.
What causes it (combined with heat):
Excessive sweating, diarrhea, or vomiting. Increased urination.
Fluid and electrolyte loss, often from excessive sweating.
Strenuous physical movement in high temperatures—especially with high humidity.
Dehydration. Strenuous physical activity. Drinking alcohol before moving. Lack of air conditioning. Certain health conditions.
What to do:
Stop physical activity to cool off. Drink water or electrolytes.
Rest for several hours. Cool off. Drink electrolytes.
Loosen clothes. Cool off with a bath, garden hose, or wet towels. Sip water or electrolytes.
Take a cool (not cold) bath or wet towels. Remove excess clothing.
Seek a doctor if:
Diarrhea is present for 24 hours or more. Irritable, disoriented, or sluggish.
Cramps last for over 1 hour. You're on a low-salt diet. You have heart issues.
Vomiting. Symptoms get worse or last over 1 hour.
Get the person to a cool place. Do not provide drinks. Seek medical help immediately.
You can probably tell that it all starts with being adequately hydrated. If you or someone else starts experiencing those more serious symptoms during your move when it's hot outside, pause the move, and seek medical attention immediately.
6. Let Professionals Handle Moving in Summer Heat
If you're feeling a bit overwhelmed by these tips or if you're worried about prolonged heat exposure, consider hiring a moving company to do the heavy lifting for you. Lower your moving anxiety by just concentrating on packing. This will prepare you to move without having to be outside long.
Many moving companies in Texas have been helping people move in the heat for years. Specifically, we're pros at it because we've been training professionals to move in scalding Texas summers for over three decades!
Before you hire movers to help you in the summer, do these two things first:
Prepare and pack well to have a faster, efficient move.
Know how many crew members are coming & their experience levels.
You're paying by the hour. So ask your chosen company how long your designated crew has been moving. The last thing you want in summer is a rookie crew who isn't used to moving in hot weather. Professional, experienced crews can move all day without excessive breaks.
Many people wonder if they have to feed their movers. While we definitely appreciate the sentiment, we don't recommend it. But, it is nice to get a few cold bottles of water or sports drinks rich in electrolytes (like Gatorade or Pedialyte) to offer the crew. Dehydration is exhausting and can stifle our mental and physical reflexes. So, helping your moving crew stay sharp and hydrated can only benefit your move!
Wrapping Up
Whether you're moving from one Texan city to another, or if you're simply brand-new to a place with sweltering heat, moving in the summer is going to be a challenge if you're not prepared. Sure, you might have grand plans to spend all day lugging your belongings from your house to the moving truck, but those plans will probably change after 10 minutes in the Texas heat! (And no, it's not a dry heat. It's pretty humid, which means it's more like wet, sticky, uncomfortable heat). Granted, this doesn't mean you have to postpone your move until fall. Follow the tips above, and you'll safely survive moving in the summer heat with no sweat.
---
Sources:
Related Tips