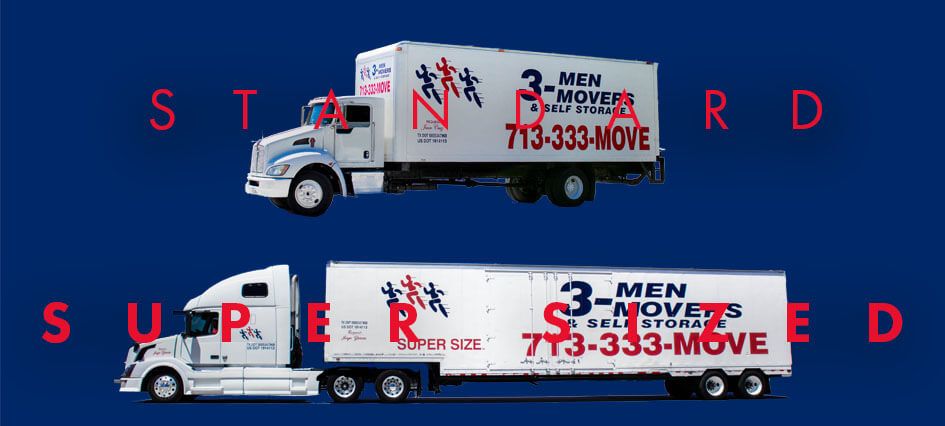 As you plan your move to San Antonio, you might be looking forward to all the fun activities you can do once you arrive. But first, you're going to need to focus on getting here safely, which means you should be thinking about making arrangements with a San Antonio moving company you can count on. Part of the process is getting answers to questions you might have before the move, such as, "How big of a truck do I need?" The answer to this question depends entirely on three key points: square footage of your current home, how much "stuff" you've got and the drive time between your two homes. Here's the breakdown.
#1 the 2,000 Square Feet Rule.
It stands to reason that if your house is big, your moving truck needs to be big, too. But what's big? Well, we don't like to guess when it comes to home or truck measurements, that's we rely on the cold, hard facts that only a measuring tape can provide. This method has taught us that if your house or apartment is about 2,000 square feet or more, a 24-foot moving truck (which is the regular sized UHaul you see on the road) will most likely not be able to handle your San Antonio move in one trip. In these cases, we always recommend our 48-foot Super Size moving truck. Being our largest moving truck, it does cost more at first glance, but it also comes with a fourth mover. And as you might imagine, having four San Antonio movers helping you relocate will make the process go pretty fast, which means you may even save time and money in the long run. Likewise, if your house is smaller than 2,000 square feet, we can likely squeeze everything you own into a 24-foot moving truck. This size moving truck should work whether you have a 1,900-square-foot house or a 900-square-foot apartment. Pretty easy rule to follow right?
#2 the "Stuff" Rule.
This is the only part of the equation that gets a little subjective. How much "stuff" do you really have? Be very honest with yourself on this one because there's always the chance your house is on the cusp of needing a regular 24-foot moving truck versus 48-foot Super Size moving truck. For example, maybe you have a 1,950 square feet home, but it's pretty much bursting at the seams with your belongings. In that case, err on the side of caution and let us know you'll need the larger truck. On the other hand, if your home is just barely 2,000 square feet — but it's looking pretty sparse because you never did manage to fill every room with furniture after you moved in (or maybe you were living with roommates) — you might be able to get by with the smaller moving truck. You can always ask us for help deciding!
#3 the 30-Minute Drive Rule.
Ok, we're almost done! Now that we've determined your square footage and we know how much "stuff" you've got, it's time to layer on the drive time between your two homes. If your homes are more than a 30-minute drive from each other, and you're right on the cusp of square footage or you've determined that you've got a full house, we will always recommend the 48-foot Super Size moving truck. Why? Time. You'll end up paying more in the long run if the smaller 24-foot moving truck has to make two trips. So if you want your move to be as simple and quick as possible — and who doesn't? — you should stick to these rules. If you have any questions or are ready to hire a San Antonio moving company that cares, contact 3 Men Movers today!
Related Tips