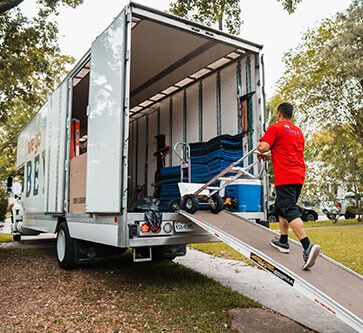 A common question we always get from most customers is "How Long Will My Move Take?" This is understandable seeing how most Houston moving companies are priced on hourly rates. There is never a hard and fast rule for how long your move will be because every move is different. We can, however, give you a few tips on how to decrease the amount of time your move will take:
Book a Reputable Houston Moving Company
This is incredibly important. There are a lot of moving companies in Houston, and unfortunately not all of them are legal or experienced. Some may be less expensive, but it just might be because they aren't operating legally or the movers don't have a good reputation. Do your due diligence and make sure you research moving companies before you book your Houston movers. Watch this quick video on our blog to look up if your moving company is legit and how to spot red flags. This is all of your stuff, so you want to keep it safe and know it's in good hands!
Be Prepared When Movers Arrive
Another thing we can't stress enough is to be ready for your Houston movers! This means having things completely packed and ready to go. We don't move loose items, and if you aren't packed, it will slow things down significantly. Our movers will text or call you when they are on the way so you should know when they'll arrive. 3 Men Movers offer packing services if you know you can't do it all yourself. Read the reviews by our customers and watch them pack.
Giving Your Moving Company Good Estimates
Try your best to give us accurate estimates of the things in your home. In a house, this includes the garage, the attic, and anything that is in your backyard or patio. It is important on the confirmation call, that we have a good idea of the size of truck we need to bring. If this isn't the case, the move could lead to two trips which takes a lot more time.
Moving Long Distance and Stairs
These 2 things should also be considered when using a professional moving company. Drive time goes into your hourly rate so just be aware that moving across town or to a new city will increase the total move time. Additionally, you should know that moving trucks have to drive 5-10 mph under the posted speed limits because they are incredibly heavy and take longer to stop and to accelerate. This is a safety precaution to keep everyone on the road safe, and to keep your stuff safe so it doesn't shift around. Learn about how our drivers are safe on the road.
Stairs will also add some extra time to your move because the movers are carrying heavy things up and down 1 to 3 flights of stairs. There is no extra charge for this, but it will add a little bit of time to the move.
In Conclusion
The final thing you should know is 3 Men Movers really cares about our customers, and we will do your move as quickly and safely as possible. We have a great reputation as a Houston moving company, and it's because we take great care of the people that move with us. If you want the best Houston movers, you can book online now!