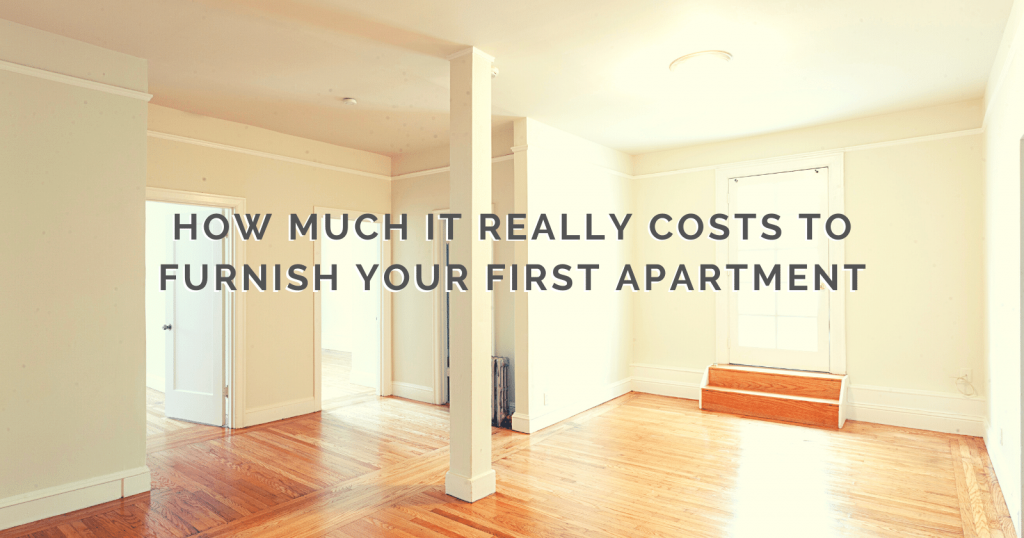 Furnishing your apartment can be both amazing and nerve-wracking—especially when you're trying to keep costs relatively low. So where do you start? What is it that you do and don't need to be comfy in your new space? How do you stay within your budget and on-trend?
Regardless of whether it's your first or your fifth apartment, as movers, we realize that everyone's furniture needs will differ depending on the reasons for moving. So no, this isn't a one-size-fits-all guide to furnishing your new apartment, because we know that your lifestyle needs are unique. Even better: this Spruce Your Space post will help you create a plan and better understand the costs involved for every piece of your essential apartment furniture budget.
How to Easily Furnish Your Apartment: Here's What You Actually Need
Sure you'll need a toolset (with a hammer, nails, drill, and screwdriver), but that's a given. Here's everything you may or may not have thought about getting in your new apartment—including what you do and don't need right away.
Basics: What You Absolutely Need to Settle In
Not only will you feel incomplete without these pieces of furniture in your apartment, but you may be in a bind. (After all, where the heck are you supposed to eat if you don't have any seating or a table?)
Here are the definite must-haves you'll need in your new apartment:
At least one table (for eating/sitting)
At least two chairs
At least 1 lamp each for living room & bedroom (in case of poor lighting)
Television (only if you watch TV)
TV stand (if you have a TV)
Sleeper sofa, loveseat, or sectional (depending on your living room space)
At least 1 nightstand
Clothing dresser
Standing wardrobe closet or rack (for lofts or studios)
Extension cords (handy for adding flexible lighting or electronics)
Bed frame (possibly with a box spring)
Clothing hangers
Mattress + pillows
Bedding with duvet/comforter + pillowcases
Extra bathroom storage drawers (especially if you have roommates or lack linen space)
Pots & pans
Cutlery
Cooking utensils (measuring cups, tongs, spatulas, etc.)
Food storage containers
Kitchen dish towels & cleaning cloths
Cleaning tools & disinfectants for kitchen & bathroom
2 trash cans (one each for your bathroom & kitchen)
Dishes, glasses & flatware
A dish rack (if you don't have a dishwasher)
A microwave (if it's not included)
Shower curtain + liner
Washcloths
Hand towels + bath towels
Nice-to-Haves: What You Can Splurge on Now or Get a Bit Later
No, you don't have to have these items as soon as you move in… But, they'll instantly make you feel more comfortable and right at home. When the timing is perfect for you and your budget, you'll want to grab these pieces to completely furnish your apartment:
Vacuum cleaner
Broom + dustpan
Barstools or extra chairs for a kitchen/dining area
Oven mitts
Paper towel stand
Mixing bowls
Kitchen rug (memory foam or flat-weave)
Extra kitchen storage (baskets, under-cabinet shelves, and racks, etc.)
Curtains (nice, but not essential since most units already have blinds)
Coffee table
Living room area rug
1-2 accent chairs (ya' know, for company)
Working desk + chair
Bookshelf/storage
End tables (at least 2 for living room)
TV entertainment center (the kind with storage shelves)
4 lamps (2 table lamps/1 floor lamp for the living room and 2 for your bedroom nightstands)
Floor-length mirror (once you have one, you'll never go back)
2 nightstands (if you want storage or lamps on both sides of your bed)
Bathroom caddy for toiletries, toothbrushes, etc.
Bathroom mats (memory foam is the best)
Balcony/patio furniture
LED lightbulb replacements (to save on your electricity bill)
Home décor & wall art
How to Know What You'll Spend on Apartment Furniture
It will cost the average person anywhere between $2,930 to over $5,000 to fully furnish an apartment with just the basics, even for first-timers—according to design & furniture brand, Furnishr.com. And that's not even saying much about the quality or longevity of your chosen furniture! Figuring out how much you can expect to spend on furnishing your apartment is actually very personal.
In fact, your apartment budget largely depends on several factors:
Your style preferences. Champagne taste? That means you'll have to get creative—and zero in on furniture sales or consignment shops.
Your budget. This is—regardless of your style—what you can actually afford without racking up credit card debt.
What you need + Where you'll buy it. Already have furniture and only need certain pieces? You can snag discounted items from IKEA, HomeGoods, Ross or TJ Maxx. But, starting from scratch means you'll need a lot more, so consider direct-to-consumer companies that will save you money by nixing the middleman.
How long you'll live in your apartment. Unlike temporary stays, long-term living means you'll need to invest in better pieces to be comfortable. No matter your budget or length of your lease, stick with furniture that makes you feel cozy.
The size of your apartment. You can't fit as much furniture in a studio or loft as a 1-2 bedroom apartment. The smaller your apartment is, the more multifunctional furniture you'll need to maximize limited space.
Whether you have children or dependents. If the person you're living with is financially dependent on you (like a child) you may be responsible for at least some of their furniture—if not all of it. That's something else you'll need to factor in when budgeting for bedroom furniture or bathroom storage & linens.
6 Places You Can Shop to Buy Everything for Your New Apartment
As shocking as it seems, Target isn't the top place most people turn to furnish their household. According to Statista, the top-ranked furniture retailers since 2019 are:
Ashley HomeStore
Amazon
IKEA
Williams-Sonoma (its furniture subsidiaries are: Williams-Sonoma Home, West Elm, & Pottery Barn)
Wayfair
Naturally, the top furniture retailers are going to be the most competitive in pricing and price-matching. And that's a good thing for you! Price-matching and comparison-shopping are 2 key methods to help you stay on budget when furnishing your apartment. BUT, you'll still want to save as much money as possible for your other moving expenses. Buying items in sets will really help you stay on track. In our apartment furnishing breakdown, we'll go room-by-room and factor in lots of furniture sets to help your budget.
What Can You Expect to Spend on Essential Furniture for an Apartment? Here's A Room-By-Room Breakdown!
Now that you're clear on the basics and nice-to-haves you'll need in your apartment, how much can you expect to spend? Next, let's compare prices for essential apartment furnishings between 2 of these popular stores, plus a trusty favorite:
Overstock- an enormous marketplace that basically throws sale alerts and discounts at you (in a good way.)
Wayfair- seems like every Instagram home decor influencer has this retailer as a favorite for furniture & home décor.
Ashley HomeStore- they're everywhere and great for shopping in person.
To be mindful of your budget, we'll focus on sets, which help you maximize your time and your money. By the end, you'll have a better idea of what you can expect to spend and how to set your budget accordingly.
Before we breakdown the cost to furnish each room of your apartment from these 3 stores, let's note a few things:
This is NOT an endorsement nor review of any of these products. We haven't tried them and they're for illustrative purposes only.
Prices are accurate at the time of publishing this piece. And, they don't include taxes. You can definitely find these items or alternatives for less or more, depending on when you shop and if you have a discount code. Based on that, please take these numbers as pre-tax estimates.
Discounts will lower these totals, but the prices below do not include extra discounts. We ABSOLUTELY encourage you to sign up on these sites' email/ text lists and social media pages to catch great offers and coupon codes!
We tried balancing the furniture picks evenly between the following factors: a substantial number of great reviews/ratings, reasonable price points, or multi-piece sets to maximize your apartment furnishing budget. So while some pieces may not be the cheapest, they have higher rates of customer satisfaction.
Kitchen + Dining Area Essentials
These days, most apartment kitchens have appliances like dishwashers, microwaves, and refrigerators (and of course, a stove). Luckily, you'll often only have to worry about buying your cooking utensils and seating. Many apartments may or may not have an available kitchen island that can double as bar seating. If that's the case, you don't necessarily need a table (unless you just want one.) Regardless of whether you have a kitchen bar, some places actually have space for a dining table, while others won't.
If your place lacks a bar or island, you'll definitely need a table with chairs—but not necessarily one that's big enough for a traditional dining room in a house. Look out for dining sets, which include the tables and the chairs, or at least a pair of dining chairs sold together. For smaller apartments that barely have a distinct dining area, check out bistro-style table sets that are small, circular, and usually include 2 chairs. You'll maximize your budget this way, even if it seems like a lot upfront.
| | | | |
| --- | --- | --- | --- |
| | Overstock | Ashley HomeStore | Wayfair |
| Dining table set | $516.37 (5 pcs.) | $479.99 (5 pcs. + storage) | $649.99 (5 pcs.) |
| Dishware | $83.99 (16 pcs. serves 4) | $91.99 (16 pcs. serves 4) | $59.99 (12 pcs. serves 4) |
| Flatware/Silverware | $51.49 (40 pcs.) | $73.99 (20 pcs.) | $29.99 (16 pcs.) |
| Glassware | $24.99 (16 pcs.) | $47.99 (18 pcs., for adult beverages or water) | $29.99 (16 pcs.) |
| Food storage containers | $35.99 (24 pcs.) | $27.99 (14 pcs.) | $41.50 (10 pcs.) |
| Pots & pans | $159.95 (11 pcs.) | $112.99 (12 pcs + cooking tools) | $199.99 (20 pcs. + bakeware) |
| Basic cooking utensils | $39.99 (24 pcs.) | $27.99 (6 pcs.) | $49.99 (12 pcs.) |
| Knives/Cutlery | $79.00 (13 pcs.) | $29.99 (10 pcs. + cutting board) | $101.90 (12 pcs. + block) |
| Garbage can | $134.99 (13 gal. & 2.5 gal., touchless, odor control. Use 2.5 gal for your bathroom!) | $80.99 (30L & 3L; use the 3L for your bathroom!) | $53.99 (30L & 8 gal.; use the 8 gal size for your bathroom!) |
| Totals | $1,086.77 | $953.92 | $1,221.59 |
Total cost to furnish apartment kitchen
Living Room Essentials
The furniture you'll need in the living room area will vary depending on the layout of your apartment, but be prepared to spend $$$ if you want it to look nice and cozy. For example, studio and loft-style apartments lack a defined sleeping space. If you're moving into one of these, you'll probably want more flexible options like a sleeper sofa, or a loveseat plus a room divider to section off your bed for privacy. In these cases of limited space, having a lift-top coffee table is ideal so your living room can double as an instant workspace or eating spot.
Have a roomier apartment with a bigger living room? You can play around with more traditional-style coffee tables. Or, consider getting an ottoman that offers a place to kick up your feet or extra hidden storage. If you're the type who can live without end tables (or simply don't have the room) then save your money. However, if you like the idea of having extra space for a drink or décor, then look into coffee table set that includes two side tables. You'll get what you want at the most bang for your buck.
Sounds bonkers, but, A LOT of people are ditching TV in favor of their smart devices. TV prices can also vary wildly depending on various factors and highly personal reasons. For these reasons, we didn't include a ballpark cost for buying a television. But, we did include the cost for purchasing an entertainment center or TV console.
Regardless of what kind of TV you buy, you'll need a place to store it. Mostly because it's a major headache to try and mount a TV in an apartment on your own. Plus, it may not be allowed. And who wants to deal with damages? With the calculations below, you'll at least have an idea of how much a media center costs to house your television, should you choose to buy one at all.
Since the furniture in your living area will vary so much, take the totals below with a grain of salt. For example, if you have a studio or loft apartment you may opt for a lift-top coffee table. Conversely, you may want a roomier storage ottoman or larger coffee table if you have a bigger apartment living room. So, in the chart below, we included the estimated cost range of furnishing your apartment living room based on recommendations for your space.
Totals include the price ranges of furnishing either a small studio/loft living room, or a larger apartment living room. Ultimately, the cost of furnishing your apartment living room will be based on the style, quality, and lifestyle fit you prefer.
| | | | |
| --- | --- | --- | --- |
| | Overstock | Ashley HomeStore | Wayfair |
| Lift-top coffee table (for smaller/studio living rooms) | $199.99 | $197.99 | $319.99 |
| Sleeper sofa (for studio/loft apartments) | $819.99 (full to queen-size futon) | $1,039.99 (seats 2 + chaise; queen-size sleeper) | $919.99 (seats 2; queen-size sleeper) |
| Storage ottoman (for larger living rooms) | $177.74 (Flip-top with tray) | $399.99 | $159.99 |
| Sectional sofa (for larger living rooms) | $1,351.34 (seats 3 + chaise) | $1,679.99 (power reclining + chaise) | $1,199.99 (removable & reversible cushions |
| Floor lamp | $95.99 | $88.99 | $108.99 |
| TV console/ entertainment center | $219.99 | $759.99 | $839.99 |
| Total Cost Range | $1,335.96–$1,845.06 | $2,086.96–$2,928.96 | $2,188.96–$2,308.96 |
| Studio/Loft Totals | $1,335.96 | $2,086.96 | $2,188.96 |
| Larger Living Rm. Totals | $1,845.06 | $2,928.96 | $2,308.96 |
Total cost to furnish apartment living room
Bedroom Essentials
Ah, the sweet escape of your bedroom. If you're going to be comfortable anywhere, it needs to be here. So don't be afraid to invest well in your bedroom pieces. As far as mattresses are concerned, these are also highly personal based on your own likes/dislikes and needs. Costs for mattresses will range so widely depending on not only your own preferences, but also the brand, construction, and size.
Naturally, the mattress costs also mostly depend on what you can actually fit into your apartment space—whether it's a studio or multi-bedroom. So no, we didn't include the price for a mattress in our calculations below because there's no way to choose between them all for you. However, according to the Sleep Foundation, you can expect to pay anywhere between $250-$3000+ for a mattress. An excellent, cushy mattress doesn't have to blow your budget, either!
It's a little-known fact that you can negotiate and price-match at most mattress stores, and we totally encourage you to! Sometimes they'll throw in a free pillow. For this reason, we didn't add pillows in the mix, but you absolutely need to have it on your shopping list. In fact, we encourage you to buy pillows and sheets at a brick-and-mortar store. Why? The last thing you want to do is order exciting new bedding, only to have to return it later because it's super uncomfortable.
You can avoid this by shopping around in person to touch and feel the pillows in the packaging. You'll get a much better idea of whether a pillow is truly perfect for making your new apartment bedroom comfy. If you need new bedroom furniture for your apartment and are on a budget, we definitely suggest getting a set whenever possible.
That means, at minimum, you'll get a dresser, at least 1 nightstand, plus a bedframe all for one price! Just be sure to check if the bed frame requires a box spring for your mattress, because that could mean an added expense.
| | | | |
| --- | --- | --- | --- |
| | Overstock | Ashley HomeStore | Wayfair |
| Laundry hamper | $49.99 (3-bag sorter, rolling hamper) | $29.99 (hamper with lid) | $35.99 (rolling hamper) |
| Table lamp set | $67.99 (2 pcs.) | $133.99 (2 pcs.) | $117.56 (2 pcs.) |
| Bedroom set | $941.99 (queen bed, night stand, & chest | $1,317.95 (queen bed + storage drawers, mirrored dresser, 2 nightstands) | $1,369.97 (queen bed, mirrored dresser, 2 nightstands) |
| Clothes hangers | $48.99 (100 pcs.) | $29.99 (25 pcs.) | $39.99 (100 pcs.) |
| Totals | $1,108.96 | $1,511.92 | $1,563.51 |
Total cost to furnish apartment bedroom
Bathroom Essentials
Good news: Furnishing your bathroom is simple and straightforward. You will undoubtedly spend less on items for your bathroom compared to any other room of your apartment!
Depending on how much space you have in your apartment bathroom, you may need to buy a small cabinet or drawers to store things like cleaning products, cosmetics, etc.
If your space is limited, remember to always go upward in terms of the kinds of storage solutions you get. That means investing in shelves, tiered drawers, racks (even under the bathroom sink), etc.
All apartments will have a rack for rolls of toilet paper installed on the side of a wall or cabinet. So, although some people claim it's a necessity when you move into an apartment, you don't need a toilet paper stand. Not yet anyway…
Unless you share your apartment bathroom with others or are the type who regularly ends up stranded during #2 without TP within arm's reach. (In that case, PLEASE get one!) But for now, you can do without and put that money where you really need it. You'll need the following essentials, and as we've said before, it's best to grab them in sets so you spend less and have fewer things to shop around for.
| | | | |
| --- | --- | --- | --- |
| | Overstock | Ashley HomeStore | Wayfair |
| Plunger | $49.99 (with toilet brush) | $27.99 (no toilet brush included) | $39.99 (with toilet brush) |
| Bathroom rug set | $44.98 (2 pcs.; memory foam) | $52.99 (2 pcs.) | $47.99 (2 pcs.; memory foam) |
| Shower curtain (no liner) | $29.98 | $35.99 | $54.99 |
| Bath towels + washcloth set | $35.10 (6 pcs.) | $40.99 (6 pcs.) | $47.99 (10 pcs.) |
| Small garbage can | Nothing if you bought the set. (13 gal. & 2.5 gal., touchless, odor control. Use 13 gal for your kitchen!) | Nothing if you bought the set. (30L & 3L. Use the 30L for your kitchen!) | Nothing if you bought the set. (30L & 8 gal. Use the 30L for your kitchen!) |
| Totals | $160.05 | $157.96 | $190.96 |
Total cost to furnish apartment bathroom
So, How Much Does It Cost To Furnish Your Entire Apartment From Scratch?
Now that you're clear on the ballpark costs involved to furnish each room of your apartment, let's total it up by store based on the previous charts:
| | | | |
| --- | --- | --- | --- |
| | Overstock.com | Ashley HomeStore | Wayfair |
| Studio/Loft | $3,691.74 | $4,710.76 | $5,165.02 |
| 1-bedroom apartment | $4,200.84 | $5,552.76 | $5,285.02 |
Cost of furnishing a studio & 1-bd apartment from scratch
Prefer rounder numbers? Check out these estimates of how much you can spend at each store to furnish an apartment from scratch:
Expect to spend around $3,700 to $4,200 to furnish a studio to 1-bedroom apartment using Overstock.com
Expect to spend around $4,700 to $5,500 to furnish a studio to 1-bedroom apartment using Ashley HomeStore
Expect to spend around $5,200 to $5,300 to furnish a studio to 1-bedroom apartment using Wayfair.com
Wrapping Up
Whew, that was a lot to cover!
Now that you know:
Exactly what you'll need right away in your apartment
What you don't need to rush out and buy right away
General factors that impact your apartment furnishing budget
Your different options for buying new apartment furniture
The ballpark amounts you can expect to spend per room
…you're ready to get to the fun part and start making your new apartment feel like home!
If the above retailers don't really suit your taste, take heart! We cover higher-quality, USA-based furniture options that cut the middleman and save you money in our next post. Plus, you'll learn savvy ways to maximize your furniture budget. How do you feel about buying furniture for your apartment now?
Related Tips