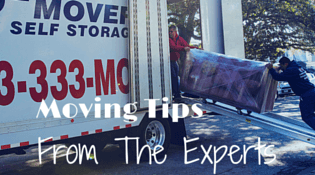 You've probably dealt with this before: you're ready to move, but you're concerned about potential damages to your home and your belongings. We've got some quick tips on how to prevent damage and handle unexpected bumps.
You've probably dealt with this before: you're ready to move, but you're concerned about potential damages to your home and your belongings. Packing and prepping your valuables is critical, but it doesn't hurt to anticipate unforeseen consequences. Here are some tips on how prevent damages during your move:
Step 1: Preventing damage
Pack properly: Never underestimate the advantages of a good packing job. Packing properly not only saves time, but also ensures your items will arrive safely.
Empty furniture: It may be tempting to leave items in furniture to avoid having to pack, it could cost you more in the end. Your furniture is not designed to be moved with extra weight inside. Sure, clothes don't weigh that much, but they do add quite a bit of weight to a dresser set. If you've ever had to lug a laundry basket full of clothes, you know what we mean. Furniture can be fragile and collapse under the pressure of being moved. Protect your furniture and empty the drawers.
Wrap your furniture: 3 Men Movers uses blankets and shrink wrap to protect furniture while in transit. If you are planning to use our wrapping supplies during a standard move, the blankets and shrink wrap are included in the cost. Once the furniture is delivered, we remove the blankets (they are only available during transit.) If you are using one of our MOVITS portable storage containers or moving items into a storage facility, you will need to purchase the blankets on a separate charge if you plan to keep the items wrapped while in storage. You can also use your own supplies, if you'd rather skip the extra cost. If you decide to not have your items wrapped to save time, you will be asked to sign a liability waiver.
Protect Your Floor: 3 Men Movers provides floor protection during moves, so if you're concerned about your floors getting scratched or your carpet getting dirty, we have you covered! All of our moves come equipped with floor protection, available prior to moving any furniture or boxes.
Step 2: Prepare for the unexpected
Know your mover's liability: 3 Men Movers is licensed in the state of Texas, and like all licensed movers, we offer a standard liability of 60 cents per pound per article. For example, if you have a 40-pound item that is damaged during your move, the mover is only required to reimburse you $24 (40lbs. X 0.60 = $24).
Insurance: If you have homeowner's or renter's insurance, you may be covered during your move. However, you should contact your insurance provider prior to your move to ensure you will be covered.
If You Incur Damages
If you suspect that your items have incurred damage or have been lost during your move, contact the movers immediately (if they are still present). If you use our services, we will provide you with a claim form to file a formal written claim with our Customer Service Manager.
It is best to complete the form immediately in order to speed up the process, but you do possess the right to submit a written claim within 90 days of the move date. The moving company then has 20 days to respond acknowledging the claim, and 90 days to provide a resolution (pay, deny, or make a settlement offer). Be sure to take photos of the damages to attach to your claim.
Visit the Texas DMV's official website for more information on your rights and responsibilities. As always, Happy Moving!