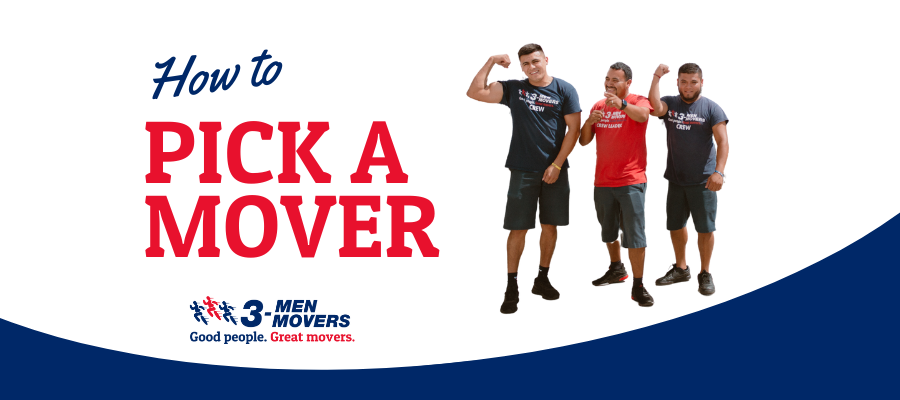 Ah, the dreaded move. Let's face it: no one likes moving, yet we all have to do it at some point. Whether you're moving across the country or just across town, picking a mover can be a daunting task. Here we'll explore the ins and outs of choosing the best mover to fit your needs.

Here are the highlights before we dive in deeper:
Get recommendations from friends, family, and neighbors. If someone you trust has had a good experience with a particular company, chances are you will too.

Do your research online. Once you have a few companies in mind, read customer reviews and compare pricing.
Gather estimates from several local movers, and be sure to mention any specialty or extra-heavy items you have, as these may require an extra helper or extra fees to move.

Make sure the company you are considering is licensed and insured. Check with the state also. For instance, in Texas you can look up a company to ensure they are in good standing with

Texas Department of Motor Mehicles

. This is important in case of any accidents or damage to your belongings during the move.

Find out if the moving company can help you pack and unpack so that when move day rolls around, you aren't caught off guard! Many moving companies have packing crews that can provide boxes and packing material.
Determine the Moving Services You Need
When it comes to planning a move, it's important to determine the services you need ahead of time in order to make the process as stress-free as possible. Ask yourself questions such as: What type of items do you need to move? Will they require special packaging or handling? What are your time constraints and budget? How far away is your destination? Knowing the answers to these questions will help you get the most accurate estimate from prospective moving companies. Also, know the questions you need to ask your mover before hiring them to ensure their services are suitable for what you need. By taking the time to find out what exactly you're looking for before selecting a mover, you can ensure that all of your needs are met and that everything goes smoothly on moving day!
Ask for Recommendations
It can be difficult to find a good mover that you can trust. We've all either heard horror stories of bad moving experiences or even had one of our own. That is why getting referrals from friends, family, and especially neighbors who have recently moved is invaluable. After all, they have thrown themselves into the deep end and been through the process of finding movers. They can now speak from experience on whether this company is professional or didn't meet expectations. By uncovering the experiences of others, you can get some great insight into who to use for your move!
Read the Good (and Bad) Reviews

How do you know if a moving company is good? It's important to do your homework and read reviews from other customers before you hire a moving company. Customer reviews can give you valuable insights into their experiences with a particular company and help you make an informed decision. By reading reviews, you'll have a better understanding of the quality of service a mover provides, their level of professionalism, and their ability to handle your specific needs. Don't underestimate the importance of reviews when choosing your moving company, they can save you time, money, and hassle in the long run!
Check Out the Moving Company's Credentials

The best way to not get scammed by a moving company is to verify they are licensed and insured before ever hiring them. All professional moving companies will be happy to provide you with this information. In most states, it is required by law to post their licensing information publicly, including on their website. In the state of Texas, the Texas Department of Motor Vehicles has several resources for consumers to use before hiring a mover. You can use a free search tool called Truck Stop to find out if a motor carrier business (moving, trucking, or bus company) is properly licensed in Texas. Florida offers the same great resources as well. Moving companies who are not licensed are operating illegally which can cause a major headache for your upcoming move. Knowing this information can save you costly expenses if something unplanned should happen, or worse, lose all of your belongings altogether. Do some research and make sure you're working with the best company for the job, who have taken the time to maintain their proper licenses and insurance!
Review Their Online Presence
When it comes to hiring a moving company, you should be sure to review their online presence, such as their website, social media accounts, and reviews on third-party websites. This will give you an idea of how they present themselves to the public and provide insight into their work. On their website, check for useful information about them, such as services offered, insurance, and experience. Their social media accounts can provide a sense of their values, customer service, and general approach. You should also check for reviews on external sites like Yelp––these are often unbiased and can provide a clear idea of a company's reliability and overall customer satisfaction. Taking the time to review a company's online presence can help you make an informed decision and ensure a smooth moving process.
Source More Than One Estimate
With so many options out there, it's always best to get more than one estimate. Having multiple estimates gives you an opportunity to compare services, prices, and packages that are suitable for your needs. You can also use these estimates to ensure that the mover you choose is reputable and trustworthy. Not only that, but speaking to several companies will give you a feel for how professional they are, and how they handle customer service. Most of all, getting multiple quotes will help you stay within your budget and make sure you're getting the most value for your money. Taking the time to do your research and get multiple estimates from moving companies before making a decision could save you time, money, and stress in the long run!
Ask about any hidden fees or charges that might not be included in the quote
When gathering estimates for your upcoming move, be sure to ask if there are any additional fees or charges that you could incur during your move. You don't want to be surprised when the time comes to pay at the end of your move, so it's better know ahead of time. For example, many moving companies charge additional fees for extra-heavy items, packing material, making multiple stops, overnight stops for multi-day moves, or extra-long trucks. These fees might not be explicitly stated up front, but can add up quickly. By being thorough and asking the right questions early on, you will save yourself time and resources in the long run.
Long story short, when looking for a good moving company, it's essential to do your research. Ask around for referrals from any friends or family that have moved recently. Check out online reviews of the companies you're considering to get an idea of their reputations. Make sure the company is properly licensed and insured as well as ask them about any hidden fees or charges that might not be included in the quote. By following these steps, you can rest assured that you are hiring a company you feel comfortable with. Ultimately, when done correctly, moving can be an incredibly rewarding experience!