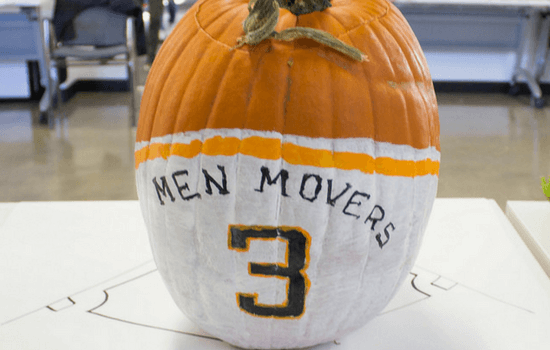 Often in companies, departments work in silos and tend to work against each other instead of with each other. Houston based company 3 Men Movers found that the secret to cultivating employee engagement was purchasing a few pumpkins.
The benefits of engaged employees speak for themselves. Gallup's 2016 study of engagement at work revealed that the companies with the highest percentage of engaged employees produced 20% more revenue, had a 17% decrease in employees leaving for a pay increase of 20% or less, and a 10% increase in positive customer feedback. The study also found that US employees who say they are engaged hovers at 33%. So, what can you do to get your employees engaged?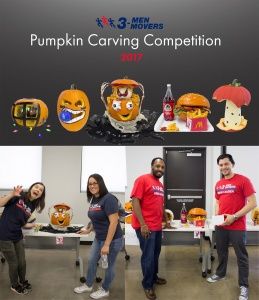 Team building is a tried and true method for increasing employee engagement and happiness. However, most companies make the mistake of organizing events that don't require inter-departmental mingling and creativity. Happy hours and company lunches fail to boost engagement because they promote passive participation and employees tend to group themselves with co-workers that they already know.
The real secret to boosting cross-departmental relations and employee engagement is to devise a way for employees to work together as a team on a project that includes problem solving and creativity.
Every year, 3 Men Movers hosts a pumpkin carving contest. Employees are split into teams of three that include members from different departments that they don't typically interact with. Each team is given two days to draft a design, delegate responsibilities, and execute the carving of their pumpkin.
The beauty of the event is that it costs nearly nothing but it remains the most successful team building event that the company hosts because it promotes creativity, collaboration, and competition. All of these skills are necessary for successful companies but during the competition, employees get to harness these strengths while having the chance to play and build connections with one another.
Marketing Manager Kate Sanderlin says, "This is easily my favorite office event. I get to learn about my coworkers, appreciate our wildly different tastes, and use my imagination. It taps into your inner kid… you're a little nervous in the beginning about working with new people, but by the end you can't wait to present."
The power of meaningful team building events can be seen immediately. The company saw a 20% increase in sales on the day of the competition along with a boost in competitive energy, employees from different departments mixing and engaging in light-hearted banter with other teams, and an air of excitement in the office. Provide your team with the opportunity to collaborate and watch them thrive.