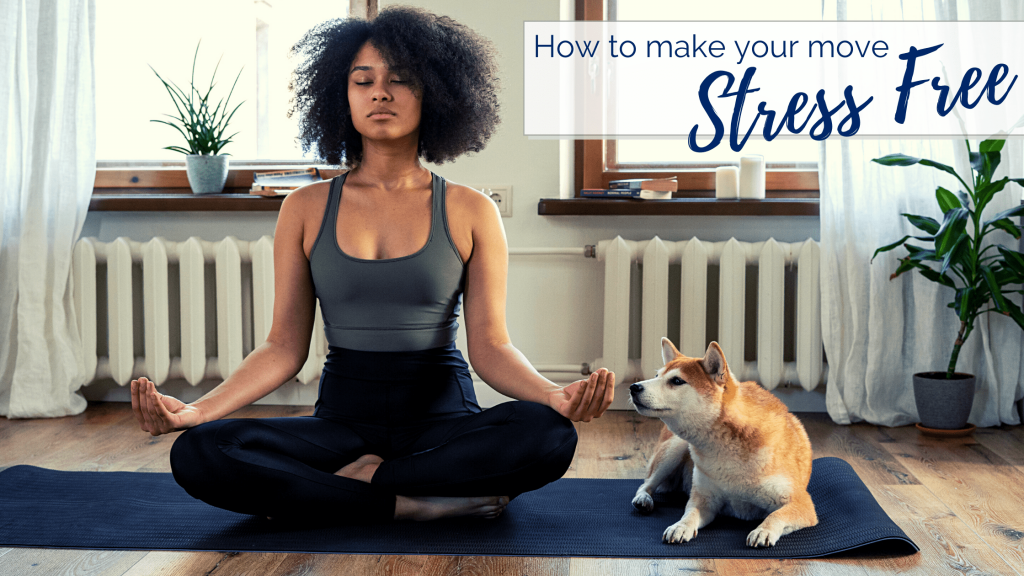 Did you know that moving can be so stressful, some researchers rank it as the most stressful life event1?! For most of us, moving leads to new chapters and new beginnings. It's a time for celebration and looking forward to brighter days ahead. But to get to that point, you've got a LOT of preparation to do for the moving process. (And yes, part of this involves creating a shift in your mindset. To help you get through this process unscathed, let's dive into the causes of move-related stress, plus our best tips to relieve the common anxiety around moving.
Why Is Moving Stressful?
The cost. Scheduling. Shoving the entire contents of your life into boxes and dropping said boxes off with a stranger who will haul them across the country in a truck. Picking up and moving your family across the country where you know no one — the list of why moving is so incredibly stressful goes on and on. In fact, a survey by the American Psychiatric Association found that Americans are the most anxious about finances, safety, and health. Moving can trigger anxiety because it impacts your finances and safety.
Here are the top causes of move-related stress:
Moving Stress Trigger #1: Money
Money plays a significant role in moving stress. Moving is expensive. There are deposits, down payments, the cost of the movers and moving supplies, new furniture, and so on. This can lead to many sleepless nights worrying about whether you can realistically afford all the mounting costs.
READ MORE: Watch Out For These 4 Main Triggers of Move Day Stress
Moving Stress Trigger #2: Planning
There's a lot of planning to do when you're prepping for a move… Including everything from finding a reputable company, coordinating the move day and other contractors, to finding new schools, doctors, and more. Plus, you have to squeeze in all the planning between your daily routine of work, school, and your relationships! (Sometimes all three.)
READ MORE: How To Prepare Your Kids For A Move
Moving Stress Trigger #3: Packing
Packing up your entire life is one of the most dreaded parts of moving. It's time-consuming and exhausting. But it's also stressful. What if your great-grandmother's tea set gets damaged? How are you going to live without all of your belongings until they arrive at your new place?
Moving Stress Trigger #4: Pets
Your pets need to accompany you on the move, but it doesn't mean they'll enjoy it. It can be stressful to coordinate their care. Once you arrive, you have the added stress of an unfamiliar location for your fur baby. You may spend more time soothing your pet than you expected.
READ MORE: How to Move With Pets 101
Moving Stress Trigger #5: Fear of the Unknown
Another major moving stress trigger, and the one that's most likely to have your thoughts racing at all hours of the night, is the unknown. You're likely moving to an unfamiliar place, and the list of fears that come with the unknown is endless. This anxiety becomes magnified if you have children who must also adapt to a new place, new school, and curriculum, finding new sports teams and friends, and so on.
READ MORE: Here's How to Make Moving Somewhere New Less Scary
Stress and Moving—What the Science Says
Let's dig deeper into some moving and stress-related stats and studies:
34% of movers report feeling anxious during the move.

40% of movers reported depression and physical illness during the move.

60% of

survey respondents

have put off looking for a new home because of moving-related stress.
The Impact of Moving
Change, even when it's expected, planned for, and for a great purpose, is HARD. As humans, we adapt to our routines and find comfort in familiarity. When that changes as drastically as it does during a move, it can be a recipe for an emotional rollercoaster.
Helping Kids Cope With Moving Anxiety
Moving can be especially difficult for children who have to adapt to a new schedule and curriculum. They also have to adjust to new teachers, coaches, other authority figures, and find new friends. These disruptions may even cause children to misbehave and act out when the stress and anxiety feel overwhelming.
Here are a few ways to alleviate the stress and anxiety of moving for your kids:
Explain why the move is necessary.

Try to familiarize your kids with the new area as much as possible. You can use maps, photos, social media, and books if/when physical visits aren't possible.

Talk frequently about the "pros" the new location offers that your kids will appreciate, such as a state-of-the-art water park or a beach.

If your child is a senior in high school, consider letting them stay with a close family member or friend until they graduate.

Get the kids involved with designing and picking out furniture for their new room.

Make sure your kids know they can stay in touch with their friends from their old neighborhood.
How Does Moving Affect Your Pets?
Effects of Moving Stress on Cats
Cats get stressed in unfamiliar locations. It's important that you keep the same routine as at the old house as your cat adjusts, try to bring as many of their favorite toys or items with the smell of the old house on them with you, and when all else fails: catnip.
Effects of Moving Stress on Dogs
Does moving stress out dogs? It definitely can! Dogs are more stressed with unfamiliar noises and items in the house. So, get your pets used to these disturbances beforehand. Start acclimating your pets to the sound of tape and stacks of boxes a couple of weeks before you start the process. Stick to your routine and give them extra play and walk time. A new toy or bone at the new house doesn't hurt either!
VIDEO: Tips For Moving With Pets
3 Expert Tips for Relieving Move-day Stress
If you're already feeling the stress of moving, here are a few tips that can help:
1. Keep Your Stress in Check
It's important to take a step back and breathe every once in a while during the moving process. Remember that, while it may be sad to leave the place where you made so many memories, you're only leaving the physical location. You can take the memories with you. Focus on self-care to keep your stress in check and make time to go on walks, take a bubble bath, or watch an episode of your favorite show. These small serene moments will do wonders for keeping stress at bay.
2. Moving During a Difficult Time
Unfortunately, not all moves are under happy circumstances. Moving because of a job or family member loss can aggravate the already stressful situation. During these times, lean on your support system as much as you can. That may mean asking your friends to help lift boxes, storing some things in a family member's garage, and looking for short-term housing solutions. It's important to take the moving process—like everything else—day by day if you're transitioning at a difficult time.
3. Make a Long-Distance Move Less Stressful
The farther you're moving, the more stress you'll inevitably feel. However, there are some things you can do to relieve long-distance move stress, including:
Prepare early.

Don't expect to pick up and move across the country in two weeks. Coordinating a move in a faraway place requires much more time and planning. As soon as you know you are moving,

start the planning process

. Map out each stage of your move in writing so you can see what needs to be done and when. Move backward from your moving date and note what needs to be accomplished in order of priority.

Lighten your load.

When you're making a long-distance move, it's best not to keep

everything

. You'll be more stressed trying to cram everything on the moving truck, and your moving costs will escalate. Plus, the time spent packing and unpacking will only add to your anxiety and frustration.

Do a home inventory.

Take inventory of your house and figure out which items are worth keeping (items with sentimental value, the kids' favorite toys, items you love, etc.), and which items you should sell or donate.

Get professional moving & packing help.

One surefire way to make your long-distance (and local) move a lot less stressful is by leaning on an expert team of professional movers. Movers will handle the logistics of the physical move as well as the heavy lifting. Entrust an experienced moving company to get your goods safely from point A to point B for your own peace of mind.
READ MORE: The Ultimate, No-Panic Guide to Moving in 2 Weeks
Wrapping Up
Moving doesn't have to be a stressful, dreaded experience. If you give yourself enough time to prepare, get organized, and rely on a team of moving experts, you can safely move your belongings to your new home without the added chaos. Ready to get started on a stress-free move? Choose trustworthy movers with superb training and thousands of great reviews!
Sources:
"Moving Is More Stressful than Getting Divorce, Becoming a Parent, Survey Finds." Study Finds, Oct. 2020, www.studyfinds.org/moving-more-stressful-than-divorce-having-kids. Accessed 28 Apr 2021.
"APA Public Opinion Poll – Annual Meeting 2018." Psychiatry.org, 2018, www.psychiatry.org/newsroom/apa-public-opinion-poll-annual-meeting-2018. Accessed 28 Apr 2021.
Related Tips