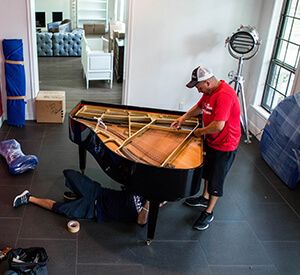 Sometimes it takes planning a move to realize just how many belongings you have in your house … and how many of them happen to be massive and therefore extremely hard to move! I'm talking to you, owner of that big, beautiful baby grand piano. Sure, it's brought you years of pleasant-sounding music (hopefully!), but now you're wondering just how you're going to get it out of your current house and into the new one. The answer? You're not! Not by yourself anyway. Let the professionals take on this job for you. I think you'll agree once you see what safely moving a baby grand piano entails.
PREPARING YOUR BABY GRAND FOR THE BIG MOVE
One of the most important details to know about moving a baby grand piano is that it needs to be taken apart first. That's right. You're not going to be able to get your piano out the door and into another home safely without removing a few components. That alone should sound intimidating enough to know you need to hire professionals for this job!
Luckily, our movers are adept at doing this. They know how to remove the legs, music rack, lid and other parts, all of which they carefully wrap in blankets and shrink wrap before placing it all gently in the truck. If you store music books in your piano bench, remember to remove them and pack them in a box before moving day to make the process a little faster.
GETTING THE PIANO READY TO PLAY AFTER THE MOVE
So you took my advice and hired a moving company to move your baby grand, and now it's safely in place in your new home. Now what? Time to sit down and start jamming out? Not so fast! You need to get it tuned first.
That's because your baby grand piano is in a new environment, one that might have a different climate than the last house. Therefore, it might not sound the same as it used to. No, it's not getting old and rusty. It just needs some time to adjust — kind of like how your cat needs a few weeks of exploring to get the lay of the land before feeling comfortable in the new house. Getting your piano tuned after you move will help it along as it gets used to its new digs.
Granted, you can disregard this advice if your baby grand piano is more of a decoration than a songbird. You probably don't need to bother getting it tuned if you just use it as a platform for framed photos! But even so, you do need to keep it looking nice and not banged up, and you can do so by hiring someone who knows how to move a baby grand piano.
WHO TO HIRE
So who might be the person to call for moving a baby grand piano? Well, one idea is to hire a business that focuses on moving pianos. After all, they're the experts since it's all they do. If you're only moving the piano and nothing else, this route makes sense.
But if you happen to be moving everything else in your house the same day, you'll find that a moving company will be much faster and more cost-effective. At 3 Men Movers, you'll find that the extra charge for moving a baby grand piano will be a drop in the bucket overall, since the fact that we're already there for the move means it won't take much extra time to carefully transport your piano.
Just let us know ahead of time that you need this service, and we'll happily alert our best baby grand piano mover! Contact us for a free moving estimate today.